Found December 12, 2011 on SF Giants Nirvana:
PLAYERS:
Mike Fontenot
,
Jeff Keppinger
,
Jimmy Rollins
,
Carlos Beltran
,
Rafael Furcal
,
Buster Posey
,
Freddy Sanchez
,
Willie Bloomquist
,
Emmanuel Burriss
,
Chris Stewart
,
Brett Pill
,
Pat Burrell
TEAMS:
San Francisco Giants
,
Philadelphia Phillies
,
New York Mets
,
St. Louis Cardinals
,
Arizona Diamondbacks
So this is the Giants' offseason. The biggest remaining decision, Mike Fontenot or Jeff Keppinger, will be made today. And after today, the roster — give or take a spring training invitee — will just about be set.
No Jimmy Rollins. No Jose Reyes. No Carlos Beltran. Not even a Rafael Furcal.
In an effort to keep payroll down, the Giants are going the "Law of Averages" route; they're depending on fewer injuries, better offensive performance, and more situational luck. To an extent, this makes a lot of sense. There's really no telling what Buster Posey will look like next season, or how many games Freddy Sanchez will play, or if one of the Giants' frontline starters will finally go down. But I suppose it's fair to assume the Giants will be healthier in 2012, if only because the injury toll seemed so abnormally high in 2011.
And the hitting, well, it can't get any worse. …wait, it can? Oh god.
In any event, the team posted a .561 OPS with two outs and runners in scoring position. That's 30% worse than those hitters did overall (70 tOPS+), and it's thus a figure that's bound to go up. As bad as the hitting was, they're certainly due for a healthier dose of situational luck.
So a little luck in those departments, and maybe the Giants are in business. Maybe.
They missed out on Willie Bloomquist (hooray!), but in Emmanuel Burriss, they've got someone equally terrible. Buster Posey, coming off that season-ending injury, will be (presumably) backed up by Chris Stewart. And Brett Pill will probably be getting at-bats at the major-league level in April. That's a thin bench. Scary thin.
The fact that it's gotten to this point — where Jeff Keppinger v. Mike Fontenot is such an important decision for the organization, speaks volumes about the Giants' offseason. The team scored 570 runs in 2011, but they have done little to improve upon that. It's neither an expensive strategy nor a sound one. And it guarantees that 2012 is going to be a loooong season.
As for today, hopefully the Giants make the right decision. Keppinger is a singles hitter, and that's about all he does. No walks, no strikeouts, no homers. He's basically bizarro Pat Burrell. He's not useless with the bat, and he can hit southpaws pretty well…but he only profiles as a second baseman, and it's not a position he plays very well. Give me Fontenot.
Now, how many days until pitchers and catchers report?
Original Story:
http://feedproxy.google.com/~r/Splash...
THE BACKYARD
BEST OF MAXIM
RELATED ARTICLES
The deadline to tender a contract to players eligible for arbitration is at midnight eastern time tonight and the Giants have a few decisions left to make. The main event for tonight revolves around the Giants choosing between infielders Jeff Keppinger and Mike Fontenot as their backup second baseman/utility infielder. To me the choice really isn't that hard, I...
The San Francisco Giants have signed infielder Mike Fontenot to a one-year deal, keeping him over second baseman Jeff Keppinger. Keppinger and backup catcher Eli Whiteside weren't offered contracts by San Francisco on Monday night. Other arbitration-eligible players who were tendered contracts were two-time NL Cy Young Award winner Tim Lincecum, fellow starting pitcher Ryan...
The 50 best baseball players not in the Hall of Fame, Version 2.0 | Baseball: Past and Present The 50 best baseball players not in the Hall of Fame. Will Clark and Bobby Bonds make the list. Mike Fontenot vs. Jeff Keppinger: not a tough decision » Bay Area Sports Guy Mike Fontenot. Does Brandon Crawford's bat outweigh his defense? « Bay City Ball – A Giants Blog "One thing...
The verdict is out! The San Francisco Giants have decided to sign Mike Fontenot (1-year), and non-tender Jeff Keppinger.   From the comments left on SF Giants Rumors Facebook it sounds like a lot of fans wanted to see Keppinger back in a Giants uniform.   Keppinger came over to the Giants (July) from the Astros (traded for Henry Sosa and Jason Stoffel). He hit a combined .277...
The Giants re-signed infielder Mike Fontenot to a one-year deal and offered contracts to nine of their other 11 arbitration-eligible players on Monday, vice president Bobby Evans said.
Preferring versatility over second-base insurance, the Giants agreed to terms with infielder Mike Fontenot on a one-year contract Monday and declined to tender contracts to infielder Jeff Keppinger and catcher Eli Whiteside, casting the pair into free agency.
Nothing particularly shocking here, but the Giants decided on Monday night to dump Jeff Keppinger and Eli Whiteside and tender Mike Fontenot. reported that Keppinger and Whiteside were non-tendered, and that Fontenot was offered a one-year deal. The logic on why the Giants did this? Cost and positional flexibility -- Fontenot is cheaper than Keppinger, and he can play multiple positions...
Jeff Keppinger considers the meaning of freedom from atop a rocky mount. Table of Contents Here's the table of contents for today's edition of Offseason Notes. 1. Non-Tenders: A Top-Five List 2. SCOUT Leaderboards: Venezuelan Winter League 3. Prospecting: John Sickels' Top-20 List for Seattle Non-Tenders: A Top-Five List MLB Trade Rumors has complete lists of both the American...
The Giants solidified the status of 40 percent of their projected Opening Day roster Monday. For All-Stars Tim Lincecum and Pablo Sandoval, it was a formality. For backup Mike Fontenot, it was a validation. Of the 12...
Looks like jersey No. 22 (worn by Whiteside) is up for grabs again in San Francisco. The non-tender deadline passed tonight with the San Francisco Giants declining to offer contracts to catcher Eli Whiteside and infielder Jeff Keppinger, officially making both arbitration-eligible players free agents. The Giants have whittled their list of arbitration-eligible players down to 10...
The Giants solidified the status of 40 percent of their projected Opening Day roster on Monday. For All-Stars Tim Lincecum and Pablo Sandoval, it was a formality. For backup Mike Fontenot, it was a validation. Of the 12...
MLB News

Delivered to your inbox

You'll also receive Yardbarker's daily Top 10, featuring the best sports stories from around the web. Customize your newsletter to get articles on your favorite sports and teams. And the best part? It's free!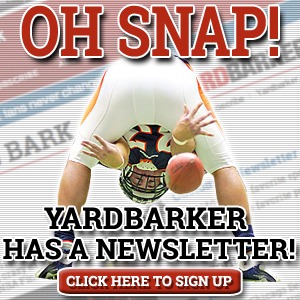 Latest Rumors
Best of Yardbarker

Today's Best Stuff

For Bloggers

Join the Yardbarker Network for more promotion, traffic, and money.

Company Info

Help

What is Yardbarker?

Yardbarker is the largest network of sports blogs and pro athlete blogs on the web. This site is the hub of the Yardbarker Network, where our editors and algorithms curate the best sports content from our network and beyond.