Found June 04, 2013 on World Series Dreaming:
The Cubs had a prolonged meeting with the City Council today and if you don't feel like reading much more, the gist is this:   Hooray!RT @fspielman ChiCitiCouncil License Committte approves up to 46 night games, four concerts and six… fb.me/2vmidtBrw — WorldSeriesDreaming (@WSDreaming_Cubs) June 4, 2013 Fran also wrote a comprehensive article of the proceedings and you should go read it.  The Cubs aren't happy because they wanted more night games and more flexibility in case MLB switches some games to night games due to broadcast demands (suggesting that the Cubs are either good or playing a team that is good, preferably the former).  The residents aren't happy because they forgot that they lived next to a major league ballpark (a-herp-a-derp).  But at this point the night game issue is at a compromise, and the Cubs can hopefully earn significantly more revenue. Next step: get the scoreboard and signage approved, then start actually doing stuff instead of talking about it.  Who wants to take bets on when the Wrigleyville residents decide to move out and forfeit their sweet property values?
Original Story:
http://worldseriesdreaming.com/2013/0...
THE BACKYARD
BEST OF MAXIM
RELATED ARTICLES
Xavier Batista blasted his fourth home run in four games (a solo shot in the top of the 6th that put him into a tie for the team-lead in HR with Jeffrey Baez), Jose Morales hammered an RBI triple, scored a run, and drew a walk, and Carlos Penalver doubled, walked, and scored two runs, as the Cubs and Angels played to a 6-6 tie in Cactus League Extended Spring Training action this...
With the trade deadline a little less than 2 months away, front offices are now starting to seriously evaluate how good their team really is.  While front offices are always looking to improve upon their club at any time during the season, it increasingly becomes more important as the trade deadline approaches and the playoff and division races begin to heat up and become clearer...
Yasiel Balaguert doubled twice, singled twice, walked, drove-in two runs, and scored three more, Junior Lake stroked a double and an RBI single, walked, and scored two runs, Rony Rodriguez singled twice, doubled, knocked-in three runs, and scored another, and Xavier Batista belted an RBI triple and a single and scored a run, helping the Cubs defeat the Angels 10-8 in Cactus League...
A swing and a miss meant a lot more than a strikeout for Chicago Cubs catcher Steve Clevenger. It meant a long stint on the disabled list. After a long recovery, Clevenger began a rehab assignment with Triple-A Iowa on June 3. Des Moines Register's Tommy Birch reports that Clevenger went 1 for 3 with a game-tying three-run double. On April 13, Clevenger swung at a curve ball...
Jeff Samardzija has been piling up a ton of strikeouts as a starting pitcher for the Chicago Cubs this year, and that trend continued during a 12-4 win over the Arizona Diamondbacks on Sunday. Samardzija fanned 11 hitters in 6 1/3 innings of work, but he was charged with two runs that scored after he [...]
For this edition of the Minor League Report, the last before the draft that begins on Thursday, WSD will revise its Top 13 Prospects List without any new additions, simply re-ordering, based on success so far this season and projection as a teaser for the full new top prospects list that will be available shortly following the draft. The Cubs have the second overall pick in the upcoming...
YAOWA MUSIC BY: Lath and Plaster - https://soundcloud.com/lathandplaster/ EMAILZ: worldseriesdreaming@gmail.com iTunes Twitterz: @WSDreaming_Cubs @CubicSnarkonia @MRubio52 Music guest Ian Miller Twitter: @IanMiller ALSO @ProductiveOuts Por favor, send us emails and iTunes reviews. INTROS EMAIL! Best Owner in Cubs history? Superfans Personal superstitions Ramon Ortiz; all...
The Chicago Cubs are expected to be among the teams selling as the trade deadline approaches. This belief was backed yesterday by the comments of general manager Jed Hoyer, who hinted to Buster Olney of ESPN that players in the final year of their contract will be the most likely to be dealt. "If you are in a situation where you're not going to compete that year, and...
The 2013 MLB Rule 4 Amateur Draft starts on Thursday night and we've laid some groundwork for the proceedings here.  The Cubs have exactly $10,556,500 to spend, the second largest pool in the draft, above which they will be penalized increasingly severely depending on how much they intend to spend.  Here are the Cliffs notes: There are penalties for clubs that exceed their bonus...
In between the Cubs' bullpen failing, the Cubs' offense forgetting how to score when there are runners on with no outs, and Anthony Rizzo's less-than-enthusiastic Chevy commercial on WGN radio, I really don't have much to say.  Tomorrow is an off day and I'm going to be bored without actual Cubs baseball to discuss.  Thank goodness for the MLB Draft which starts that...
Anthony Rizzo hit a three-run double in the 10th inning and the Chicago Cubs overcame a pair of homers by Mark Trumbo to beat the Los Angeles Angels 8-6 Wednesday. Cody Ransom added a three-run homer for the Cubs. Rookie Robert Coello (3-2) walked Dioner Navarro with one out in the Cubs' 10th and Darwin Barney singled with two outs. Barney advanced on catcher's indifference...
Cubs News

Delivered to your inbox

You'll also receive Yardbarker's daily Top 10, featuring the best sports stories from around the web. Customize your newsletter to get articles on your favorite sports and teams. And the best part? It's free!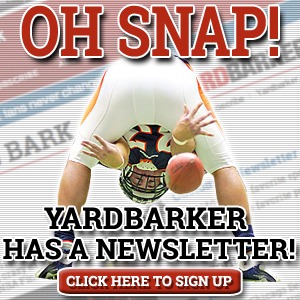 Latest Rumors
Best of Yardbarker

Today's Best Stuff

For Bloggers

Join the Yardbarker Network for more promotion, traffic, and money.

Company Info

Help

What is Yardbarker?

Yardbarker is the largest network of sports blogs and pro athlete blogs on the web. This site is the hub of the Yardbarker Network, where our editors and algorithms curate the best sports content from our network and beyond.