Found August 22, 2012 on Camden Crazies:
A lot has been made this year (including by me) about the Orioles' run differential (bad) not matching up with their actual record (good). The O's have been outscored by 45 runs, which would indicate that they should be more like 57-66 than 66-57 - and their other non-W-L stats back up that kind of view (below average offense, poor defense, OK pitching-staff). It's the wins and losses that count though, and the team has already banked enough of them - however they got them - that they're actually in position for a play-off spot. The run differential thing is pretty weird though. The Orioles have absolutely dominated in close games; when the margin of victory has been one run, they're 23-6 (easily the best record in the Majors); and when the margin of victory has been two runs, they're 20-12. In all other games the team is just 24-39.
Quick aside for some stuff I thought was interesting while looking at this:
The O's haven't even played a ton of close games in general; the 29 overall one-run games is the 5th fewest in the AL, and below the league average of 31+. If they could only (a) engineer more close games, and (b) continue their crazy success in them, then they could actually approach 90 wins.
Either the O's win a close one, or they lose - not surprising given the above records. The degree to which this has been true is a little staggering though; they've won by what seems like a reasonable 4 runs only twice all year, which is often as the team has been blown out by 12 runs.
Sixes have been somewhat lucky, as the team has also dominated when that has been the margin of victory (10-4). They've won as many times by exactly 6 runs as they have when coming out ahead by 4, 5, 7, 8, 9, etc. runs... combined.
There is something to be said for the bullpen having a lot to do with the team's success. Buck Showalter has done a nice job leveraging the better relievers, having Pedro Strop and Jim Johnson pitching in closer games while throwing Kevin Gregg out there in mop-up duty. In that way, if the O's are ahead by a little, they can keep that lead - and once the fall too far behind, it really doesn't matter how much more out of hand the game gets. For example; Jim Johnson has one of the worse ERAs in the pen at 3.08, but over half of the runs he's allowed this season have come in two games (5 against the Twins in what turned out to be a 19-7 loss, and 6 against the A's that ended 14-9). Otherwise he's been a shutdown reliever coming in for high leverage innings. No pansy stuff either; 36 of his 39 entrances in save situations have been with leads of 1 or 2 runs, and he's actually come in to tie games more often than in games where the O's were ahead by 3 runs. The opening act for JJ has usually been Pedro Strop and his 1.46 ERA. He generally appears in the 8th with a 1 or 2 run O's lead, and then passes that off to Johnson for the save. I wouldn't mind seeing him get his strike-out to walk ratio above 2, but the run prevention has been great (as evidences by his team best 3.0 pitching brWAR). Beyond that, even when Strop and JJ have given up runs it's rarely mattered. A lot of that is fluky - Johnson comes in with a two-run lead and gives up one, but still gets the save. In fact, of the 7 games in which Strop gave up a run, the O's still went on to win 5 of them; and of the 8 games in which JJ gave up a run, the O's still won 6 of them. On the other side, there's Kevin Gregg, who has the worst ERA in the pen for guys with at least 20 IP (3.99). He's pitched in 35 games; of those, the O's won 8 (three by 3 runs or more) and lost 27 (22 by 3 runs or more). Amusingly, of the 8 wins, in half Gregg only came in because the game went into extra innings. Generally speaking, the guy who's done the most regular damage to the team's run differential is the one being kept away from important games at all costs (the average leverage index when Gregg's entered a ballgame has been around 0.5). The other top relievers - Darren O'Day and Troy Patton - are right there with Strop when it comes to pitching in close games (percent of appearances where the score differences was two or less: O'Day; 65%, Strop; 63%, Patton; 60%), but they tend to show up more with the game tied or the O's just behind. So that's a relatively deep stable of pitchers having very good years that are available to either turn slim leads into close wins or keep things tight enough for the O's to come back (for a close win). Certainly other teams get the whole "use better pitchers at higher leverage times" thing, but perhaps the Orioles have more opportunities to use it to their advantage because of the in and out starting pitching (sometimes they're good and the top part of the pen can work, and sometimes they're really, really not, and then we get to see Captain Chaos). The O's have allowed 6+ runs in 36% of their games (compared to 31% as the Major League average), while also allowing 2 or fewer runs in 33% of their games (compared to 31% as the Major League average). And the team has taken advantage of those well pitched games, winning a higher than average share (95% versus 87% for all teams). Another part of it is probably the offensive being below average, since that means fewer blow-outs in the O's favor (they're 16-20 in games decided by 5 or more runs). That makes it harder to get the run differential up since they don't run up the score as often as that gets done against them. In any case, there's probably at least a little something the Orioles are doing that's helping them turn some middling overall stats into more wins than you'd expect. And it's hard to argue they haven't been very lucky on top of that. It would still be surprising to see them continue winning ~54% of their games going forward, but it's certainly fun while it lasts.
Original Story:
http://www.camdencrazies.com/2012-art...
THE BACKYARD
BEST OF MAXIM
RELATED ARTICLES
For more than 10 years, the Baltimore Orioles have been looking for a regular first baseman. By and large, they have failed.Below is a graph showing the Orioles' offensive output measured by sOPS+, a comparison of OPS compared to the rest of the league's first basemen. (sOPS+ stats pulled from Baseball-Reference.com)As you can see, the best the Orioles have done over the...
Baltimore's Nick Markakis continues to get it done For anyone who watches Orioles games regularly you notice a few different things. Jim Palmer is head over heals in love with Jim Palmer, J.J "ballso" Hardy catches everything hit within 100 feet of him, and Nick Markakis has no emotions what so ever. In fact it almost looks as if Markakis has the most miserable job on...
Will the next 2 weeks decide the Orioles fate?   Can you believe it? Here we are, late August, and we're talking about the Baltimore Orioles in the playoff hunt.  Baseball is fun again for O's fans.  The Orioles have been able to maintain a spot in the hunt all season long, despite every statistical category and theory telling us that they should have been eliminated weeks...
For most of 2012, the Baltimore Orioles have been playing over their heads. Well, at least when it comes to their expected win-loss record. Based on the run differential the team has generated, the O's have amassed 10 more wins than we would expect based on their Pythagorean winning percentage. The team has outplayed its cumulative expected winning percentage throughout the year...
Again, the Baltimore Orioles continue to amaze. It is now August 22nd and they are still in the playoff hunt, plus they still hold the second wild card spot. The amazing season continued as they won again, this time in Texas against the Rangers, 5-3. After a loss on Monday night, they bounced back yesterday as Chris Tillman's (6-2) nice outing combined with the bullpen and...
You've probably heard by that the Orioles lost 12-3 to the Texas Rangers last night, as Tommy Hunter and Kevin Gregg set off the fireworks for them – in a historically bad way. Tommy Hunter, in a typical Hunter start, gave up three homers; however, was terrible on Wednesday night. Adrian Beltre, who can be one hell of a hitter, slammed three home runs – including doing two...
Nate McLouth's two-run home run keyed Baltimore's four-run fifth inning and the Orioles held off the Texas Rangers 5-3 Tuesday night. Chris Tillman (6-2) gave up three runs on six hits and struck out seven and walked one in 6 2-3 innings before giving way to the Orioles' bullpen, which now has a 1.57 ERA in the last 18 games. Jim Johnson worked a scoreless ninth to pick...
L.J. HoesThe Norfolk Tides completely handled the Gwinnett Braves today in Lawrenceville, GA 8-0. Since I felt an acute case of baseball fever coming on this morning, I called out sick and went to the 10:35 AM start. The Oriole highlights came early as former Dodger farmhand RF Jamie Hoffman launched a 3-run homer that just barely cleared the left field wall and Braves LF Jose Constanza...
ARLINGTON, Texas (AP) -- Nate McLouth's two-run home run keyed Baltimore's four-run fifth inning and the Orioles held off the Texas Rangers 5-3 Tuesday night. Chris Tillman (6-2) gave up three runs on six hits and struck out seven and walked one in 6 2-3 innings before giving way to the Orioles' bullpen, which now has a 1.57 ERA in the last 18 games. Jim Johnson worked...
The 5th inning was Scott Feldman's undoing tonight.  Until that point, he was cooking right along in a tie game.  The Orioles only managed one (unearned) run on three hits in the first four frames.   But then Feldman hit a wall, and the Baltimore bats hit him.  Four runs on four hits, including two singles, a triple and a home run. All of a sudden, the Rangers were down 5...
Orioles News

Delivered to your inbox

You'll also receive Yardbarker's daily Top 10, featuring the best sports stories from around the web. Customize your newsletter to get articles on your favorite sports and teams. And the best part? It's free!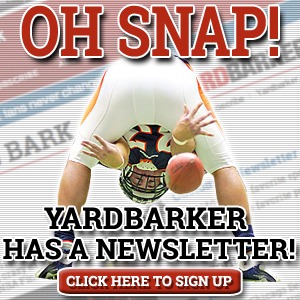 Latest Rumors
Best of Yardbarker

Today's Best Stuff

For Bloggers

Join the Yardbarker Network for more promotion, traffic, and money.

Company Info

Help

What is Yardbarker?

Yardbarker is the largest network of sports blogs and pro athlete blogs on the web. This site is the hub of the Yardbarker Network, where our editors and algorithms curate the best sports content from our network and beyond.