Found September 18, 2012 on Blog So Hard Sports:
A Winning Season
It's been a long time for Orioles fans, but the O's finally have a winning season
It has been 15 years, but the drought is mathematically over. The Baltimore Orioles will end this regular season with a winning record. The Orioles got their 82nd win on Sunday and look to continue to fight for the AL East division lead, but I wanted to focus on the winning season.
When this season started out, every expert analyst picked the Orioles to finish 4th or 5th in the AL East. The average projection had the Orioles winning anywhere from 55-75 wins, but none had the Orioles with a winning record, but you cannot really blame them.
The year was 1997, the last time the Orioles made the playoffs, and the last year they finished above .500. The following table shows the last 15 years records, and it does not look pretty.
Year Record %
2011 69-93 .426
2010 66-96 .407
2009 64-98 .395
2008 68-93 .422
2007 69-93 .426
2006 70-92 .432
2005 74-88 .457
2004 78-84 .481
2003 71-91 .438
2002 67-95 .414
2001 63-98 .391
2000 74-88 .457
1999 78-84 .481
1998 79-83 .488
1997 98-64 .543
Out of those 15 years, the Orioles finished 1st in 1997, 3rd in the division only once, 4th in the division 9 times and 5th in the AL east 4 times (the last four years). Since 1997, the O's have gone through 9 different managers and none had the success as now current Nationals manager, Davey Johnson had, except for maybe current manager Buck Showalter. Buck has been able to do more with less, and has been able to win in what is arguably the toughest division in baseball this year, but by now if you are a patron to BlogSoHard you know all of our reasons as to why we believe Buck should be the AL Manager of the year.
Let's take some time briefly to mention some of the accolades in sports and life in general while this drought has occurred. Keeping it in Baltimore, the Ravens started in 1996, and have had 9 above .500 seasons and one Super Bowl Championship in 2001. The Washington Redskins have only had 4 winning seasons and 2 playoff wins. My beloved Dallas Cowboys have not had as much success as the Ravens, having only 8 winning seasons and only one lone playoff win. Tiger Woods has won all of his 14 majors. Mike Tyson discovered his fond appetite for ear cartilage. We have had 3 different Presidents.
I wrapped up middle school, got my driver's license, completed high school and went off to college and have been working for over 3 years, all while the Orioles have stayed under .500.
For some people, this is not a long time, but let me mention that even the Chicago Cubs (known for their World Series drought since 1908) have had 7 seasons above .500 since 1997. There is one team however, that can still hang their head down low, and that is the Pittsburgh Pirates. The last .500+ season for them was 1992, so Pittsburgh fans, I feel your pain.
Now I don't want to throw the towel in on this season because we have a winning record, but whatever the outcome of this year, it has been a great season. We have outplayed everyone's expectations (maybe except for Bucks) and have got the attention of ESPN and MLB.com.
With 18 games left in the season for the O's, time will tell how the regular season will end, but we'll be sure to keep you updated on how it all plays out.
Original Story:
http://blogsohardsports.com/orioles/t...
THE BACKYARD
BEST OF MAXIM
RELATED ARTICLES
Baltimore Orioles relief pitcher Tommy Hunter was on the receiving end of a not-so-nice of a gift from high above, courtesy of some members of the winged animal kingdom during Tuesday's game against the Seattle Mariners at Safeco Field. While warming up in the 16th inning of a marathon of a game (one the O's [...]
The Baltimore Orioles are throwing 19-year-old pitching prospect Dylan Bundy into the middle of a pennant race. Baltimore recalled Bundy from Double-A Bowie on Wednesday. The right-hander will provide depth in the bullpen for the Orioles, who played an 18-inning game against the Mariners on Tuesday night and have an upcoming doubleheader against Toronto on Monday. Bundy has not...
Most of the time when a Major League Baseball pitcher throws a wild pitch, it usually because he's trying to get the batter out.Back on Sunday night, Baltimore Orioles relief pitcher Jim Johnson threw a wild pitch during an intentional walk of all places.It happened in the seventh inning as Johnson tried to set up a double play with an intentional walk of Oakland A's outfielder...
After Wednesday's 18-inning marathon win over the Mariners, Orioles pitcher Tommy Hunter emerged with the victory. During that relief appearance –– where he pitched two innings –– he made the Oriole bird logo stitched on baseball cap proud. As it turns out, Hunter also received a good luck charm from a real bird Wednesday. While Hunter was in the bullpen, a bird left...
Few things get baseball fans more excited than the opportunity to begin taking an extraordinary young talent for granted, so baseball circles are abuzz right now with talk of the Orioles' promotion of top prospect Dylan Bundy. It didn't at any point appear as if Bundy would see the majors in 2012, so this news comes as a surprise, but few were also counting on the Orioles to...
At the beginning of April, there was little reason to believe that the Baltimore Orioles would be anything but a last place team.  This was not a new occurrence as the O's hadn't put up a winning season since 1997.  Aside from the inescapable feeling of hope at the beginning of the year, my expectations for the 2012 season as an Orioles' fan were pretty grim.  Once former...
O's win in 18 at Seattle to secure their 14th-straight extra-innings win and move back into a tie for first with NY. [Camden Chat] Nineteen-year-old super-prospect Dylan Bundy gets promoted to spell relief. [Camden Chat] Jim Thome and Troy Patton are coming back. [O's Insider] Braves lose. Nats' magic number is now 10. [Nats Enquirer] It sounds like Danny Espinosa's gonna...
The Baltimore Orioles initially had said that they would not promote their top pitching prospect, right-hander Dylan Bundy. A pennant race and an 18-inning game have a way of changing a team's best-laid plans.
Taylor Teagarden stroked a pinch-hit RBI single to right in the 18th inning to help give the Baltimore Orioles a 4-2 comeback victory over the Seattle Mariners on Tuesday night. The win allowed the Orioles (84-64) to pull within a percentage point of the Yankees (83-63) for the lead in the AL East. The Yankees were rained out Tuesday and will play a split double-header with Toronto...
The Orioles pulled the trigger on a potentially impactful post-season move by calling up the 19-year-old phenom Dylan Bundy. Electric stuff who projects to be a #1 rotation guy will provide a new weapon for Buck Showalter down the stretch and potentially in the playoffs (although not on the roster by the playoff deadline to be added, there are legal exemptions that can get him on...
The Baltimore Orioles have pretty much had their way with the Seattle Mariners this season, and Chris Tillman has been a major reason for that. Tillman and the Orioles will look to continue their dominance of the last-place club when the teams begin a three-game series Monday night at Safeco Field. Baltimore holds a 2 1/2-game lead over the Los Angeles Angels for the AL's second...
Orioles News

Delivered to your inbox

You'll also receive Yardbarker's daily Top 10, featuring the best sports stories from around the web. Customize your newsletter to get articles on your favorite sports and teams. And the best part? It's free!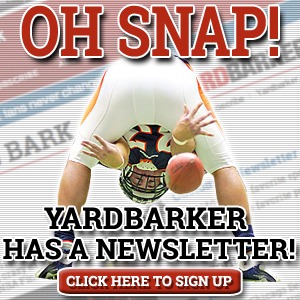 Latest Rumors
Best of Yardbarker

Today's Best Stuff

For Bloggers

Join the Yardbarker Network for more promotion, traffic, and money.

Company Info

Help

What is Yardbarker?

Yardbarker is the largest network of sports blogs and pro athlete blogs on the web. This site is the hub of the Yardbarker Network, where our editors and algorithms curate the best sports content from our network and beyond.