Found April 23, 2012 on Phillies Nation:
PLAYERS:
Cliff Lee
,
Joe Blanton
,
Juan Pierre
,
Pat Burrell
,
Raul Ibanez
,
Freddy Galvis
,
Jimmy Rollins
,
Brandon Crawford
,
Placido Polanco
,
Hunter Pence
,
Ty Wigginton
,
Ryan Howard
,
Chase Utley
,
Adam Dunn
TEAMS:
Philadelphia Phillies
,
San Francisco Giants
,
New York Yankees
,
Washington Nationals
,
Boston Red Sox
,
Chicago White Sox
Galvis has lead one of the best defenses in baseball. Photo: APThere is nothing worse for a fan than watching your team lose to a team that is, in every way shape and form on paper, the worse team. While a 2-2 split in a four game set is usually satisfactory for any ball club thousands of miles from home, the Phillies could have, and should have, swept away the lowly Padres. Yet, as Phillies' fans, we wake up confused and wondering what can be done.By no means is it time to raise the white flag, but it may be time to reassess what we thought we knew as fans when the season started. Here are few preseason expectations with their corresponding readjusted realities and what that means for the Phillies.Warning: Reading this may induce banging your head into the wall in frustration and calling into talk radio yelling about the need for "run producers". But if you read through the end, hopefully I will have convinced you, Phillies Nation reader, that there may be a light at the end of the...
Original Story:
http://philliesnation.com/archives/20...
THE BACKYARD
BEST OF MAXIM
RELATED ARTICLES
The Phillies issue the following statement: "After seeing the wound specialist in Philadelphia yesterday, Ryan Howard's wound has gotten smaller and is healing.  We've been advised to limit his activities for one more week to allow it to continue to heal.  We hope that he will be able to re-start his baseball activities thereafter. Additionally, Hunter Pence will...
(Yahoo Sports)Hunter Pence is getting a break tonight, but it's not just for a breather in the midst of his 0-for-15 slump. Pence is dealing with a shoulder injury, according to Charlie Manuel (thanks to Matt Gelb and the beat reporters).If you remember, Pence slammed into the wall at AT&T Park in San Francisco last week, jarring the shoulder. So far, nothing concrete has been...
Good News:* The Phillies scored a run last night.* The Phillies got three whole hits last night, and two of them were by actual position players. Yeah offense!* Freddy Galvis fielded a routine groundball and Chris Wheeler, barely able to speak due his 'physical excitement,' gave a five minute dissertation on how great it was. Who needs to see hits when you can watch a second...
How soon will Ryan Howard make his return to the Phillies lineup? We could be getting more of a sense for establishing that timeline. After visiting the mysterious wund specialist, the Phillies have confirmed that Howard's suture wound is starting to diminish, which means Howard could be getting ready to take part in baseball activities in the somewhat near future. "After...
A little help here, please? Anybody? It may still be early in the season, but the Phillies ship is sinking fast. Is 15 games into the season a bit too early to begin yelling, "Mayday! "? Maybe not… With a 7-8 record, the Phillies are barely staying afloat in the NL East where they are tied for last place with the Marlins. Last nights' awful 5-1 loss to the Padres combined...
The Philadelphia Phillies were doing their best impression of the awful 1972 club in the first weeks of the year. Of course, Phillies fans like myself aren't that delusional to think they've become that bad. Yet that 1972 Philadelphia team won 27 games with Steve Carlton and only 32 with everyone else on the mound – while in the opening weeks of this season, the 2012 Phillies...
The Philadelphia Phillies placed left-handed pitcher Cliff Lee on the 15-day disabled list with a left oblique strain on Saturday.Lee was injured while delivering a pitch in the 10th inning of the Phillies' 1-0 loss to the San Francisco Giants on Wednesday.The lefty is 0-1 with a 1.96 ERA in three starts this season.Right-hander Kyle Kendrick will start in place of Lee Monday...
"Why would I want to go where fans only support you from the third inning through the sixth?"- Cole Hamels, Padres fan?Reference articles:Hamels counts himself among alienated Padres fans - San Diego Union-TribuneCole Hamels, Padres fan - Inside the PadresSo, let's get this straight.  Cole Hamels made some comments in the offseason about Padres fans and possibly coming...
Hot News for SP Cliff Lee
The Phillies surprisingly did something on Monday night that they've only done 7 out of 17 times this season: score more than 2 runs. 5 runs to be exact. They had an explosive inning too, where they plated every single one of those baserunners. Monday even marked the first time a Phillies batter homered with a runner on base. The first multi-RBI HR of the year came off the bat...
Spot-starter Kyle Kendrick becomes the first Phils' starter to last less than five innings as he is knocked out of the box in the fourth inning, before the Phils finally end up losing to the D-backs, 9-5, although scoring five runs in the ninth, highlighted by back-to-back home runs. The D-backs took the lead in the first as, with a runner on second and with nobody out, Aaron Hill...
MLB News

Delivered to your inbox

You'll also receive Yardbarker's daily Top 10, featuring the best sports stories from around the web. Customize your newsletter to get articles on your favorite sports and teams. And the best part? It's free!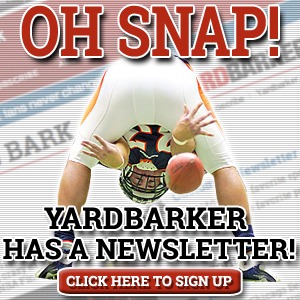 Latest Rumors
Best of Yardbarker

Today's Best Stuff

For Bloggers

Join the Yardbarker Network for more promotion, traffic, and money.

Company Info

Help

What is Yardbarker?

Yardbarker is the largest network of sports blogs and pro athlete blogs on the web. This site is the hub of the Yardbarker Network, where our editors and algorithms curate the best sports content from our network and beyond.