Found April 04, 2012 on Fantasy Baseball 365:
Seeing that the season is here and the top five players are almost consensus top five players, I decided to combine the top 5 into one post.

Key Stats:
Jose Bautista has 97 home runs in the last two seasons. That is 18 more than the next best player in baseball (Albert Pujols). He retains third base eligibility in most leagues this season and he added batting average to his repertoire last season.
There's nothing like a get out of jail free card to radically change the value of a player. That's what happened to Ryan Braun in this off-season. The NL MVP will have the whole world watching as he deals with any potential questions in a potential slow start regarding PEDs and the departure of Prince Fielder. Fielder's departure won't be all bad news for Braun fantasy owners. Braun easily stole a career best 33 last season, and with less to lose by stealing this season and more walks likely coming his way that total could approach 40 this season.
Matt Kemp and the Dodgers have the comfort of knowing that they have an owner who can pay them this season. Fantasy owners wouldn't mind if Kemp had insecurity after what he accomplished last year. Going back to 2006, every player that has finished in the top spot in the player ranking (as Kemp did last year) has come back and had at least a top 25 seasons the following year. Pujols was number one two straight seasons.
Speaking of Pujols, the move to the AL is somewhat watered down in terms of how it impacts him given the amount of time that pitchers change leagues and the fact that there is interleague play. He always has the spot light on him everywhere he goes, so dealing with one more thing (a big contract to justify) shouldn't bother him. Last year was the worst of his career - and he was the 13th best player in fantasy baseball. Look for more RBI opportunities now that he has a number nine hitter that is not a pitcher.
Then there's Miguel Cabrera. A switch back to third base figures to be a disaster in the real game, but fantasy owners are salivating. Cabrera turns 29 in less than two weeks and has had one season without 30 home runs since 2004. He also hasn't hit under .320 in more than three seasons.
Skeptics Say:
Joey Bats won't be able to combine last year's average with the 2010 home run numbers. The big change last year was the fact that he cut down on his fly ball rate which sacrificed home runs for average.
Braun needs to show that he can handle being the man - the only man on the Brewers, and all while putting behind what took place last year.
Kemp saw his BABIP and HR:FB rates jump last year. That happens when you have the best season of anyone in fantasy baseball, but can he sustain it? The line drive rate was better last season, so it's possible, but I would think that 30 HR is closer to what he'll get than the 40 he almost had last year.
Pujols is now 32 years old, and while he has said all the things you want to hear about aging (it is only motivating him), he is human. Pujols saw his walk rate drop pretty significantly last season, which can probably be attributed to lower patience when his numbers weren't what the whole world is used to seeing.
Cabrera is the number one pick, but in a snake draft letting steals get that far away from you does force your hand a little later on in the draft (as opposed to taking someone that does it all like Kemp or Braun).
Projection:

Bautista: 103 R 39 HR 109 RBI 6 SB .275 AVG .980 OPS
Braun: 98 R 32 HR 102 RBI 29 SB .302 AVG .970 OPS
Kemp: 97 R 31 HR 105 RBI 33 SB .295 AVG .965 OPS
Pujols: 104 R 37 HR 119 RBI 7 SB .310 AVG 1.049
Cabrera: 108 R 35 HR 120 RBI 2 SB .323 AVG 1.015 OPS in 585 at-bats
Original Story:
http://www.fantasybaseball365.com/art...
THE BACKYARD
BEST OF MAXIM
RELATED ARTICLES
ANAHEIM - None of this really matters, at least not until Friday, but when Albert Pujols walked up to the plate with the bases loaded in the third inning Monday night, it might as well have been the real thing. The Angels brought Pujols to Anaheim and signed him for 240 million over the next 10 seasons -- for these kinds of moments. Why wait until the regular season to see how...
Albert Pujols has settled into his new locker at Angel Stadium, and his new teammates already think they're getting to know the superstar slugger pretty well. Now it's time for Pujols to formally introduce himself to his new fans. The three-time NL MVP will debut for the Los Angeles Angels on Friday night against the Kansas City Royals on opening day of the most anticipated...
LOS ANGELES (AP) -- Albert Pujols put one more ball into orbit, just for good measure. Pujols hit a solo home run estimated at 441 feet with his final swing of spring training, and the Los Angeles Angels beat the Los Angeles Dodgers 8-3 Wednesday in their exhibition wrapup. Signed as a free agent, Pujols hit seven homers this spring, along with 20 RBIs and a .383 average. Mark...
I write this article just before every season.  Each time I try and think outside the box to pinpoint the most important Angel since it isn't always the most obvious choice.  This year, I tried to do the same thing but couldn't find anything outside of the box.  No, try as I might, the answer I kept coming back to was Kendrys Morales. Morales isn't the most obvious...
With the Royals first game of the season today, here is five things to look for against the Los Angeles Angels of Anaheim. 1.  How well does Albert Pujols play for his new team? The former Cardinals slugger signed a 10 year, 240 million deal with the Los Angeles Angels back in late 2011. Albert Pujols has a lot to live up to with a contract that big. So far he is tearing up spring...
FOX Sport's first full week of Major League Baseball coverage is scheduled this week highlighted by a live, prime time Saturday telecast of the Los Angeles Angels at New York Yankees. There hasn't been this much buzz in Anaheim in a long time and the arrival of super slugger Albert Pujols is just part of the excitement. The Angels also bolstered their rotation by plucking...
Last season, Ryan Braun won the NL MVP award, barely edging out Matt Kemp of the Dodgers. Many people, including the staff of this site, thought the award was Kemp's to lose. Alas, it wasn't to be after Braun's Brewers won the NL Central. Things could be a little different this year, with Braun's season clouded by steroid speculation after a failed test that was later...
2012 Outlook – 60 (8th) One down, 161 to go, right? I think the assumption around baseball was if Albert Pujols left the Cardinals, he would leave a husk of a team behind him. If his teammates didn't prove their worth enough throughout their playoff run in 2011, they'll get ample chance to do so in 2012. They should be up to the challenge, as this roster was especially well...
Opening Day has come and gone for almost every team in baseball.  But when you play on the West Coast, you get the distinction of being the last.  The Kansas City Royals and Los Angeles Angels of Anaheim will take the field as the final two teams to open 2012. After you take that afternoon nap to ensure that you will be awake for the entire late night affair, kick back and read...
Opening Day is in the books for the defending champions, now the St. Louis Cardinals will play the remainder of the month against the Central Division and it starts with a series in Milwaukee against the Brewers. It's time to grab a cold frosty one (heh, heh, heh), make some nachos and settle in on the couch, the season is starting.  Don't get any cheese on the keyboard and...
Hopefully we see more title belt action from this years 'crew.   WOOOOOOOOOOOHOOOOOOOOOOO Opening Day in Milwaukee. Grab your hotties, grab your Miller Beer, grab your Brewer gear and get to the ball park. Or, if you have to work, get your smart phone apps warmed up to tune into the opening day madness. Here are some thoughts to help you prepare for and get through Opening Day...
The Cardinals begin defense of their championship tonight by helping the newly named Miami Marlins open their new stadium. Kyle Lohse gets the ball for the Cardinals while Josh Johnson goes for the Marlins. The Cardinals also play their first game in a decade without Albert Pujols on the roster. Despite that loss, the projections [...]
MLB News

Delivered to your inbox

You'll also receive Yardbarker's daily Top 10, featuring the best sports stories from around the web. Customize your newsletter to get articles on your favorite sports and teams. And the best part? It's free!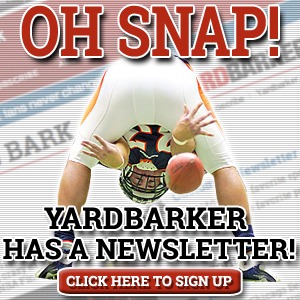 Latest Rumors
The Backyard

Today's Best Stuff

For Bloggers

Join the Yardbarker Network for more promotion, traffic, and money.

Company Info

Help

What is Yardbarker?

Yardbarker is the largest network of sports blogs and pro athlete blogs on the web. This site is the hub of the Yardbarker Network, where our editors and algorithms curate the best sports content from our network and beyond.