Found May 28, 2012 on Dempsey's Army:
PLAYERS:
Dylan Bundy
,
Bruce Chen
,
Xavier Avery
,
Jason Hammel
,
Jake Arrieta
,
Adam Jones
,
Matt Kemp
,
Jurickson Profar
,
Trevor Bauer
,
Chris Davis
,
Jose Canseco
,
Mike Trout
,
Rick Peterson
,
Jonathan Schoop
TEAMS:
Baltimore Orioles
,
Kansas City Royals
,
Los Angeles Dodgers
,
Texas Rangers
,
Arizona Diamondbacks
,
Los Angeles Angels
Dan Szymborski, Fangraphs.com
12:05 Comment From Dauer With Power
Still a lot of deep-engine work left to do to turn the O's into a winning franchise, but Dan Duquette's got a winning team now. What do you want to see him do at the deadline?
12:06 Dan Szymborski:
I expect the O's to be a bit off the pace by that point, hopefully pressure from the brainuntrustworthy upstairs won't make them go all-in now.
12:29 Comment From sds
Dan, if Dylan Bundy could replicate his early-season single-A performances (3 IP, 0 hits, 5 Ks) at the MLB level every five days, how valuable would that be? More than a LAIM like Bruce Chen?
12:30 Dan Szymborski:
That could be useful in very creative hands, but baseball's thinking doesn't usually allow that kind of experimentation. Also, you usually get creative with a guy with a more limited skillset - the O's probably aren't going to have Bundy in the majors until they think he's ready for a full workload
12:55 Comment From The Oriole Bird
Someone in the Orioles' front office was reading your last chat. I asked about Xavier Avery, and they called him up. He has not disappointed. Do you think he'll actually try to steal a base this year?
12:55 Dan Szymborski:
Hasn't he already? Didn't he have one over the weekend?
1:02 Comment From The Oriole Bird
Over/ under on Orioles' true-talent win percentage, if you include soon to return players, like Reynolds and Reimold: .440?
1:02 Dan Szymborski:
81. Lower if we're including injuries here.
1:22 Comment From STiVo
Machado's development seems on track. How will the O's screw this up?
1:23 Dan Szymborski:
They could always decide he's too tall to be in the middle infield or something and move him to 3rd
1:31 Comment From Steve
Wouldn't the Orioles want Youkilis? What could they trade for him?
1:32 Dan Szymborski:
They probably wouldn't trade much. At least he can field 3B.
2:15 Comment From Dan Szymborski
Jason Hammel and Jake Arrieta. Both underrated?
2:15 Dan Szymborski:
I think they're both about rated now.
Jerry Crasnick, ESPN.com
Aaron (Baltimore, MD)
The Orioles are going to throw the money at Adam Jones right?.....RIGHT?
Jerry Crasnick (2:00 PM)
Aaron, I have to think they'll try. There aren't many center fielders that young with an all-around skill set like Jones has. But Matt Kemp set the standard with an eight-year, $160 million deal, so Jones isn't going to come cheaply.
Jack Moore, Fangraphs.com
12:42 Comment From Clark Griswold
Adam Jones- Over/Under 32 home runs?
12:42 Jack Moore:
Push? Right around there, over if you put a gun to my head.
Jim Callis, Baseball America
Kyle (Dallas):
If the 2012 Milb POY was picked today, who would get your vote?
Jim Callis:
Dylan Bundy. Would probably rank him No. 1 on my overall prospects list as well.
Richard Z (North Brunswick, NJ):
All of the mock drafts I've seen so far have the Orioles taking a college pitcher (Gausman or Zimmer). Is that the general feeling?
Jim Callis:
Yes. Can't see them taking Zunino with Wieters on hand. Correa would be tempting, but they have Machado. I think a college arm will be the top guy on their board at No. 4.
Tyler (Harrodsburg, Ky):
Does Jurickson Profar or Trevor Bauer have any say in that #1 prospect ranking (currently) or do you think Bundy is clearly above everyone else in the minors?
Jim Callis:
Sure they do. As of today, I'd take Bundy. Profar would be No. 2 on my list.
Doug Thorburn, Baseball Prospectus
dianagram (VORGville):
Best "non-pitcher" pitching performance you've ever seen? Chris Davis?
Doug Thorburn:
Best? That's a tough call, but Davis' changeup was filthy, and you rarely see that kind of secondary stuff from a non-pitcher. The most comical position player to take the mound had to be Jose Canseco
Sky (The Roc, NY):
Have you noticed anything qualitatively different with Adam Jones this year? New approach, new mechanics, better at anything?
Doug Thorburn:
The glaring statistical difference is in the HR/FB rate. His other rates are relatively close to career marks, but more of his flies are finding the seats. He is also swinging at fewer pitches overall, which suggest a change of approach. He could be sitting dead-red on certain pitches early in the count and laying off anything that does not fit a certain profile until he gets two strikes, and perhaps he has picked up no a particular trend that pitchers had established against him. This is another area where batters who do their homework can reap an advantage.
As Crash Davis said, "If this guy starts me off with the breaking ball ... I'm taking him downtown"
Ben Badler, Baseball America
@Jaypers413 (IL):
Do you believe the Orioles made the right decision to promote Bundy by one level up instead of two?
Ben Badler:
I don't think it's going to make much of a difference, but I usually do believe in a one level at a time schedule.
Matt (VA):
Dylan Bundy is facing his first real stiff test Saturay vs Salem. How much attention should we pay attention to it?
Ben Badler:
Just enjoy the ride. I can't imagine a guy with his combination of stuff and polish running into much difficulty.
Kyle (Indianapolis):
I know everyone has raved about the polish of Dylan Bundy, but shouldn't that be somewhat expected given the fact that he was a fairly old high schooler. Bundy turns 20 in November in comparison to someone like Mike Trout (I know comparing a pitcher and hitter) who turns 21 in August. They are only 16 months apart, but Trout has experienced 2+ years in the minors. Shouldn't Bundy be more polished or mature than any other high schooler in last year's class.
Ben Badler:
He was old for his grade, but the guy has been about as flawless as you can get and is doing it with arguably the best pure stuff in the minors. He's the best pitching prospect in baseball and he might even be the best prospect overall, although Jurickson Profar has a pretty compelling argument.
Keith Law, ESPN.com
Jon V. (Cleveland, OH)
How do Profar, Machado and Lindor compare? How would you rank the three in each of the 5 major scouting categories?
Klaw (1:30 PM)
Profar and Lindor are no-doubt shortstops, both better runners than Machado. Machado is much bigger and I think he'll produce a lot more offense, but there's a non-negligible probability he moves to third base.
Studebaker (NJ)
Would you have skipped Bundy to AA? Does he need a challenge, or is there no rush?
Klaw (1:38 PM)
I would have started him in AA. Throttling his innings AND starting him at a level for which he was overqualified made - and still makes - no sense.
Scotty D (Rochester, NY)
Given O's pitching coach Rick Peterson's reputation for mishandling young pitchers, what are the chances that Bundy can overcome this coach's tutoring and emerge as a #1 starter by 2014?
Klaw (1:40 PM)
Does he have that reputation? I don't think I've ever heard that.
Shoshana (Boston)
Hey Keith any thoughts on X. Avery? Was always known as a tools guy, but really improved his BB% in Az and has carried it through to this year. SSS obviously but he's been fun to watch in Bal
Klaw (2:03 PM)
At bats in Arizona were pretty poor. I'm inclined to say still an extra outfielder, but there's at least cause for optimism.
Chris (AZ)
Will Gausman be gone by the time the Royals pick? How about Zimmer?
Klaw (2:24 PM)
Baltimore is the only team ahead of KC who might take Gausman.
Jay (Florida)
How do you project Jonathan Schoop? All-star/starter/bench guy?
Klaw (2:26 PM)
Above-average regular. Not a SS, though.
Matt Klaasen, Fangraphs.com
12:20 Comment From Andrew
Can Matusz keep it up?
12:21 Matt Klaassen:
You mean keep up being okay? Sure... Not that excited about him being average, but I guess it's an improvement.
12:43 Comment From Andrew
Are you bullish on Matusz?
12:44 Matt Klaassen:
which animal stands for apathy?
1:09 Comment From inquiringmindswanttoknow
Who wins AL East?
1:09 Matt Klaassen:
Rays. Except that I've jinxed them now...
Original Story:
http://dempseysarmy.blogspot.com/2012...
THE BACKYARD
BEST OF MAXIM
RELATED ARTICLES
One of the major complaints about the Stars and Stripes hats is they don't match the uniforms. Well, the Orioles changed their uniform to match the hat (well not really, they changed their uniform to match the shirt they were giving away to match the hat). The new Baltimore Uniform for at least Memorial Day looks like this: Online there is no word if a portion of these uniform...
Baltimore Orioles general manager Dan Duquette said Sunday the team's signing of outfielder Adam Jones to a long-term deal says how much it is committed to building a winner. "We're telling Oriole fans we're committed to this player, we're committed to putting a winning team on the field and we're committing to providing hope to rebuilding our fan base...
It looks like after the loss on Monday night, the Orioles decided to make some moves. As I thought, the Orioles would demote Tommy Hunter today; however, they also sent Xavier Avery back to Triple-A after scuffling pretty badly as of late. Endy Chavez is back from the disabled list. Although Avery did well his first week up in Baltimore and his sample size doesn't indicate...
During last night's Baltimore Orioles/Kansas City Royals game, Orioles first baseman Chris Davis lost his bat into the stands in the fifth inning and had it returned by the fan who caught it. Later in the game, Davis was at the plate with his returned bat and slugged a home run into right field much to the delight of the fan who returned it: Your browser does not support iframes.
For the Orioles, it has been an amazing start to the season. However, have the real Birds – at least, from what we have known the last 14 years – finally shown up? The first six weeks were something to behold, as they looked like contenders and took the baseball world by storm; however, in the last eight days, the Orioles have gone 2-6, and the starting pitching – which had...
Baltimore Centerfielder & standout Adam Jones has signed a 6 year extension with the Orioles. The deal is the largest in franchise history & makes Jones the 2nd highest paid CF in baseball (Matt Kemp).
The Baltimore Orioles on Saturday ended up losing to the Kansas City Royals in a close contest, 4-3, at Camden Yards. It was a hard fought game by the Birds; however, in the final third of the contest, the bullpen could not hold a 3-2 lead, mistakes, plus an inability to get runners on base and advance them in the final frame cost the Orioles a chance to win their 30th game of the...
The Baltimore Orioles have hit a bit of a rough patch. Facing the struggling Toronto Blue Jays might help them get back on track. The visiting Orioles look to avoid matching a season high with their third straight loss Monday night by handing the Blue Jays a sixth consecutive defeat. Baltimore (29-19) held a two-game lead atop the AL East on May 19 while riding a five-game winning...
As I'm writing this, the Dodgers and Orioles are both in first place, with neither team expected to make a major splash in the off-season (though our very own Thomas Wayne did predict a major improvement for the O's this season. The Orioles currently sit at 29-19 (though they're losing to the Blue Jays as I write). The bats have been there, with 5 regulars posting OPS+'s...
The Baltimore Orioles have the game's most elite prospect in pitcher in Dylan Bundy.  To say he dominated the South Atlantic League before his recent promotion to the High-A Carolina League... [[ This is a content summary only. Visit my website for full links, other content, and more! ]]
MLB News

Delivered to your inbox

You'll also receive Yardbarker's daily Top 10, featuring the best sports stories from around the web. Customize your newsletter to get articles on your favorite sports and teams. And the best part? It's free!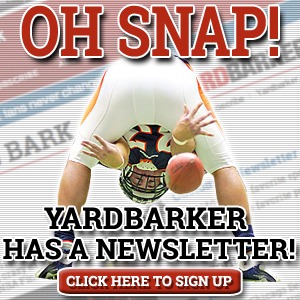 Latest Rumors
The Backyard

Today's Best Stuff

For Bloggers

Join the Yardbarker Network for more promotion, traffic, and money.

Company Info

Help

What is Yardbarker?

Yardbarker is the largest network of sports blogs and pro athlete blogs on the web. This site is the hub of the Yardbarker Network, where our editors and algorithms curate the best sports content from our network and beyond.