Found January 21, 2013 on World Series Dreaming:
Right around the time winter finally hit Chicago I was teased with a small summer preview. My spirit aches to smile into the yellow summer sun on a hot day, cool beverage in hand and hopefully plenty of hot women nearby. Instead, a cool Friday turned into a cold Saturday that turned into a frigid Sunday which is now an absolutely freezing Monday. I'm so far away from my yellow dreams that all the world has a blue pall about it. Winter is death, and it's cold unloving embrace reached out and took me into her arms, extinguishing any warm memories I may have of my boys of summer. Baseball needs to get here already. This point was driven home by the Cubs Convention which was held over this weekend. It was my very first time attending such an event. I'm not the type of fan that would normally go to these types of things. Most other fans would call me a cynic. I'm the guy that waits for it all to come flying apart at the most opportune time. I've been taught by the cruelest of gods, the baseball gods, that life is pain and agony, that waiting for the best will only expose you to soul crushing misery when your hopes and dreams come crashing down on you in waves of bumbled groundballs, a sudden loss of control, injured arms, or an offense that disappears at the most critical of times. Being a Cubs fan has taught me how to lament. I thought that experience was universal for all Cubs fans. I didn't know what to expect at CubsCon. I've of course heard the stereotypes of Cubs fans that don't know the team and show up to Wrigley just for the beer. Those fans do exist, but CubsCon itself showed the other type of Catuli Fultus. The die hard. The old woman that cried when 2003 had officially come apart was there. So was the guy who dabbed his tear stained cheeks as 34 took those last steps towards the dugout in a Cubs uniform, met by a son that loves him, cheered by a crowd that adores him. I even saw the couple that lived through 69, 84, and 03. The fandom at CubsCon is one that rides the turbulent waves of Cubs baseball. I saw fans that weathered all the storms of heartbreak and will come back to do it again next year. I saw hope personified. Some of it isn't for me, the cynic. Some of it is for the type of fan that would show up to CubsCon year in and year out, and that's perfectly fine. It's what the convention is for, after all. And while some of it wasn't for me, I felt as much a part of it as the group of women that showed up to all the conferences donning Cubbie Cow hats, or the fans that cried when Ron Santo died, and even the fans that stood in awe of Theo Epstein (to be honest, I was also in awe of Theo, I just didn't want to show it). We're still pretty far away from even the faintest hints of Cubs baseball, P's and C's don't report for another few weeks, and Spring Training feels so far away. Everything around us is dormant, including the baseball heartbeat of this city. If you stood out and listened closely enough you can hear the faint echoes of that heart slowly start to come to life. Just underneath the surface of a cold winter you can see the seeds of baseball begin to grow. Cubs Convention jump started a basic need to have my daily companion back in my life. While the Cubs probably won't be competitive this year, it's easy to believe that their plan will bear fruits of competition. Hell, maybe we're even seeing the guys that will be the core that finally gets it done. Cubs prospect Tony Zych said, "They've instilled that in us, 'you guys are the guys that are going to win the World Series,'" as he was talking to a group of Cubs fans during a prospects panel. It's nice to dream about such things. Like Starlin Castro as WSMVP.
Original Story:
http://worldseriesdreaming.com/2013/0...
THE BACKYARD
BEST OF MAXIM
RELATED ARTICLES
The guys at Vine Line got me a ticket to this year's convention.Because they're awesome.In the past I always arrived late to that Saturday morning meeting with the GM and Manager, ended up standing in the back of the crowded ballroom getting pictures of the backs of Cub fan's heads.I thought with Theo Epstein, Jed Hoyer, Dale Sveum and Shiraz Rehman, I should finally...
As part of the weekend's fan festival activities, the Chicago Cubs Chairman, Tom Ricketts, talked about how the city felt about Sammy Sosa and how the team felt about him.  He called the relationship awkward, but one day he feels things can get better. According to Patrick Mooney of CSN Chicago, Ricketts can envision a day when the team welcomes Sosa back and the league...
On paper, Sammy Sosa is one of the greatest Chicago Cubs of all-time. The 7-time All-Star mashed 609 homers while maintaing a .273 batting average during his 18-year MLB career. Fans loved him, team owners wanted him, and sports writers awed over him. At least until allegations of performance-enhancing drugs surfaced at the tailend of his playing days.Sosa's link to steroids...
On more than one occasion I've been asked the following question: "Would you rather keep Eric Hosmer or Anthony Rizzo?" Well, Rizzo appears first in our countdown for 2013, so if this season is your primary concern, then I'd say Hosmer. But to be perfectly honest, I like Rizzo a lot more than I thought I would just one year ago. In 2011, Rizzo stepped to the plate 153 times...
Another Chicago Cubs Convention has come and gone, and all that we are left with are the memories of the annual celebration and kick off to the upcoming baseball season. Like most years, the convention was filled with fans all dressed in their Cubby best, packing the halls waiting to meet their favorite Cub players from today and from yesteryear. What was not the same though, was...
"People ask me what I do in winter when there's no baseball. I'll tell you what I do. I stare out the window and wait for spring." ~Rogers Hornsby I don't remember much from when I was little, but one thing that I do remember is the day that I fell in love with baseball. There are a few people in my life that understand my passion for this game, that's why going to the...
Deconstructing an awful month for a pretty good pitcher. Jeff Samardzija and the Chicago Cubs avoided arbitration right before Cubs convention got underway as both sides agreed to a one year, $2.64MM deal. This was first reported by our very own Anno:   BREAKING NEWS: A WORLD SERIES DREAMING EXCLISIVE Directly from Theo Epstein HIMSELF! Russell & Samardzija have been signed...
Since the Ricketts family purchased the Chicago Cubs, one of the looming questions has been renovating baseball's second-oldest ballpark in Wrigley Field. With the Red Sox completing a 10-year renovation to the league's oldest ballpark, it was shown that renovation over a completely new facility could be done in a way that would modernize even the oldest of structures to allow...
Cubs News

Delivered to your inbox

You'll also receive Yardbarker's daily Top 10, featuring the best sports stories from around the web. Customize your newsletter to get articles on your favorite sports and teams. And the best part? It's free!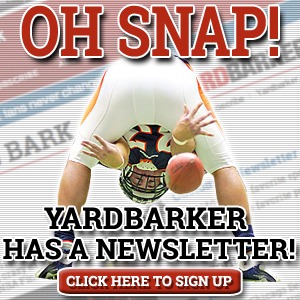 Latest Rumors
Best of Yardbarker

Today's Best Stuff

For Bloggers

Join the Yardbarker Network for more promotion, traffic, and money.

Company Info

Help

What is Yardbarker?

Yardbarker is the largest network of sports blogs and pro athlete blogs on the web. This site is the hub of the Yardbarker Network, where our editors and algorithms curate the best sports content from our network and beyond.