Found July 09, 2012 on Friarhood:
"If you love something, set it free. If it returns, it's yours forever. If not, it was never meant to be." This old proverb can apply to many things, whether it is one you would consider your soul mate, a pet, or even my beloved San Diego Padres. Relationships sometimes can be overwhelming and borderline on dysfunction. Too many highs and lows, peaks and valleys, and anything of the sort can cause wear and tear on the mind and soul.So I decided that even though it pains the heart, it's a good time for me to take a step back from the Petco nine, and let time heal the wound. The next four days will be spent on reflection of the first half of our 2012 relationship. It began so promising in spring training. They were hitting the cover off the ball, leading the Cactus league in most offensive categories.But once the season started, things got a little rocky. We didn't seem to get along like we used to. Too many misplays in the field and their once solid pitching staff was not perform...
Original Story:
http://www.friarhood.com/voice-of-the...
THE BACKYARD
BEST OF MAXIM
RELATED ARTICLES
As discussed in the first post of the Deadline Trade Candidate series, the Friars are likely to be quite busy in the coming weeks. With no hope to contend this year but boasting one of the top farm systems in baseball, the Padres seem primed to move veteran players for more young talent ahead of the deadline. Ordinarily clubs like the Friars are willing to cash out players heading...
Nathan Freiman hits a home run for a 3rd straight game as the Missions lose a close one to the Naturals.Hitting Prospect of the Day: Nathan FreimanPitching Prospect of the Day: Josh GeerTucson Padres: DNP San Antonio Missions 7, Northwest Arkansas Naturals 8Jonathan Galvez-2B: 3-5, 2 Runs scoredNathan Freiman-1B: 2-3, HR(20), 2RBI, 2BB, 3 Runs scoredCody Decker-RF: 0-2, RBI, 3BB...
It's been a long first half for the Padres. Injuries have decimated their pool of starting pitchers. The middle infield combination of SS Jason Bartlett and 2B Orlando Hudson proved to be a total bust. All three young players signed to extended contracts during spring training have either struggled (C Nick Hundley and CF Cameron Maybin) or been lost to the season to injury...
San Antonio and Lake Elsinore both win close games, whereas Fort Wayne and Eugene had a combined 9 hits in their losses.Hitting Prospect of the Day: Nathan FreimanPitching Prospect of the Day: Keyvius SampsonTucson Padres: DNPSan Antonio Missions 4, Northwest Arkansas Naturals 1Jonathan Galves-2B: 0-4, 2KNathan Freiman-1B: 1-4, HR(18), 2RBI, 2K, Run scoredCody Decker-DH: 1-4Edinson...
San Diego Padres center fielder Cameron Maybin made an incredible leaping catch against the outfield wall to take a home run away from Cincinnati Reds batter Joey Votto on Sunday. Your browser does not support iframes. It happened in the top of the fifth inning as Maybin sprinted to his right and covered a considerable distance to get into position to make the catch. Maybin...
The Padres fell to a much stronger team this series. That being said, the Padres are playing much stronger baseball than before. The All-Star break is here now, and I think it is much needed for this club. We still are throwing scrub guys out there to pitch everyday and that bothers me. I think this club needs to reevaluate how they are handling the rotation. I get it that they don...
After a successful road trip and a big win on Thursday, the Padres dropped the next three games to Cincinnati to lose the final series before the All-Star break. The losses also snapped the Padres season high six-game winning streak. The Padres won't play again until Friday, giving their battered rotation time to rest up before the start of the second half of a challenging season...
Normally I know what I am going to write about before I sit down and put the words down on the computer. During the All-Star break that is a little hard to do. I normally will make some comments about last night's game, or a potential trade in the works and rumors surrounding it. However, during the break that isn't the case. Prince Fielder won the home run derby last night...
As games finish, this page will be updated.Tucson Padres: DNPSan Antonio Missions 7, Northwest Arkansas Naturals 6Dean Anna-LF: 3-5, 2b, Run scored Jonathan Galves-2B: 1-5, 2K, Run scoredNathan Freiman-1B: 2-5, HR(19), 3RBI, K, Run scoredCody Decker-DH: 1-4, HR(17), RBI, BB, K, 2 Runs scoredEdinson Rincon-3B: 1-4Jason Hagerty-C: 2-3, 2b, RBI, BB, K, 2 Runs scoredReymond Fuentes-CF...
One of the more underrated center fielders in Major League Baseball has to be San Diego's Cameron Maybin. Check out Maybin's defensive effort in taking a home run away from Reds slugger Joey Votto during Sunday's game between the Reds/Padres: Your browser does not support iframes.
The Padres lost last night. This time, however, they actually put up a fighting chance instead of doing nothing. There's something I have learned about this team over the past two games. We can't hit anything super slow, a la Bronson Arroyo with his looping curveball. And we can't hit the super fast stuff, like Aroldis Chapman last night hitting 101 MPH. So I think we...
By MATTHEW T. HALL San Union-Tribune Columnist I can count the number of Padres at-bats Ive seen on TV this season on my sons southpaw. The joke here isnt that my left-handed son can help the hometown nine. Its that I dont have a son. It is absolutely ludicrous that I cant turn on my TV whenever the Padres play a luxury after a long day, even with a losing team and watch the...
Padres News

Delivered to your inbox

You'll also receive Yardbarker's daily Top 10, featuring the best sports stories from around the web. Customize your newsletter to get articles on your favorite sports and teams. And the best part? It's free!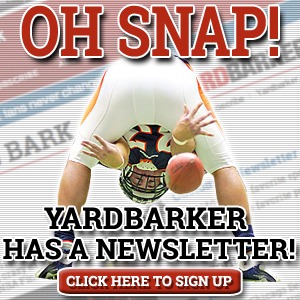 Latest Rumors
The Backyard

Today's Best Stuff

For Bloggers

Join the Yardbarker Network for more promotion, traffic, and money.

Company Info

Help

What is Yardbarker?

Yardbarker is the largest network of sports blogs and pro athlete blogs on the web. This site is the hub of the Yardbarker Network, where our editors and algorithms curate the best sports content from our network and beyond.