Found December 19, 2011 on Dempsey's Army:
Where we distill all the recent baseball chats down to their Oriole essence...
Jason Parks, Baseball Prospectus
Will T. (Cary, N.C.):
Upside of Orioles RHP Parker Bridwell?
Jason Parks:
Could be an innings horse, but he still has a long way to go. He's a Texan, so that helps.
@Lembeck451 (Detroit):
Has Chris Davis officially become Chris Shelton (please say yes, please say yes), or does he have a bounceback in him?
Jason Parks:
He could bounce back, but he's probably a 4A
Tim Dierkes, MLB Trade Rumors
2:08 Comment From Dathan
What are the chances the Cardinals end up with either Adam Jones or Carlos Beltran, and which do you think is the better fit in St. Louis?
2:08 Tim Dierkes:
Jones for sure, but I don't see any indication he's available.
2:16 Comment From DumbBravesFan
Is Prado/Jurrjens (2 arb guys not in Braves' future plans) too much to give up for Adam Jones (a potential cornerstone)?
2:16 Tim Dierkes:
I'd move those two for two years of Jones, but he's not a cornerstone unless you extend him to a huge deal.
2:28 Comment From Lonely Non-Tender list
Who's the best value out there from the recent non-tender list?
2:29 Tim Dierkes:
Hong-Chih Kuo, maybe Luke Scott.
2:58 Comment From Tim
Just to be clear, the Orioles would need to get a better return than Prado/Jurrjens for AJ, correct? At least younger, more controllable players?
2:58 Tim Dierkes:
Yes, I'd want a much different return for Adam Jones as well. We have to get a feel for Dan Duquette though.
2:58 Comment From Omazing
Some Orioles sites are saying there is tons of interest in Luke Scott.. any truth to this?
2:59 Tim Dierkes:
I think Dan Connolly said ten teams called. Certainly makes sense to me, get him for one year and $5MM plus incentives not too far removed from some .500 slugging seasons.
Keith Law, ESPN
Kevin (Jersey)
Profar or Machado? Or are we splitting hairs?
Klaw (1:25 PM)
Machado. But it's not a huge gap. Pretty strong crop of SS prospects right now.
Ethan (Maine)
Why are we hearing nothing about the japenese free agent pitchers Wei-Yin Chen and Iwakuma?
Klaw (1:26 PM)
Haven't we heard Baltimore with Chen? I also assume that we need to get Darvish cleared from the market before those guys get more interest, just because they're second-tier (not just because they're also international FAs).
Michael (San Jose, CA)
Lots of disappointment in Oakland right now for us A's fans? With the emergence of the Rangers and Angels, we're basically the Baltimore Orioles without the nice ballpark.
Klaw (2:08 PM)
But you have competent management. I'm not sure we can say that for Baltimore given ownership's clear intention to meddle.
Alex (NJ)
Keith, O's pitching moves (Eveland, Wada): reasonable gambles to see who might have a decent enough year to stick, or near-guaranteed 5-ish ERA flameouts? Hope for the future obviously lies with Matusz, Britton, and guys still in the minors, but they could do worse than try Wada every fifth day, right?
Klaw (2:20 PM)
I don't see it. Low upside guys in a tough division.
Jason (St Louis)
The no on Palmeiro is because he was a consistent stat builder and not a hof, not because he used peds right?
Klaw (2:21 PM)
Correct. Really never among the best players in his league.
Original Story:
http://dempseysarmy.blogspot.com/2011...
THE BACKYARD
BEST OF MAXIM
RELATED ARTICLES
Yesterday, the Baltimore Orioles announced that there would be additional upgrades and renovations to Oriole Park at Camden Yards for the 2012 season and beyond. There's more news about the changes here, here and here. Some changes are subtle, others are not. From the Orioles.com site: BALTIMORE -- With 2012 being the 20th anniversary season of the famed Oriole Park at Camden...
Small change, but the O's have agreed to minor-league contracts with:Right-handed pitcher Kyler* Newby; the soon-to-be 27 year-old sometimes starter (he's been shifted into that role a little bit in recent years) has spent most of his minor-league career in Double-A, where he's punched out some batters (8.3 K/9) but shown only decent control (3.0 BB/9) and a tendency...
The Orioles have signed Endy Chavez to a one-year $1.5mm deal, Dan Connolly of The Baltimore Sun reports. The deal also includes a total of $500k that Chavez can earn in unknown incentives. Chavez hit .301 in 274 plate appearances for the Rangers in 2011. He played the entire outfield as he helped provide depth to in outfield that included injury prone Josh Hamilton and Nelson Cruz...
Former Met Endy Chavez is headed to the Baltimore Orioles according to Dan Connolly of the Baltimore Sun. Chavez, 33, played in 83 games last season with the Texas Ranger, batting .301 with five homers, ten stolen bases and 37 runs scored in 256 at-bats. The Mets were reportedly interested in bringing Chavez back, but Endy may have become too costly for the cash-strapped Mets...
Former Met Endy Chavez is headed to the Baltimore Orioles according to Dan Connolly of the Baltimore Sun. Chavez will earn $1.5 million in 2012 with the potential to earn another $500,000 in performance bonuses. Chavez, 33, played in 83 games last season with the Texas Ranger, batting .301 with five homers, ten stolen bases and 37 runs scored in 256 at-bats. The Mets were reportedly...
The Orioles have found some of the outfield help they sought, coming to terms on a one-year Major League contract with free agent Endy Chavez, pending a physical.
The Orioles announced their plans to renovate Camden Yards for the stadium's 20th anniversary this upcoming season and, as I am sure you all know by now, that includes six bronze statues of the club's current Hall of Famers.
The Orioles announced some improvements/changes to Camden Yards today.
The Orioles and Endy Chavez have agreed to a contract pending a physical according to Alexis Espejo L. of Leder en Deportes.
MLB News

Delivered to your inbox

You'll also receive Yardbarker's daily Top 10, featuring the best sports stories from around the web. Customize your newsletter to get articles on your favorite sports and teams. And the best part? It's free!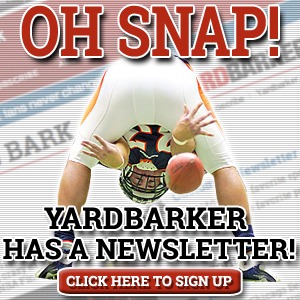 Latest Rumors
Best of Yardbarker

Today's Best Stuff

For Bloggers

Join the Yardbarker Network for more promotion, traffic, and money.

Company Info

Help

What is Yardbarker?

Yardbarker is the largest network of sports blogs and pro athlete blogs on the web. This site is the hub of the Yardbarker Network, where our editors and algorithms curate the best sports content from our network and beyond.