Three Up, Three Down: Freddie Freeman won't stop raking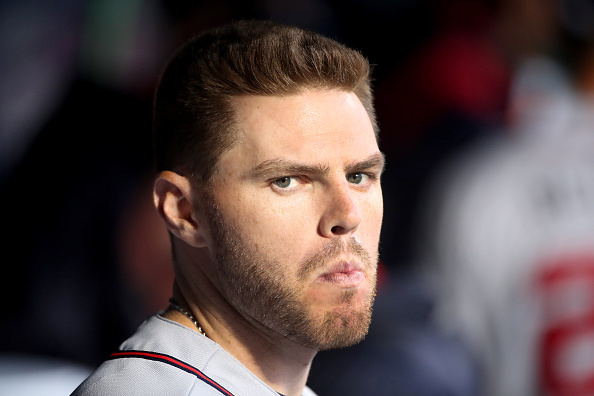 Atlanta Braves first baseman Freddie Freeman is off to a remarkable start at the plate.
Tim Clayton - Corbis/Getty Images
Welcome to this week's edition of Three Up, Three Down — your weekly catch-up of the three best highlights (and lowlights) from around the league. We're here for all of the cheers and the jeers, because it's baseball. You can't have a winner without someone losing along the way.

This week, there are surprises in the AL East and NL Central, the Mets continue to make headlines, and we give you a reason to watch the bottom-dwelling Braves.
Up: Yankees and Orioles don't care about your preseason predictions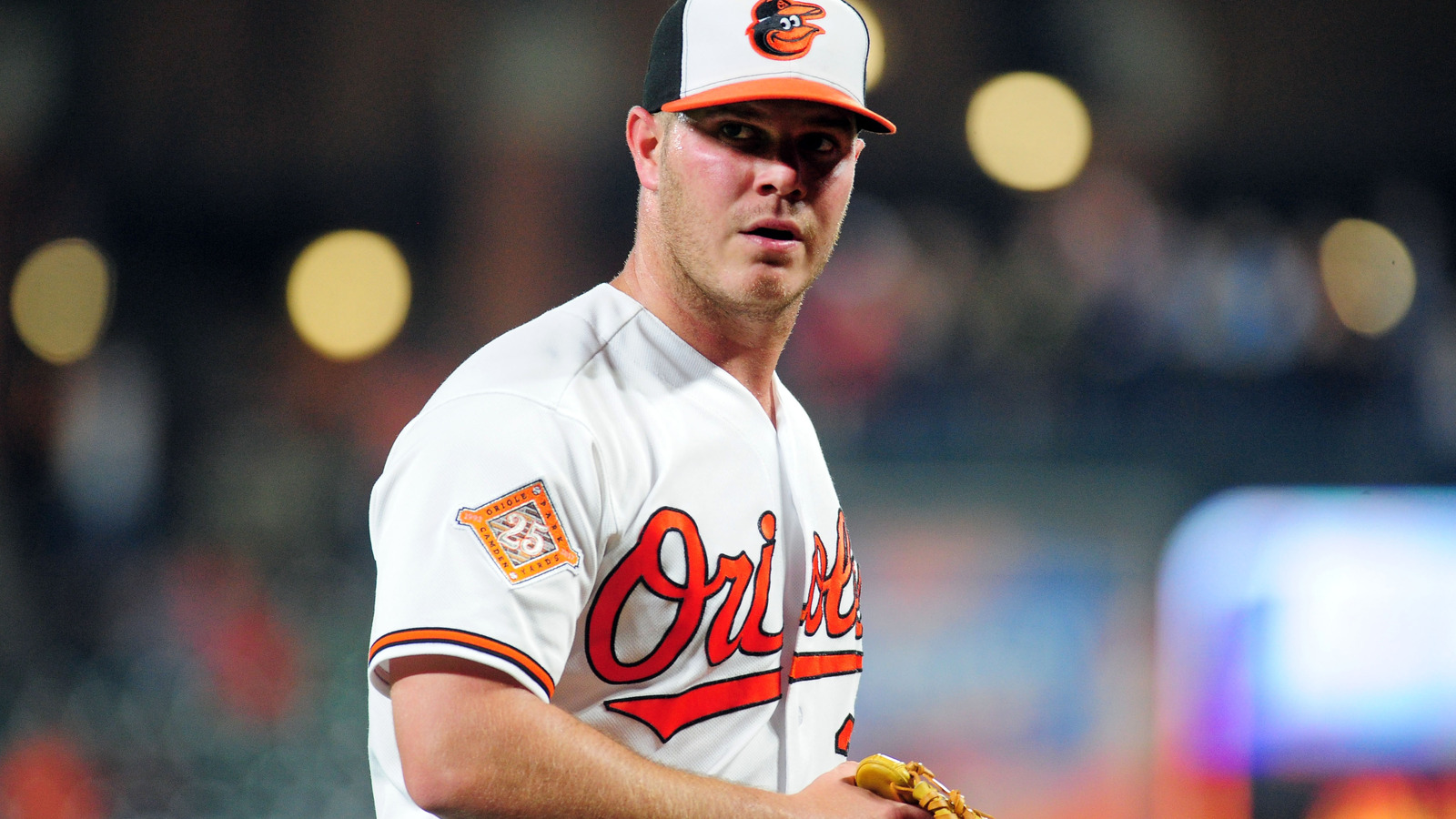 Baltimore Orioles pitcher Dylan Bundy looks like the ace the team projected him to be.
Evan Habeeb/USA TODAY Sports
This wasn't supposed to be the year when the New York Yankees made their much-awaited or much-dreaded return to the top of the American League. It still may not be, but they've definitely made an early case for 2017 being the year of the Yankees. They're sitting comfortably above .500 right now and doing so with a fearsome offensive attack (leading the AL with in home runs and runs as of Wednesday) led by the mountain of a man Aaron Judge and a pitching staff that's doing well enough to keep opposing teams at bay. That's allowed the offense to basically fire at will, and as a result, the Yankees look like they're for real.
They aren't the only surprise story in the AL East, though. The Orioles are right up there at the top of the division, keeping pace with the Yankees. They're just as unlikely of a success story as the Yankees, probably even more unlikely when you consider that a lot of baseball prognosticators had them finishing near the bottom of the division. Instead, Baltimore's bullpen continues to defy predictions, starter Dylan Bundy looks like a stud at the top of the rotation and, of course, it helps when you have a guy like Manny Machado manning the hot corner. We knew going into this season that the AL East would be tight, but with the Yankees and Orioles emerging as contenders, the Red Sox will definitely have their hands full with the rest of this division.
Down: The Mets are a mess (part one)
Matt Harvey and the New York Mets don't appear to be on the same page.
Noah K. Murray/USA TODAY Sports
While fans in the Bronx are excited about what their team may be capable of this year, baseball fans in Queens are starting to get ready for what could be another season of sadness. The Mets currently have a mediocre record, a lengthy injury list and issues that are giving the local media plenty of tabloid fodder. The most recent example of this is the Matt Harvey suspension, in which Harvey ended up getting suspended for three games due to a violation of team rules.
There's plenty of speculation as to what happened to make the Mets send him home, but it's clear that the relationship between player and team is strained at the moment. It's also clear that they're probably going to have to find a way to make it work, because there's no way that the Mets can trade him and get any type of value in return. Matt Harvey's going to have to find a way to mend things with the Mets, and the Mets are going to just have to build the bridge as well. For now, it's a mess, and it's not the only thing the Mets botched this past week.
Up: St. Louis is starting to surge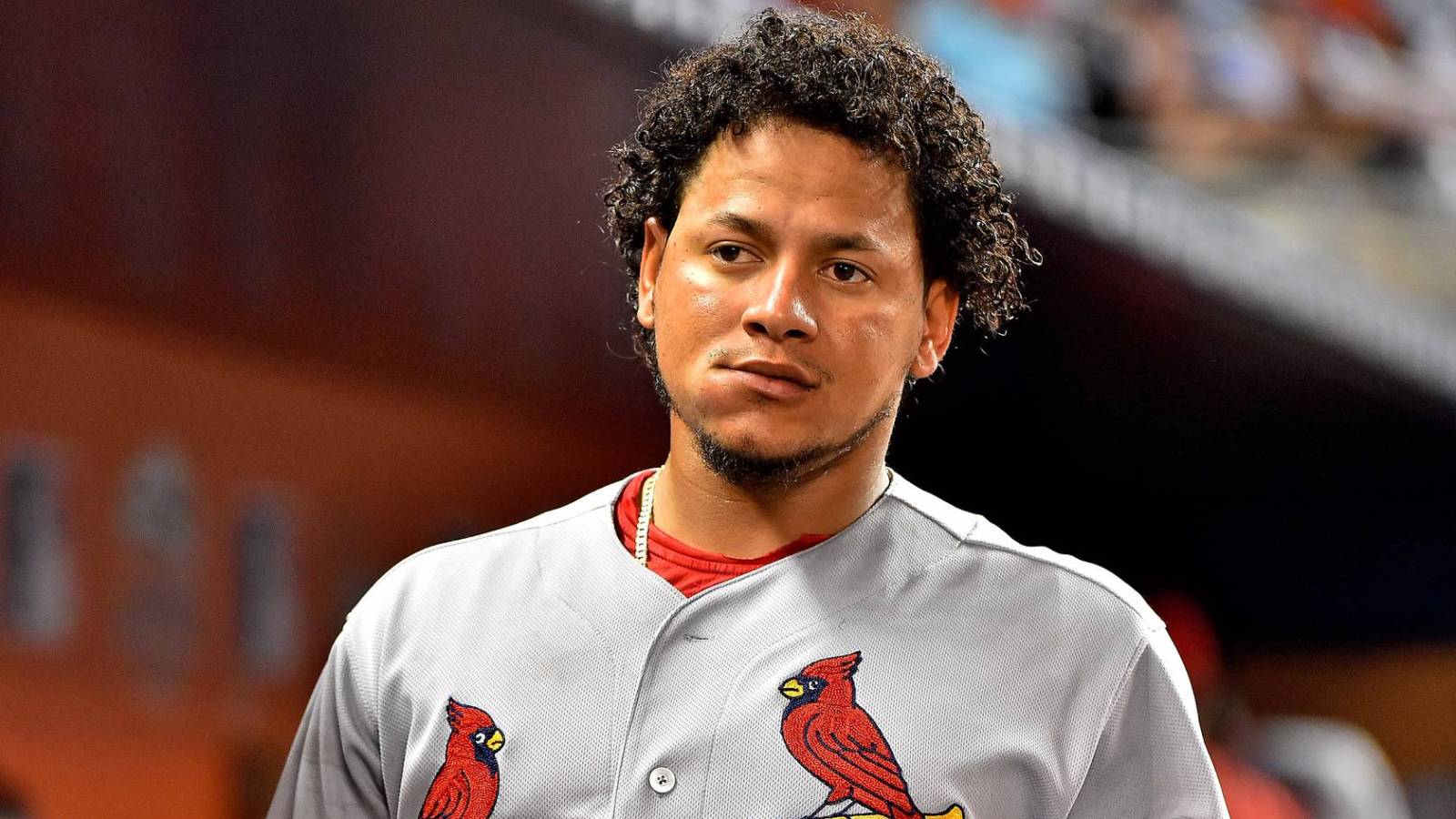 Carlos Martinez and the St. Louis Cardinals sit atop the NL Central.
Jasen Vinlove/USA TODAY Sports
While the Yankees and Orioles may be the surprise package in the American League, the National League's surprise isn't really a shock as the Cardinals have found a way to be good again. They may have gotten off to a slow start, but they're currently at the top of the NL Central after racking up wins over their past few series. Again, it's still early, but it's a positive development for the Redbirds when it seemed like this would be a cakewalk for the Cubs.
Speaking of the Cubs, they're off to a slow start, floating around the .500 mark, and have yet to approach the level of play that had them looking like a frightening juggernaut in 2016. It's clear that the defending World Series champions have it in them to go on a run like that, but it also appears that the Cardinals may not just roll over and die this year. If that's the case, then we may have to get ready for an actual pennant race in the NL Central, and I don't think that neutral fans would be opposed to seeing that happen.
Down: The Mets are a mess (part two)
New York Mets catcher Kevin Plawecki was put in an awkward clubhouse situation.
Alex Trautwig/Getty Images
I don't want to keep on harping on the Mets and their issues, but they had such a bizarre week that we actually have to double up on them. As if the suspension of Matt Harvey wasn't enough, the Mets couldn't help from making a social media blunder as well. After a win on Friday night, the Mets tweeted a photo of one of their players in the locker room. This included a wide shot of the locker room itself, which included a sex toy in plain view.
The picture was quickly deleted once people started noticing the toy, but the Internet is forever and screenshots exist. The picture still made its rounds across the baseball corner of the Internet, and it became yet another topic for the always calm and understanding New York media to cover. Catcher Kevin Plawecki actually had to speak to the Associated Press to clear things up concerning the toy, and you know things have gotten out of hand with your locker room when that's something that you have to explain away to the AP. Now, we just have to patiently wait until the next Mets scandal happens. You know it's coming. It's only a matter of what it will be and when it will happen.
Up: Freddie Freeman has reached elite status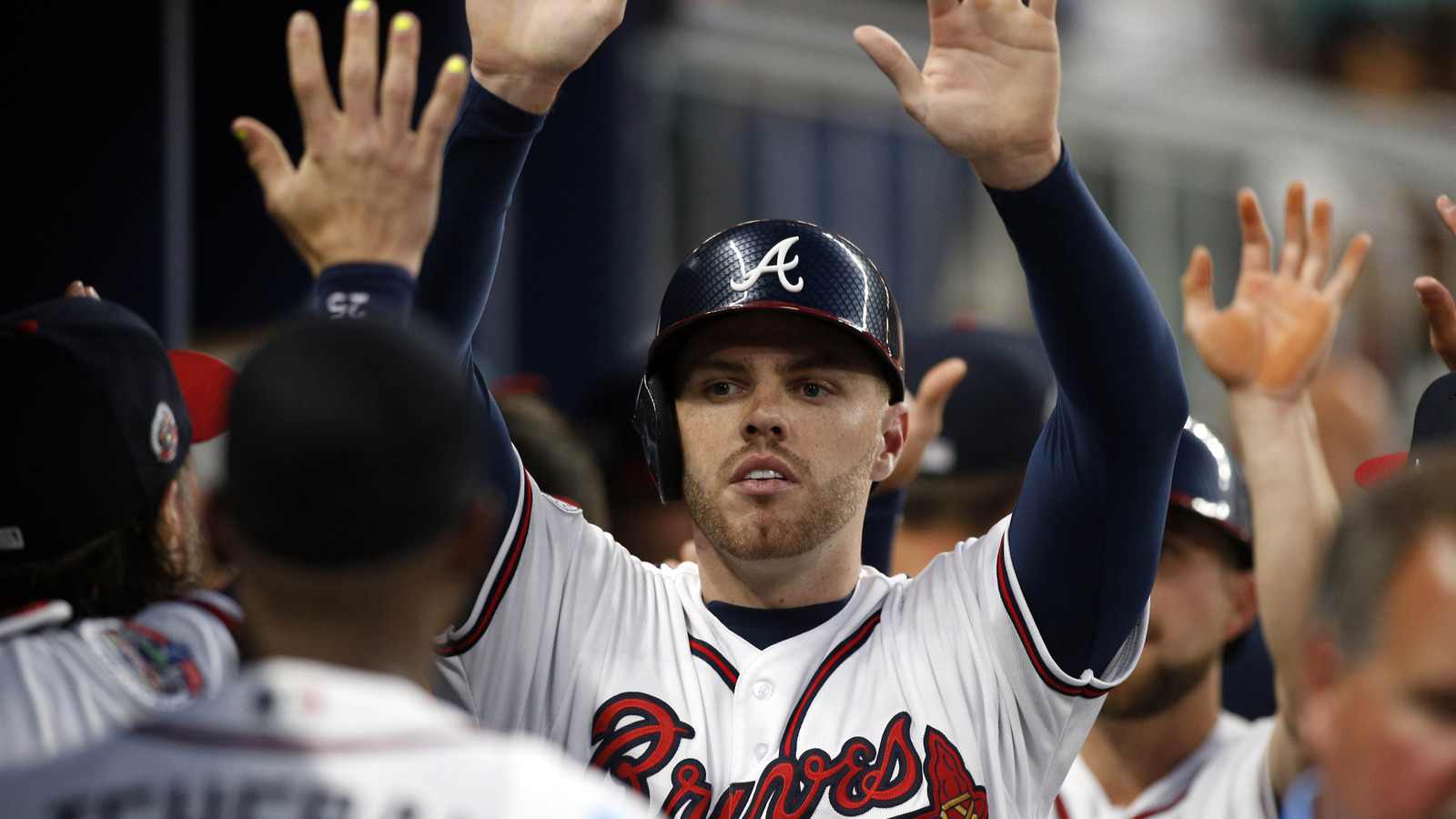 Atlanta Braves first baseman Freddie Freeman is thriving even as his team flounders.
Brett Davis/USA TODAY Sports
While the Mets may be toiling in the limelight, the Atlanta Braves are toiling in obscurity. They're propping up the NL East at the bottom, but one person who can't be blamed for that is Freddie Freeman. Even though the Braves are bad right now, Freeman is playing at a level similar to that of superstars like Bryce Harper and Mike Trout. In fact, Mike Petriello of MLB.com has noted that Freeman is hitting at level similar to that of the reigning American League MVP.
Simply put, the Braves have a gem of a player on their hands, and it makes plenty of sense that even in the midst of their rebuilding project, the team has committed to keeping Freeman around instead of trading him away. Freddie Freeman has been playing at an extremely high level for a while now, and while there's not too much reason for fans outside of Atlanta to pay attention to the Braves, there's still plenty of reason to keep an eye on their first baseman — if only to see if the hot-hitting slugger can keep up this amazing run of form at the plate.
Down: It's hard out here for an umpire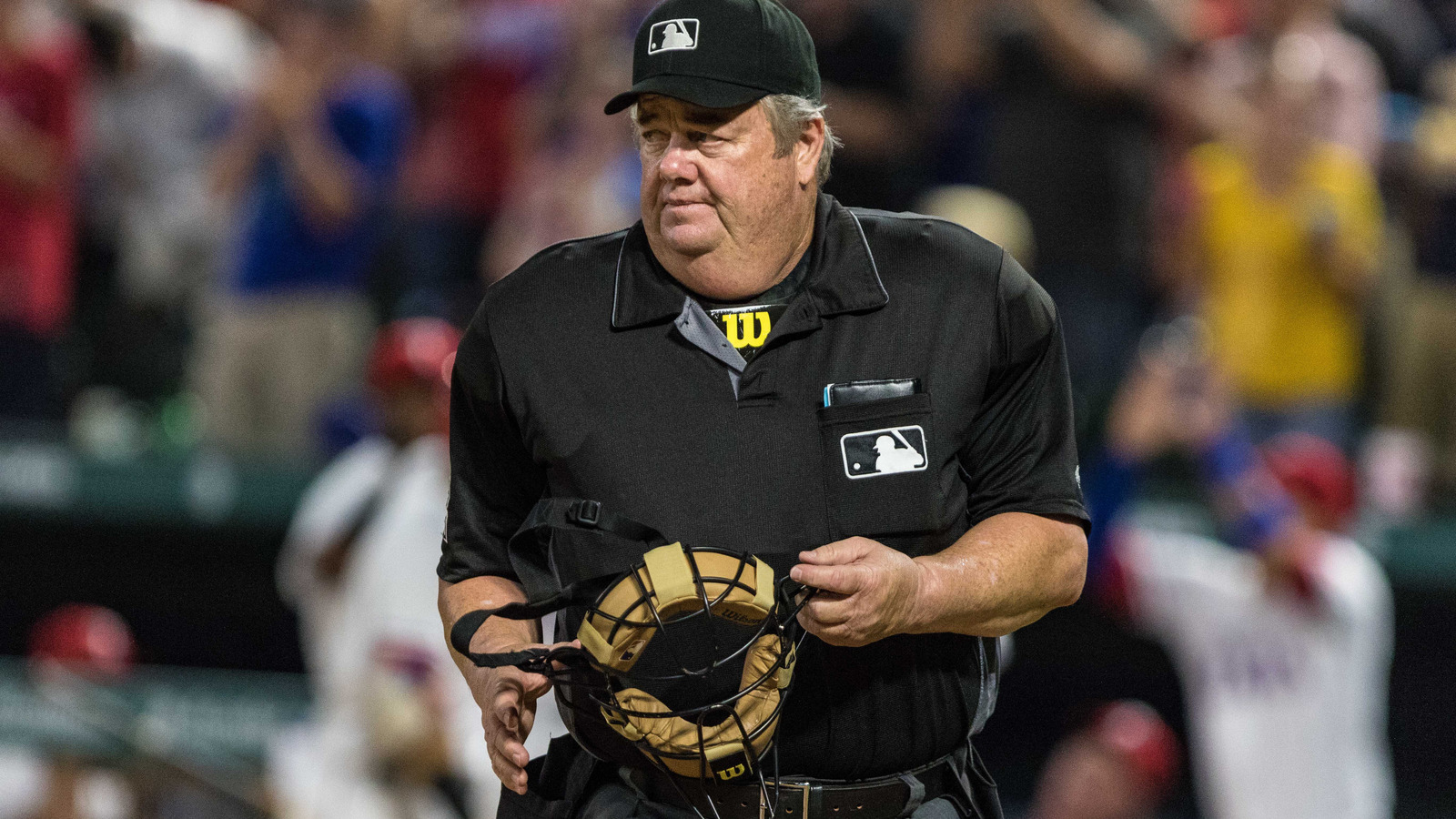 Umpire Joe West is no stranger to displeased fans.
Icon Sportswire/Getty Images
Umpires have a hard job. They're just like the players and managers in that their mistakes are magnified in the public eye, but umpires don't have fans backing them. Nobody buys umpire jerseys or pays money to see the umpires come to town, but they're often the target of abuse. Joe West can attest to this, as Cubs fans were not polite to him during the 18-inning marathon from this past Sunday night.
On one hand, having thousands of people sending profanities toward you is bad, but Joe West would probably prefer the verbal abuse over physical abuse from a baseball. That's what Mike Muchlinski had to deal with last week in Minnesota when he took a pitch to the crown jewels — not a foul tip, but an actual pitch went right past the catcher and to Muchlinski's nether regions. These two umpires both had to deal with occupational hazards, but I'd much rather be in Joe West's shoes if we had to compare the two.
MORE FROM YARDBARKER
MLB News

Delivered to your inbox

You'll also receive Yardbarker's daily Top 10, featuring the best sports stories from around the web. Customize your newsletter to get articles on your favorite sports and teams. And the best part? It's free!