Found October 29, 2012 on Fox Sports:
PLAYERS:
Alex Rodriguez
,
Octavio Dotel
,
Justin Verlander
,
Barry Zito
,
Doug Fister
,
Madison Bumgarner
,
Prince Fielder
,
Miguel Cabrera
,
Victor Martinez
,
Hunter Pence
,
Austin Jackson
,
Andy Dirks
,
Avisail Garcia
,
Rafael Furcal
,
Jhonny Peralta
,
Max Scherzer
TEAMS:
New York Yankees
,
Detroit Tigers
,
San Francisco Giants
,
St. Louis Cardinals
Blame it on A-Rod. That's the default position for all postseason losers, isn't it? If Alex Rodriguez and the Yankees had extended the Tigers beyond four games in the American League Championship Series, then maybe the Tigers would have been sharper in the World Series. That's one theory, anyway. The Tigers had a wide range of opinions on the impact of their five-day layoff after the Giants completed their sweep of the World Series on Sunday, winning Game 4 in 10 innings, 4-3. But really, this goes deeper than the layoff, and deeper than reliever Octavio Dotel's claim that the Tigers need to be more "pumped up." A lack of passion was not the Tigers' problem in the World Series. No, their problem was a lack of diversity, and I don't mean in the composition of their roster. The Giants swept the Series with dominant pitching, suffocating defense, big ball, little ball, whatever kind of ball was required. The Tigers mostly pitched well, allowing only 16 runs in the four games. But everything else was lacking. The Tigers' slugging, one-dimensional offense produced only a .159 batting average and .489 OPS, averaging 1.5 runs per game. Their defense, while less of an issue than it had been for most of the regular season, paled in comparison to the Giants' defense, which was a difference-maker, a reflection of their players' superior athleticism and speed. Here's the question, the one to which we'll never know the answer: Would the Tigers have stood a better chance if they had played five, six or seven games in the ALCS, then carried that energy into the Series? Sorry, I still find it difficult to believe that the Tigers went down two games to none with Justin Verlander facing Barry Zito in Game 1 and Doug Fister facing Madison Bumgarner in Game 2. True, the Tigers didn't hit lefties well in the regular season. True, Zito and Bumgarner were quite good. But a split in San Francisco seemed likely when the Series began, a 2-0 lead for the Tigers possible. Instead, the Giants won both games. Tigers first baseman Prince Fielder refused to cite the layoff as an excuse, saying of the ALCS, "What were we supposed to do, lose three?" Dotel, meanwhile, pointed out that the Tigers worked out all five days between series and played two simulated games against minor leaguers who flew at club expense from Lakeland, Fla., to Detroit. The Tigers' more rigorous preparation was a reaction to their five-game defeat after a six-day layoff in the 2006 World Series. Management, Dotel said, "did all they needed to do for us to be in the competition." Third baseman Miguel Cabrera, however, said that the layoff was indeed disruptive. "Right now we can say yes, a little bit, because we never found our game, never found our best baseball," Cabrera said. "To be honest, we played great in Oakland. We (won) tough games in New York. Sitting for five days, seeming, like, too relaxed to play a World Series, I think it was not the right way to finish. We tried. We tried hard. But we were never able to finish and play our game." Verlander added: "It kind of sucks to go through pretty much the exact same scenario that we did in 2006. But we did everything we could to stay in sync, keep our team clicking. We got outplayed. Whether that had anything to do with the time off, I don't know." So, what the heck was it then, other than the Giants pitching so well? The Tigers missed Victor Martinez's passion -- Fielder and Cabrera care deeply, but give off a less urgent vibe. Emotional players such as the Giants' Hunter Pence, though, are rare -- and frankly, not always necessary. The greater issue is that the Tigers offensively were somewhat like the Yankees, built for power and little more. The team willingly sacrificed defense for offense, and yet the offense was not the behemoth that many expected, finishing only sixth in the AL in runs. Leyland, in his pre-game meeting with the FOX broadcasters Sunday night, said that the Tigers would have won 95 games in the regular season if their offense had produced to its expected level. "What you're seeing right now," Leyland added, "is the reason we won 88 instead of 95." Martinez, returning from knee surgery, will replace Delmon Young, a potential free agent, on the 2013 roster. The Tigers need at least one more athletic outfielder to go with Austin Jackson -- and maybe two, depending upon how they view Andy Dirks and Avisail Garcia. A high-energy leadoff type at shortstop, someone like a young Rafael Furcal, also would help. Jhonny Peralta, while a respectable player, is a typical Tiger -- limited range, low on-base percentage, decent power. Athletic, versatile offensive players are not easy to find. But clearly, the Tigers need to update their style. While the AL has dominated interleague play the past nine seasons, the NL now has won three straight World Series. Part of it is that the recent NL champions were better suited for a less power-laden era, more capable of playing a well-rounded game. "Everybody in baseball knows that's what you have to do," Tigers pitcher Max Scherzer said. "It's a three-phase game -- pitching, offense and defense. You go back and look at all the World Series winners, they all do that. I don't think that's a lesson we learned. I think that's a fact within baseball." Well, if it's a fact, then it's a fact that the Tigers at least partly ignored. The team still had a hugely successful season, winning the AL Central, beating the Athletics and Yankees in the playoffs, reaching the World Series. But let the Tigers' final memory of 2012 serve as a springboard to a better future. The layoff explained only so much. The Tigers got beat by a better team.
Original Story:
http://msn.foxsports.com/mlb/story/de...
THE BACKYARD
BEST OF MAXIM
RELATED ARTICLES
DETROIT -- Jim Leyland didn't make any promises Sunday night, but he sounds like a man who is planning to keep his job. Speaking to local writers after his Tigers were swept in the World Series, Leyland acknowledged that he still wants to manage. "I like to manage, and contrary to what some people think, I think I'm pretty good at it," he said. "A lot of...
Watching the Detroit Tigers in the 2012 World Series was like looking at a rerun of 2006. Team sweeps rival in American League Championship Series, team sits around a week waiting for the National League to wrap up, team looks pitifully weak while getting beat up in the World Series. The differences were the opponents -- St. Louis in 2006 and San Francisco this year -- and the...
DETROIT What a strange way it was for such a wild ride to end. Miguel Cabrera taking a called third-strike fastball down the pipe for the final out of the World Series was the last thing the Triple Crown winner or anyone else expected. It was a long walk back to the clubhouse on a cold, rainy Sunday night, and I asked Cabrera what he felt at that instant. Embarrassed, Cabrera...
If the Detroit Tigers are to claim their first World Series title since 1984, it will require one of the greatest comebacks in MLB postseason history. Continue reading →
On a ragged baseball diamond, its grass tall and infield dirt pockmarked, nearly 200 boys practice for hours every day. Many of them are inspired by the example of Detroit Tigers slugger Miguel Cabrera, who learned the game on this very field. The baseball school in the poor neighborhood where Cabrera grew up is one of many across Venezuela, a web for training young ballplayers...
Miguel Cabrera was named the Sporting News' MLB Player of the Year for 2012, nabbing 108 votes. Mike Trout finished second. Continue reading →
Dear Madams and Sirs,Didja feel a little queasy last night when Miguel Cabrera strode to the plate with the bases full?Did you vomit when that Giants leftfielder nobody ever heard of dove into the corner and speared that line drive?Did you start wonder if you caught something from the Yankees when your hitters kept popping up?Well, amigos, you did. You caught A-Roditis. It's...
The New York Yankees made two big signings on Monday, locking up sluggers Robinson Cano and Curtis Granderson through next season. While these two signings came as no surprise -- even though Cano and Granderson struggled mightily in the postseason -- the biggest news of the New York offseason may come from another aging star. Alex Rodriguez had a miserable postseason...
The Yankees are known to spend a bit too much money on washed-up stars. They've also been talking about changing their ways and trying to stay under the luxury tax threshold moving forward. But they're willing to pay for established, premium in-house talent -- that is, if the talent produces. Oh, the irony that New York just exercised two player options that will cost...
MLB News

Delivered to your inbox

You'll also receive Yardbarker's daily Top 10, featuring the best sports stories from around the web. Customize your newsletter to get articles on your favorite sports and teams. And the best part? It's free!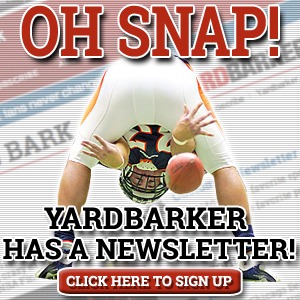 Latest Rumors
The Backyard

Today's Best Stuff

For Bloggers

Join the Yardbarker Network for more promotion, traffic, and money.

Company Info

Help

What is Yardbarker?

Yardbarker is the largest network of sports blogs and pro athlete blogs on the web. This site is the hub of the Yardbarker Network, where our editors and algorithms curate the best sports content from our network and beyond.