When the New York Yankees gave first baseman Mark Teixeira an eight year deal worth over $180 million back in December of 2008, they figured they were getting a power hitting player who brought along a solid .300 average and a stellar gold glove defensively. He had a fantastic first season with New York on their way to winning the 27th World Series championship in franchise history. But ever since the 2009 season, the Yankees have not been back to the World Series, and Teixeira has seen a bit of a drop off in some of his numbers. With that being said, is it time for the Yankees to look into trading Teixeira during the upcoming offseason? It may not sound as unlikely as first believed. Teixeira is still a well above average hitter who can crush key home runs and play gold glove defense at first base. That cannot be denied. But considering the fact that he makes over $23 million per season and is no longer one of the top offensive first basemen, it may be time to move on for New York. Now, I am not saying that the Yankees will trade Teixeira. I am not even 100 percent sure that they should look into the possibility. But it is an option that some people in the organization may at least consider after this season, depending on how they perform this postseason. Provided they still play well enough down the stretch to make the playoffs. Teixeira has battled numerous injuries this season, and he will play in less than 156 games for the first time since signing with the Yankees four seasons ago. While his home run numbers are still respectable, his average has not been above .256 since he joined the Yankees either. In fact, this season, Teixeira's numbers are on par with other first basemen such as Chris Davis [BAL], Adam LaRoche [WAS] and Freddie Freeman [ATL[, all of whom make far less than Teixeira per season. Combined. And while the Yankees love having Teixeira in their lineup and manning first base, they are not quite as keen on paying him as much as they do for the next four seasons, especially considering that they are going to need a lot of money in order to keep star second baseman Robinson Cano around past next season, which has to be priority No. 1 going forward. New York plans on saving a bit by either letting right fielder Nick Swisher walk after this season or offering much less money to stick around past this season. While other higher salaries will continue to come off the books for New York, it is still not outside the realm of possibilities that they could at least entertain the thought of moving Teixeira, especially if they could ever pull off a deal similar to what the Boston Red Sox just did by trading three of their top stars to the Los Angeles Dodgers while not having to pay much – if any – of their massive salaries after this season. While they did give up some talent, in the long run, it was a brilliant move by the Red Sox. All things equal, the situations in Boston and New York are not all that similar. The Yankees are battling for the top spot in the American League, while the Red Sox are toward the bottom of the standings. But don't be fooled. Both are looking to shed some payroll in the future. The biggest problem for New York as they enter this offseason is that there really are not any attractive options at first base if they do trade Teixeira. No pending first base free agent would probably replicate even Teixeira's numbers over the past few seasons. Most are well past their prime, defensive liabilities, former Yankees already, or all three combined. That less-than-appealing list  includes Jason Giambi, Lance Berkman, Carlos Lee, Lyle Overbay, Brad Hawpe, Carlos Pena, Xavier Nady and Russell Branyan. In fact, the one of the youngest free agent first baseman with a lot of MLB experience entering the upcoming offseason could be the player whom the Red Sox acquired from the Dodgers for all of their superstars, James Loney. And he is only hitting .254 with 4 home runs, so you can strike that possibility. One of the older players would be much better than Loney. Simply put, the Yankees once again find themselves stuck between a rock and a hard place. Teixeira makes way too much money for what he gives you, especially in comparison to similar players who earn much less on an annual basis. But when he is healthy, he is still better than most of the free agent options in 2013. Maybe they should more realistically look into trading Teixeira after next season. Just another thought. And who knows. Withe Teixeira going down in last night's game with yet another injury, this time suffering a Grade 1 strain of his left calf, maybe it will be Steve Pearce who can step up and become the next great Yankees first baseman. Then again, maybe not.    
Original Story:
http://www.hardballchat.com/2012/08/t...
PLAYERS:
Mark Teixeira
,
Adam LaRoche
,
Robinson Cano
,
Nick Swisher
,
Jason Giambi
,
Lance Berkman
,
Lyle Overbay
,
Brad Hawpe
,
Carlos Pena
,
Xavier Nady
,
Russell Branyan
,
James Loney
,
Steven Pearce
TEAMS:
New York Yankees
,
Washington Nationals
,
Boston Red Sox
,
Colorado Rockies
,
St. Louis Cardinals
,
Atlanta Braves
,
Texas Rangers
,
Tampa Bay Rays
,
San Francisco Giants
,
Los Angeles Dodgers
MORE FROM YARDBARKER
MLB News

Delivered to your inbox

You'll also receive Yardbarker's daily Top 10, featuring the best sports stories from around the web. Customize your newsletter to get articles on your favorite sports and teams. And the best part? It's free!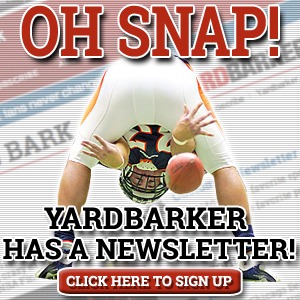 Latest Rumors
Best of Yardbarker

Today's Best Stuff

For Bloggers

Join the Yardbarker Network for more promotion, traffic, and money.

Company Info

Help

What is Yardbarker?

Yardbarker is the largest network of sports blogs and pro athlete blogs on the web. This site is the hub of the Yardbarker Network, where our editors and algorithms curate the best sports content from our network and beyond.