Found April 15, 2013 on IT IS HIGH, IT IS FAR, IT IS caught:
Andy Pettitte is out until Friday.  He hurt his back getting off the couch.Listen: I don't know goulash about pitching. I've never played in the majors, and I have no answers when it comes to sparing elbows from the curse of Tommy John. But dammit, I do know couches. And if you don't know what you're doing when you climb onto one of those pillowy death traps, well, Mr. Sciatica, you might as well bungee jump from an airplane. Those things will end your career faster than you can say Donny Baseball.You get onto a couch after drinking, and - boom - it's morning. After he's pitched seven innings, giving Andy a couch would be like handing heroin to a child. So what was Andy doing on the couch?We all know the answer: the devil box. Yes, he was camped and boneless, eating chips, probably not using a secondary pillow, and watching some zombie show, with his back tightening as the shambling dead advanced. I just hope he didn't throw out his lumbago while reaching...
Original Story:
http://johnsterling.blogspot.com/2013...
THE BACKYARD
BEST OF MAXIM
RELATED ARTICLES
From Matt Ehalt: The New York Yankees have pushed back Andy Pettitte's next start a second time to Friday against the Blue Jays as he deals with back spasms. Pettitte had been scheduled to pitch Saturday before having that start pushed back to either Tuesday or Wednesday, and the team is now giving the 40-year-old even more time to ensure he's healthy. "He'...
Cano goes deep for his fourth home run of the season. Arizona Diamondbacks 2 — New York Yankees 4   Robinson Cano puts the Yankees ahead in tonight's 4-2 win over the Arizona Diamondbacks.   Robinson Cano, named after Jackie Robinson, a man honored throughout baseball, had the hit of the game tonight. On a 3-2 changeup, Robinson Cano hit an absolute bomb into the right field...
1929 Yankees (Photo courtesy of Baseball-Fever.com) On this day 84 years ago the Yankees became the first team to make numbers a permanent part of their uniform. Previously numbers had been used intermittently, even appearing on the uniform sleeve at times, but in '29 they would remain. Other teams quickly followed suit and by 1932 uniform numbers were standard across the league...
The New York Yankees have been surviving so far.  They are 6-5 on the season and there is a positive vibe.  There was a negative tone all through the winter and into spring training, especially after Curtis Granderson and Mark Teixeira went down with injuries.  Derek Jeter also was set back and is still injured.  There were no real expectations from outside sources for the first...
Hiroki Kuroda pitched a five-hitter for his fifth major league shutout and Brett Gardner hit his first home run off a left-handed pitcher since July 2010, leading the New York Yankees over the Baltimore Orioles 3-0 Sunday night. Kuroda (2-1) struck out four and walked none, lifting the Yankees back over .500 at 6-5. Kuroda's eighth inning ended with a snappy double play started...
On a day when Clay Buchholz took a no-hitter into the 8th inning against the Tampa Bay Rays, the Yankees #2 starter made his mark with a complete game shutout of the Baltimore Orioles. Hiroki Kuroda pitched his own gem with style--no walks in nine innings pitched, and had a combo of sliders, splitters, and sinkers that danced their way to the plate. I know for me, Kuroda'...
The Diamondbacks will make their first visit to new Yankee Stadium after the site shift in 2009. The trip always conjures memories of the 2001 World Series, although Yankee pitchers Mariano Rivera and Andy Pettitte and former D-back and current Yankees first baseman Lyle Overbay are the only players from either team still active. At 8-4, the D-backs are off to their best start...
The New York Yankees more than put aside their rivalry with the Boston Red Sox to support the city in the wake of Monday's Boston Marathon bombings. A banner hanging in front of Yankee Stadium displayed a message that said, "United We Stand," in between logos of the Red Sox and Yankees. The Yankees also played "Sweet Caroline" after the third inning of Tuesday's 4-2 win...
While it is nowhere on par with John Clayton's phenomenal "This is SportsCenter" ad from  last September, ESPN's latest entry into the always-amusing ads promoting its flagship show is nevertheless a delightful little commercial. Starring New York Yankees pitcher CC Sabathia, the commercial features the husky hurler extolling the slimming benefits of the Yankees uniform's...
It's hard to top the 'This is SportsCenter' that was done by John Clayton, but this one by Yankees pitcher C.C. Sabathia and ESPN's Scott Van Pelt and Steve Levy is almost as funny.
Yankees News

Delivered to your inbox

You'll also receive Yardbarker's daily Top 10, featuring the best sports stories from around the web. Customize your newsletter to get articles on your favorite sports and teams. And the best part? It's free!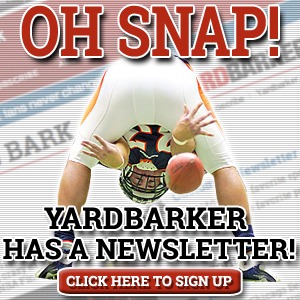 Latest Rumors
Best of Yardbarker

Today's Best Stuff

For Bloggers

Join the Yardbarker Network for more promotion, traffic, and money.

Company Info

Help

What is Yardbarker?

Yardbarker is the largest network of sports blogs and pro athlete blogs on the web. This site is the hub of the Yardbarker Network, where our editors and algorithms curate the best sports content from our network and beyond.