Found April 25, 2013 on World Series Dreaming:
PLAYERS:
Chad Billingsley
,
Zack Greinke
,
Carlos Quentin
,
Chris Capuano
,
Ted Lilly
,
Matt Garza
,
Scott Baker
,
Travis Wood
,
Scott Feldman
,
Ned Colletti
,
Carlos Villanueva
TEAMS:
Los Angeles Dodgers
,
San Diego Padres
,
Chicago Cubs
Alright, so the Cubs fans are panicking a bit and it is likely that this year's team isn't going to contend anyway.  But how soon is too soon for a fire sale?  I guess there's no good answer for that, but teams probably have some kind of unwritten rule or guideline on when it's okay to make a trade that won't have fans freaking out too much. Enter the Los Angeles Dodgers with their behemoth payroll and Chad Billingsley.  Billingsley underwent Tommy John surgery and is expected to be out until sometime in 2014.  With Zack Greinke the victim of a Carlos Quentin thrashing, Chris Capuano also out and Ted Lilly trying to rehab to fill that spot in the rotation, the Dodgers may still be one spot short and could use another able body instead of diving into their minor league depth (read: unproven).  There's probably a hint of desperation in these Dodgers as they broke the bank and outspent the entire continent of Africa to try to contend this season.  They might be ripe for a trade. Enter also the Cubs' "best" starter, Carlos Villaneuva.  Carlos has a very team-friendly contract at two years and $10MM total.  He's also been rather lucky thus far compared to his career norms.  The ERA is definitely not going to last, the low hit rate isn't going to last, and while his walks have been minimized so far this season, I doubt that's going to last either.  Matt Garza is on the mend and will hopefully come back in May sometime, while Scott Baker is doing goodness-knows-what and likely won't come back until after the All-Star Break. But with Garza coming back hopefully soon, I'd prefer the Cubs not try to demote Travis Wood (who's also been rather good) and to try to keep Scott Feldman in the rotation despite the fact that Feldman's been a giant bag of suck.  So Villanueva is a very enticing trade chip for a not-so-sharp GM (read: Ned Colletti).  For reference, here's one of several top prospects lists for the Dodgers organization that might be of interest to a rebuilding club such as the Cubs. So what do you fans think?  Keep or trade Carlos Villanueva? Note: There is a poll embedded within this post, please visit the site to participate in this post's poll.
Original Story:
http://worldseriesdreaming.com/2013/0...
THE BACKYARD
BEST OF MAXIM
RELATED ARTICLES
Josh Vitters singled twice and ripped an RBI double, Carlos Penalver doubled twice, scored a run, and knocked-in another, and catcher Lance Rymel threw out five baseruners (four caught stealing and one picked-off), as the Cubs edged the Rockies 5-4 in Cactus League Extended Spring Training action this morning at Dust Storm Field at Salt River Fields at Talking Stick Resort east...
Used to be, earlier in his career, Alfonso Soriano was the very model of an undisciplined hitter. He got a lot of press, because he was a Yankee, and back in 2002, Soriano drew 22 unintentional walks while striking out 157 times. He also mashed 39 dingers, so it's not like there was much reason for Soriano to change. But as time has gone by, it seems like Soriano has drawn less...
It's official, Chad Billingsley will undergo Tommy John surgery tomorrow. Dr. Neal ElAttrache will be performing the surgery at Kerlan-Jobe in Los Angeles. Honestly, I'm pissed. How does this situation even happen? The coaches and even Billingsley himself took no responsibility. I'm sure you remember when Billingsley was diagnosed with a torn ulnar collateral ligament in...
Anthony Rizzo had two home runs and four RBIs to power the Cubs to a 4-2 victory over the Miami Marlins on Friday night, giving Chicago back-to-back wins for the first time this season. Rizzo's second career two-home run game gave him eight on the season, the most by a Cubs left-handed hitter in April. Billy Williams (1970) and Henry Rodriguez (2000) each hit seven. Scott Feldman...
There's rivalry shenanigans and then there's what the Illini are about to pull in a few weeks. Chicago has long been a fighting ground for the college sports fans hearts - after all, it's the number one location for grads of Big Ten schools in the country - but for decades it's been the battle ground for Northwestern vs. Illinois. However, yesterday the Illini decided...
Luis Valbuena wasn't going to let the game go to extras. Valbuena hit a tie-breaking solo home run in the ninth inning off Steve Cishek (1-3) to lift the Chicago Cubs to a 4-3 win over the Miami Marlins on Thursday night. ''Ninth inning, two outs, I tried to hit a home run,'' Valbuena said. ''I didn't want to play extra innings.'' The Marlins...
Something interesting came up today as Anthony Rizzo hit another two homers to become the Cubs' all-time leader in homers in April by a left-handed batter.  Yeah, they have small-sample meaningless stats for everything!  But all those home runs are cool despite his crap average.  At the conclusion of the game, Rizzo had a slash line of .200/.277/.506, buoyed by the fact that...
Dodgers got some bad news on Tuesday when the club revealed that Chad Billinglsey will undergo Tommy John surgery on Wednesday and is expected to miss 12 months. After an up-and-down 2012, Billingsley finally started to show signs of the player the Dodgers had signed to a 3-year, 35-million deal the year prior. From July 23 to Aug. 19 of last season Billingsley went on...
The Los Angeles Dodgers rotation received a big blow today as it was announced that starting pitcher Chad Billingsley will undergo Tommy John Surgery ending his season. Near the end of last season there was a decision to be made whether Billinsgley would have Tommy John Surgery. The other option was getting prp (platelet-rich plasma) injections that could possibly prevent the need...
Well, that was quick. Dodgers starter Chad Billingsley will undergo Tommy John surgery on Wednesday and will be out for the rest of the season. The team placed Billingsley on the DL on Sunday with pain in his right elbow, and the surgery was definitely a possibility. This just beats home the point that instead of attempting to rehab an elbow injury that may require Tommy John...
(Photo: TOM LYNN/AP) Last weekend, the Brewers won two games thanks to several timely errors by the Cubs.  In games started by Edwin Jackson and Scott Feldman, the Brewers took the lead on unearned runs both times.  It seems like a shame for Jackson and Feldman to get tagged with losses in those cases (as much as the Cubs losing can be a "shame" anyway). It got me thinking...
MLB News

Delivered to your inbox

You'll also receive Yardbarker's daily Top 10, featuring the best sports stories from around the web. Customize your newsletter to get articles on your favorite sports and teams. And the best part? It's free!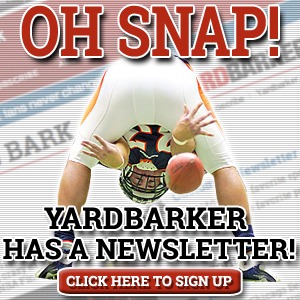 Latest Rumors
Best of Yardbarker

Today's Best Stuff

For Bloggers

Join the Yardbarker Network for more promotion, traffic, and money.

Company Info

Help

What is Yardbarker?

Yardbarker is the largest network of sports blogs and pro athlete blogs on the web. This site is the hub of the Yardbarker Network, where our editors and algorithms curate the best sports content from our network and beyond.