Found November 19, 2012 on Pirates Prospects:
PLAYERS:
Jeremy Hefner
,
Ashley Ponce
,
Benjamin Gonzalez
,
Carlos Paulino
,
Elevys Gonzalez
,
Evan Chambers
,
Francisco Aponte
,
Gift Ngoepe
,
Jarek Cunningham
,
Junior Sosa
,
Ramon Cabrera
,
Ryan Beckman
,
Tony Sanchez
,
Aaron Poreda
,
Anderson Hernandez
,
Andrew Lambo
,
Andy Vasquez
,
Charles Cutler
,
Eric Avila
,
Erik Turgeon
,
Jeff Larish
,
Jeremy Farrell
,
Kenn Kasparek
,
Kris Johnson
,
Quincy Latimore
,
Stefan Welch
,
Tim Alderson
,
Robbie Grossman
,
Gorkys Hernandez
,
Gaby Sanchez
TEAMS:
New York Mets
,
Miami Marlins
,
Pittsburgh Pirates
Tomorrow is the day for teams to protect players for the upcoming Rule 5 draft. Teams have until midnight to add players to the 40-man roster, or risk those players being exposed in the draft this December. The first time eligible players this year are high school players from the 2008 draft and college players from the 2009 draft.  The Pirates currently have six open spots on the 40-man roster. They could clear more spots if needed. Other teams will be clearing spots to protect their prospects, which means the Pirates could also use a spot to claim players on waivers. That happened last year when they claimed Brian Jerolomann and Jeremy Hefner. Below is the list of eligible players, and my thoughts on who should be protected tomorrow. Teams have until midnight Tuesday night to add players to the roster. First time Eligibles Ashley Ponce, SS Benjamin Gonzalez, SS Carlos Paulino, C Elevys Gonzalez, 3B Elias Diaz, C Evan Chambers, CF Francisco Aponte, 1B Gavi Nivar, P Gift Ngoepe, SS Jarek Cunningham, 2B Jeffrey Inman, P Joan Montero, P Jodaneli Carvajal, 2B Jorge Bishop, 2B Junior Sosa, OF Nathan Baker, P Phillip Irwin, P Porfirio Lopez, P Quinton Miller, P Ramon Cabrera, C Rinku Singh, P Ryan Beckman, P Samuel Gonzalez, C Tony Sanchez, C Victor Black, P Yhonathan Barrios, SS Zachary Fuesser, P Previously Eligible BOLD = Eligible for minor league free agency Aaron Poreda, P Aaron Pribanic, P Anderson Hernandez, 2B Andrew Lambo, RF Andy Vasquez, LF Charles Cutler, C Eliecer Navarro, P Emmanuel De Leon, P Eric Avila, 3B Erik Turgeon, P Francisco Diaz,  C Hunter Strickland, P Jeff Larish, OF Jeremy Farrell, 3B Jhonatan Ramos, P Kenn Kasparek, P Kris Johnson, P Kyle Kaminska, P Michael Colla, P Quincy Latimore, LF Stefan Welch, 3B Tim Alderson, P Zachary Foster, P Rule 5 Analysis This is a slow year for the Pirates and the Rule 5 eligibles. The players who are eligible this year are the high school players from the 2008 draft and the college players from the 2009 draft. The Pirates went heavy on college players in the top rounds of the 2008 draft, with the notable high school picks in the top 20 being Robbie Grossman, Quinton Miller, Jarek Cunningham, and Wes Freeman. In 2009 the Pirates went heavy on high school talent in the middle rounds. First rounder Tony Sanchez will be eligible, as will first round compensation pick Victor Black. But the combination of a college heavy draft in 2008 and a high school heavy draft in 2009 leaves the list a little short this year. The players I would consider protecting are as follows: Gift Ngoepe - He's the best defensive infielder in the system, and might be the fastest in the system. It's been surprising how well he has developed, and that development should continue. He's shown some ability with the bat, although not in a consistent manner. He wouldn't be the first speedy, plus defense shortstop with a weak bat to be added to the 40-man roster. Phil Irwin - Irwin really stepped up this year, putting up strong numbers in Double-A and Triple-A. He could be ready for the majors next year. He's more a depth option, with his upside being a back of the rotation starter. The Pirates would be better going with him than signing a free agent for the same role. Ramon Cabrera - His hitting picked up in the second half, and he looked good defensively behind the plate this year. His upside is probably a backup catcher. The Pirates are thin at the position in the upper levels, and shouldn't risk losing a guy like Cabrera. Tony Sanchez - His defense is strong, but his bat has limited his potential upside. He did see a power increase in Triple-A, which is encouraging, although it was a small sample size and came without hitting for average. He'll definitely be protected. Victor Black - He's got the stuff to be a late inning reliever, touching 99 MPH with his fastball and complimenting that with a hard slider, which gets a lot of strikeouts. Kyle Kaminska - The Pirates added him in the Gorkys Hernandez/Gaby Sanchez trade, and he showed some promise in his limited time in the rotation between high-A and Double-A.   Borderline Players: Jarek Cunningham - A lot of pop for a middle infielder, but poor defense and poor plate patience could limit his upside. It would also make it less likely that he gets picked, since he doesn't play a premium defensive position. Jeff Inman - He's got a great arm, touching 98 MPH in instructs last year. He didn't have success this year in Double-A from a numbers standpoint. Nathan Baker - As a starter he struggled with control. As a reliever he looked dominant. A left-handed reliever might not have the upside to be selected in the Rule 5 draft. Eric Avila - There's probably no chance that he gets taken, since he's only played in low-A. I just thought I'd point him out since he had a great second half with West Virginia, finally showing his power potential by hitting for a .291/.328/.564 line and 11 homers in 165 at-bats after the break.
Original Story:
http://feedproxy.google.com/~r/Pirate...
THE BACKYARD
BEST OF MAXIM
RELATED ARTICLES
The Pittsburgh Pirates set their 40-man roster today, adding five players and protecting those players from the upcoming Rule 5 draft on December 6th. The list below includes the players who were left unprotected for the draft. Before I get to the list, I want to point out a mistake on Gift Ngoepe's eligibility. Ngoepe signed with the Pirates in late-2008 at the age of 18. This...
Tony Sanchez was added to the 40-man roster today. Today was the deadline to protect players for the upcoming Rule 5 draft in December. The Pittsburgh Pirates added five players to the 40-man roster today. The new additions were Vic Black, Tony Sanchez, Phil Irwin, Ramon Cabrera, and Hunter Strickland. Sanchez and Black were the two obvious names from the list. Sanchez was the first...
Before coming to the Pittsburgh Pirates near the end of Spring Training this year, Robby Rowland spent two seasons in the Arizona Diamondbacks organization. A third round draft pick out of high school, with a strong bonus to match, he had some struggles during his two seasons in the Pioneer League. Things changed for him this season in a big way. He went from a thrower that posted...
In Winter League action yesterday, Darren Ford likely played his last game of the off-season. If he did, he went out in a big way. Ford hit a fourth inning grand slam during Leones del Caracas 7-5 win. According to El Universal(link is in Spanish), the original plan for Ford was to take two weeks off, then return to the team in mid-December. He states in the article that he wants...
'COME A LONG WAY'
People tend to focus so much on the astronomical mounts of money professional athletes make in some instances that they forget where some of them came from. By making it to the biggest stage in sports, many players rescued themselves and their families from lives of hardship. Pittsburgh Pirates outfielder Andrew McCutchen tweeted the photo you see above on Monday with a powerful...
In a second consecutive light day of Winter League action for Pittsburgh Pirates players, Darren Ford went 3-for-5 with three runs scored, an RBI and his first triple. He also picked up an outfield assist. The center fielder has a .283/.355/.362 line in 127 AB's. During the regular season, he played just 70 games for Tacoma of the PCL, missing the first two months of the season...
The Pirates have signed outfielder Felix Pie to a minor league contract. The deal includes an invite to spring training and incentives based on plate appearances if he makes the major league club.
There's success stories and then there's those success stories with a large dose of inspiration to go with it. The other day Pirates All-Star outfielder Andrew McCutchen posted this picture to his Twitter page which by all account is very inspiring. come a long way since livin here…Thank you God for all youve done n my life. #Ameninstagr.am/p/SOUy9djt_X/ — andrew mccutchen...
The Pittsburgh Pirates have signed outfielder Felix Pie to a minor league deal, according to Dan Connolly of the Baltimore Sun. Connolly reports that Pie has incentives for major league plate appearances in his contract if he makes the Pirates. The outfielder was once one of the top prospects in the Chicago Cubs system, but hasn't panned out in the majors. In 964 career at-bats...
1. Gerrit Cole, RHP – Everyone knows all about Cole.  Good results, knocking on the door.  Just a matter of time before we get to see his Ace potential in Pittsburgh, possibly this season. 2. Alen Hanson, SS – Building quite the resume.  Very Young.  Still very raw.  Much of his ranking is dependent on [...]
Middle relievers are never the sexiest names available during the offseason, but it's hard to dispute just how important a solid bullpen is to a team's success. For that reason, it's shouldn't be too surprising that Jason Grilli is reportedly drawing interest from nearly a third of the league. Grilli, who just turned 36, has transformed into a solid reliever the past two...
Here's a list of players that signed Minor League deals recently: – Outfielder Felix Pie signed a Minor League deal with the Pittsburgh Pirates according to Dan Connolly of the Baltimore Sun. The deal includes invitation for Spring Training adds Connolly. Pie hit .285/.338/.459 with 6 HR's, 51 RBI's and a .355 wOBA in 364 plate appearances with the Braves' Triple...
MLB News

Delivered to your inbox

You'll also receive Yardbarker's daily Top 10, featuring the best sports stories from around the web. Customize your newsletter to get articles on your favorite sports and teams. And the best part? It's free!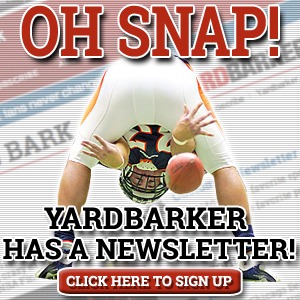 Latest Rumors
Best of Yardbarker

Today's Best Stuff

For Bloggers

Join the Yardbarker Network for more promotion, traffic, and money.

Company Info

Help

What is Yardbarker?

Yardbarker is the largest network of sports blogs and pro athlete blogs on the web. This site is the hub of the Yardbarker Network, where our editors and algorithms curate the best sports content from our network and beyond.