Found February 28, 2012 on The Daily Stache: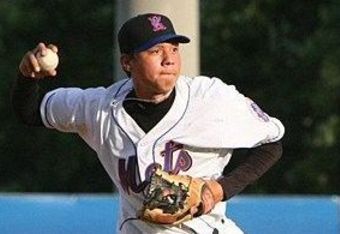 6. Wilmer Flores, Third Base, Bats: R, Throws: R, Age: 20, ETA: 2014
It is very easy to take a long look at Wilmer Flores and see right through his numbers. The truth is he is a stud amongst a mediocre crop of infield prospects in the New York Mets organization.
His frame is impressive, as he stands in at six-foot-three. He possesses the build of a future cornerstone to the middle of the order.
He still is very young and has plenty of time to develop. He just needs to take the next stop now so that time doesn't run out. He broke the single digit barrier in home runs in 2010, but reached only nine last year. Some will say his power needs to surface immediately.
That will be imperative if sticks at the hot corner. He'll need that power down the road to stand out in a division that houses big third base bats like Hanley Ramirez and Ryan Zimmerman.
On the whole, it is hard not to like what Flores as shown as a very young kid. Between the ages of 16 and 19, in four minor league seasons, Flores has hit .280 with 514 hits and 31 home runs.
Flores also swings one of the more well-disciplined bats in the Mets system in that he doesn't strike out much, especially impressive for such a young rising star.
The Mets play in a day in age in which the average major league hitter on the roster is almost guaranteed triple digit strikeouts by the end of the season. At this rate, Flores is destined to change that for the better.
Proper development will be paramount for Wilmer Flores. His skill set is vast and is improving. He just needs time to reach that full potential. The last thing the Mets showed do is rush him up the system; something the organization has fallen prone to doing.
Additionally, Flores' path to the pros is backed by David Wright, the current franchise hitter in the Mets lineup. Flores has spent most of his time at shortstop, but has transitioned to third to work on fielding. He can play anywhere in the infield if necessary.
It may be a few more years until the Mets see Flores in the Majors, but for now he is a significant player on the big league radar.
10. Matt Den Dekker, Outfield, Bats: L, Throws: L, Age: 24, ETA: 2013
9. Jordany Valdespin, Middle Infield, Bats: L, Throws: R, Age: 24, ETA: 2012
8. Cesar Puello, Outfield, Bats: R, Throws: R, Age: 20, ETA: 2013
7. Kirk Nieuwenhuis, Outfield, Bats: L, Throws: R, Age: 24, ETA: 2012
6. Wilmer Flores, Third Base, Bats: R, Throws: R, Age: 20, ETA: 2014
5.
4.
3.
2.
1.
Original Story:
http://dailystache.net/archives/329
THE BACKYARD
BEST OF MAXIM
RELATED ARTICLES
The Mets have a lot of questions marks coming into the 2012 season. If you look at their starting line-up, every player either had an injury riddled year and is a young talent trying to live up to what they did in 2011. There are some guys on the team who need to be their old selves if this team wants a chance to compete. I'm not counting players who were injured last year, just...
Mets starter Dillon Gee got off to a blazing 8-1 start in his rookie season, but by the time August rolled around he was mired in a big slide that lasted until the end of the season. After posting a remarkable 3.32 ERA in the first half, the young right-hander finished with a 5.91 ERA over his final 10 starts. According to an interview he did with the Daily News, Gee hopes that...
According to Adam Rubin, Terry Collins acknowledged today that reliever Manny Acosta, who is out of minor league options, is "all but a lock" for the Opening Day roster in the bullpen along with Frank Francisco, Jon Rauch, Ramon Ramirez and Tim Byrdak. After being retained on the 40-man roster at the expense of losing former top prospect Fernando Martinez, D.J. Carrasco...
New York Mets owner Fred Wilpon says he plans on owning the team for a long time despite financial troubles caused by the collapse of the Bernie Madoff Ponzi scheme. Wilpon said Monday he is optimistic in a favorable outcome in the lawsuit brought by the trustee against the Mets' owners to recover money for victims of the scheme. He expressed optimism that the Mets will host...
Terry Collins can't seem to stop talking about Ike Davis. Everyday you read those quotes or hear him on SNY and he just raves about him endlessly. "I've only seen this guy for a little over a month and that was enough to convince me that, with 550 plate appearances, he can't help but walk into 30-40 (home run) fastballs," Collins was saying Tuesday. "Ike being back now...
According to Joel Sherman of the New York Post, a trade of New York Mets star third-baseman David Wright seems 'inevitable.' Said Sherman: He [Wright] is trying to re-establish his value, hoping to capitalize on those nearer Citi Field fences to return to the land of 30 homers, 100 RBIs and a .300 average. The irony is that will, if anything, make him more likely to be traded...
It is that time of year where Spring Blooms Eternal. Yes it does, when speaking of the Mets owner, Spring Blooms Eternal Balderdash!Yes ladies and gentlemen, it is that time of year where Fred Wilpon addressed the media, which has become a seminar of BS.A few years ago it was about Madoff, and that it wouldn't affect the Mets baseball operation(s). Well, we all know how that...
According to Mike Puma of the New York Post, a Mets official spoke with Ivan Rodriguez as recently as 10 days ago, and the team hasn't ruled out the possibility of signing Rodriguez as a backup to Josh Thole. Puma adds that before the Mets spend the roughly $2 million they have remaining in the budget, their priority is to ensure Johan Santana is healthy. Otherwise, the remaining...
With the additions of Frank Francisco, Jon Rauch and Ramon Ramirez, the Mets hope to turn a weakness -- their bullpen -- into a strength.
1. Jon Niese Now 25, Niese is nearing the age where he needs to make good on his promise, or otherwise be labeled a fourth starter for good. Niese, a big lefty with the stuff to pitch inside to righties and get ground balls, improved on his peripherals in 2011 but saw his earned run average worsen. Assuming Niese's abdominal strain doesn't become an issue again, this could...
Joining host Karen Vankat of The Warning Track is Michael Cohen of the Open Mike show. Today we are discussing the Mess that is the New York Mets and owner Fred Wilpon throwing the fans under the bus. Is Wilpon getting ready for the mid-season fire sale? The Yankees coming into camp lighter and ready to go and the young arms that will propel them through the season. Who will be the...
Wilpon says he has no plans to sell team
MLB News

Delivered to your inbox

You'll also receive Yardbarker's daily Top 10, featuring the best sports stories from around the web. Customize your newsletter to get articles on your favorite sports and teams. And the best part? It's free!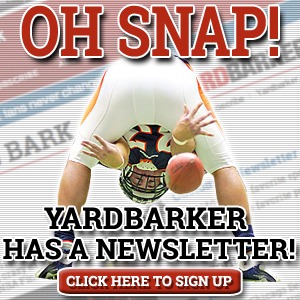 Latest Rumors
Best of Yardbarker

Today's Best Stuff

For Bloggers

Join the Yardbarker Network for more promotion, traffic, and money.

Company Info

Help

What is Yardbarker?

Yardbarker is the largest network of sports blogs and pro athlete blogs on the web. This site is the hub of the Yardbarker Network, where our editors and algorithms curate the best sports content from our network and beyond.