Found July 24, 2012 on isportsweb.com:
To be completely honest his is most likely not the Orioles year. They are a young and talented squad but there is too much competition in the AL to realistically hope for the playoffs. The real promise lies in the future. Whether it's next season or in 5 years the Orioles are on their way back. This return of the once great franchise can be attributed to a strong group of players at the center of Baltimore's success. But who is the most important going ahead. Is it the young superstar pitcher? Or will the gold glove catcher prove most valuable? Here are my top 5 Oriole's players of the future. 5. Dylan Bundy/Manny Machado- I had to cope out a little bit here. When you have two young prospects at the level of these guys choosing one doesn't seem fair. If they aren't rushed through the minor leagues Machado and Bundy could be some of the best players in the league. Machado has drawn comparisons to Alex Rodriguez, while Dylan Bundy may be on par with some of the great pitchers of this generation. If either can live up to their expectations they are going to be phenomenal, but for now they remain in the developmental stage, so they can go no higher than number 5. 4. Jim Johnson- There is something to be said about the value of a great closer. For years Mariano Rivera has been one of the most important players to the Yankees considerable success. Jim Johnson has that kind of talent. Having only blown 2 saves this whole season, he makes any 9th inning lead insurmountable. Although older than the rest of the players on the list he is still only 29 years old. With potentially another 10 years in his career Johnson could be the difference for the Orioles as they climb the ladder towards the playoffs. 3. Wei Yin Chen- The offseason acquisition has had the most surprising year of any Oriole so far. While Jason Hammel has been the standout pitcher in Baltimore, Chen has not been too far behind. First in wins and second in ERA among the starters, Chen has proven himself as a top level starter. At only 27 years old a long career in the majors awaits the Taiwanese pitcher. For years Baltimore has been looking for a legit pitcher, and it seems they have finally found him. If he can continue this season's success he will be the top pitcher in Baltimore in no time. 2. Matt Wieters- I will say this right now, Matt Wieters is the best defensive catcher in the major leagues. His gold glove last year is a glowing example of the young stars true ability. Although his hitting numbers haven't been as impressive this past season, there is something to say for defense. As long as Wieters is behind the plate, don't expect to see many stolen bases against Baltimore. If his batting can improve expect Wieters to, one day, challenge Adam Jones for the top spot on this list. 1. Adam Jones- The numbers speak for themselves though, with Jones leading the Orioles in every major hitting category. But it's just the bat that makes him the top player looking ahead. It's the face that he puts on the franchise. For the first time since Ripken retired, the team has a bona fide superstar. A face to put on the franchise is more valuable than any statistic another player can give the team. And that is why he is number 1.
Original Story:
http://feedproxy.google.com/~r/isport...
THE BACKYARD
BEST OF MAXIM
RELATED ARTICLES
Police say Cal Ripken Jr.'s mother is safe after an armed man abducted her from her home northeast of Baltimore. Aberdeen police say 74-year-old Vi Ripken was kidnapped between 7 a.m. and 8 a.m. Tuesday by a man who forced her into her car. She was found about 6:15 a.m. Wednesday unharmed in her car near her home in Aberdeen. Police say she was not injured. Ripken is a Hall...
Quick question to start things off. Will everyone who predicted that this coming series between the Baltimore Orioles and the Oakland Athletics this week would have serious playoff implications please raise their hands? Now put your hand down because no one would ever predict something that crazy. Predictions aside the O's and the A's are right in the thick of things as the...
Baltimore County police say the 74-year-old mother of legendary Baltimore Orioles player Cal Ripken Jr. has been found after being reported missing. Police say Violet Roberta Ripken was found in Harford County, Md., where she lives, around 6:45 a.m. Wednesday after being reported missing hours earlier. Police spokesman Cpl. Cathleen E. Batton says she's being interviewed and...
Cal Ripken is preparing to speak out about his mother's kidnapping last week. The Hall of Fame infielder has scheduled a news conference for Friday morning in Baltimore, when he's expected to provide an update on the investigation and make a statement. Ripken's 74-year-old mother, Vi, told police she was kidnapped at gunpoint last week, blindfolded and driven around...
This is beyond SCARY! The 74-year-old mother of former Baltimore Orioles player Cal Ripken Jr. was kidnapped at gun point on Tuesday morning and found early this morning in Baltimore. Violet Roberta Ripken was approached by a man at her home, who displayed a gun and forced her into her vehicle. He then fled the [...]
Orioles Fan: Happy we didn't get Hanley Another writer for this awesome website recently posted an article trashing the Orioles for not pulling the trigger on the rumors they may have been interested in now LA Dodger Hanley Ramirez. While valid points were made like the one about the Orioles inability to not pull in big talent via free agency — its true the Orioles have had...
  what might have been There were rumors that the Baltimore Orioles were among the teams that were interested in trading for Hanley Ramirez, who would have been the perfect player for the team's current needs.  Unfortunately for O's fans, the Miami Marlins dealt him to the Los Angeles Dodgers this morning along with Randy Choate for pitcher Nate Eovaldi and a prospect. Eovaldi...
Player of the Game Justin Masterson played the ace card again tonight as he dominated the Orioles from start to finish (or at least until there was one out in the 8th). Masterson won his 6th Player of the Game out of his last 9 starts and has scored negative points in each of those three starts he hasn't won it. Tonight he earned 7.07 points, a fair average for him, with 6...
The Orioles signed Cuban outfielder Henry Urrutia to a minor league contract Tuesday.
Your browser does not support iframes. Harper heroic in NY debut, an 8-2 10-inning win over Mets. [WaPo] Zimmerman wins player of the week, is killing the ball. [Nats Journal] Braves add Ryan Dempster in NL East arms race. [Nats Journal] The Nats' roster is built to absord Desmond's loss. [Nats Blog] O's snap win streak with 3-1 loss to Cleveland. [Camden Chat] Dylan Bundy...
Orioles News

Delivered to your inbox

You'll also receive Yardbarker's daily Top 10, featuring the best sports stories from around the web. Customize your newsletter to get articles on your favorite sports and teams. And the best part? It's free!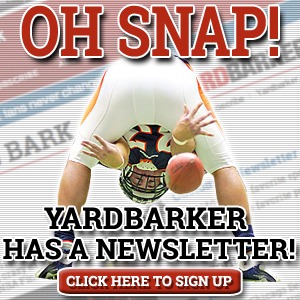 Latest Rumors
Best of Yardbarker

Today's Best Stuff

For Bloggers

Join the Yardbarker Network for more promotion, traffic, and money.

Company Info

Help

What is Yardbarker?

Yardbarker is the largest network of sports blogs and pro athlete blogs on the web. This site is the hub of the Yardbarker Network, where our editors and algorithms curate the best sports content from our network and beyond.