Found April 08, 2013 on Pirates Prospects:
PLAYERS:
Bill James
,
Alex Presley
,
Travis Snider
,
Jose Tabata
,
Andrew Lambo
,
Adalberto Santos
,
Taylor Lewis
,
Alex Dickerson
,
Matt Curry
,
Matt Hague
,
Jarek Cunningham
TEAMS:
Pittsburgh Pirates
Below are the top Runs Created* totals in the Pittsburgh Pirates' farm system from the last week. The rankings include every hitter who had an at-bat for a Pirates' minor league affiliate, not including DSL teams, and with no limitations on whether the hitter has prospect eligibility. In normal weeks, only players with a 3.0 RC or better are included on the list below. Since this was a shortened week, I included the top 20 results. Players who spent time at different levels are counted multiple times, once for each level, rather than combining their stats. Notes on the top ten players from the last week can be found below the chart. *Runs Created is a stat created by Bill James used to estimate how many runs an individual contributes to his team. There are many formulas for runs created. For these purposes the basic formula is used. That formula is ((H + BB) * (1B + (2*2B) + (3*3B) + (4*HR))) / (AB + BB). Jacob Stallings was the top hitter in the minor league system this week. The top hitter in the first week of the season was Jacob Stallings. The catcher, who was selected in the seventh round of the 2012 draft, had two home runs in his first three games. Stallings also added two doubles while going 6-for-10 on the week. He's a strong defender who excels at working with pitchers and game calling. Stallings also has a great arm behind the plate. That combination gives him a chance to have a shot at being a major league backup one day. However, his hitting is a big question mark. Last year he had a .230 average and a .656 OPS in 226 at-bats with State College, while hitting just one home run. He's off to a good start this year, and in the long run he will need to show good hitting ability, since his defense can only take him so far. Alex Presley isn't a prospect anymore, but he was sent to Indianapolis after Travis Snider and Jose Tabata made the major league club. Presley went 5-for-17 with a double and a home run. There's not much for Presley to prove in Triple-A, and any strong performance at this point should be seen as something he's supposed to be doing. I don't see him as a starter, in the majors, but he could be a strong fourth outfielder. The demotions of guys like Presley to Triple-A held back Andrew Lambo and Adalberto Santos. Both players finished in the top five this week. Lambo went 5-for-14 with a double and a home run. This is his sixth year in Double-A, although he started at the level at age 19, so he's still age appropriate. He was one of the top prospects in the game prior to the 2009 season, but hasn't hit to expectations at this level. He's in a situation where any hitting with Altoona will be taken with a grain of salt since he's been at the level so long. However, he'll need strong hitting to force his way onto the Indianapolis roster. Meanwhile, Santos had excellent numbers with Altoona last year, highlighted by a .340 average. He picked up where he left off, going 6-for-14 with a double in his first four games. Taylor Lewis rounded out the top five, going 5-for-16 with two doubles and a homer. Lewis was a 10th round pick in 2011, and spent most of his time with West Virginia last year. He got off to a great start in low-A last year, after a brief stop in extended Spring Training. The hot hitting was short-lived, as Lewis faded in the final two months of the season. He's a speedy outfielder who doesn't have the arm to stick in center, and will thus need to have value with the bat to stick in a corner. Alex Dickerson didn't hit for the power you'd want to see in Bradenton last year. He got off to a good start with Altoona this week, going 5-for-16 with a double and a homer. The home run was an inside the park homer on Sunday. Dickerson has been spending most of his time in the outfield, allowing him to get extra at-bats with Matt Curry at first base. Walker Gourley was taken in the 13th round as a prep hitter in the 2009 draft. So far he hasn't hit much, and has mostly been a utility player in short-season ball. Gourley had a good week at the plate, going 6-for-17 with two doubles. He can play pretty much anywhere on the field, but he's going to need to show something with the bat to continue moving up. He's never had a good OBP, and didn't draw any walks this week, which isn't a good sign. Last year Matt Hague put on an impressive hitting display in Spring Training, only to struggle during the regular season with Indianapolis. He started the season going 4-for-13 with three doubles, showing that gap power that put him on the prospect radar as he made his way up through the minors. Hague has never been a big home run hitter, but has consistently been a guy who hits for extra bases, while adding 10-15 home run power. I wrote a lot this Spring about how Stetson Allie wasn't looking great as a hitter. He looked horrible early in the Spring. Later he started picking up his hitting, but wasn't hitting for power. Allie got off to a good start with West Virginia, hitting his first homer of the season and going 4-for-17 at the plate. One downside is that he struck out seven times in those 17 at-bats, so the plate patience issues are still a concern. The best part of Jarek Cunningham's game has always been his ability to hit for power from the middle infield spot. He didn't do much of that last year with Altoona, but got off to a good start this week. Cunningham went 4-for-13 with a double and a home run.In 2011 he had 15 homers in half a season, and last year he only had six in half a season. The bigger issue with Cunningham is his inability to stay healthy, which has limited him to half a season of at-bats in each of the last two years.
Original Story:
http://feedproxy.google.com/~r/Pirate...
THE BACKYARD
BEST OF MAXIM
RELATED ARTICLES
The Pirates released Jeremy Farrell. The Pittsburgh Pirates have released third baseman Jeremy Farrell, according to the latest minor league transactions from Baseball America. Farrell didn't make either of the top level teams out of Spring Training. In two seasons with Altoona he combined for a .241/.330/.346 line in 610 at-bats. Farrell also had problems staying healthy throughout his career.
Three more pitchers make their season debut today, two of them can be considered sleep prospects, though they are on the opposite ends of the chart. Phil Irwin pitched great last year and was added to the 40-man roster this off-season, putting himself on the map for Pirates fans as a possible call-up during this season. On the opposite end is 19-year-old Tyler Glasnow, who pitched...
PHOENIX (AP) -- Garrett Jones had three hits and two RBIs, Starling Marte drove in two runs and scored twice, and the Pittsburgh Pirates beat the Arizona Diamondbacks 6-5 Tuesday night for their first winning streak of the season. Pittsburgh has snapped out of its offensive funk in the desert, winning the first two games of the series by scoring 11 runs -- three more than in the...
Garrett Jones had three hits and two RBIs, Starling Marte drove in two runs and scored twice, and the Pittsburgh Pirates beat the Arizona Diamondbacks 6-5 Tuesday night for their first winning streak of the season. Pittsburgh has snapped out of its offensive funk in the desert, winning the first two games of the series by scoring 11 runs - three more than the first six games combined...
TOP OF THE SYSTEM A look at how the current top 20 prospects did today.  Note that this list doesn't include players currently in the majors. If a player is in the majors, he will be removed, everyone below him will be shifted up a spot, and a new player will be added to the bottom of the list. Rankings are from the pre-season rankings, and links to each prospect writeup can be...
The Pittsburgh Pirates jumped out to an early lead against the Los Angeles Dodgers on Sunday afternoon. Starling Marte, who was the only Pirate to get a base hit off of Clayton Kershaw in Saturday nights game , led off the game with a single to left field off of MLB rookie Hyun-Jin Ryu. Ryu got Neil Walker to pop out to shortstop before Andrew McCutchen hit a two-run home run to...
After posting a 2.78 ERA over 71 appearances for the Astros in 2011, Mark Melancon did not adjust well to the American League last season. He was traded to the Red Sox in the offseason and recorded a 6.20 ERA in 41 appearances. The right-hander came to Pittsburgh in the Joel Hanrahan deal and told PiratesDugout.com's George Von Benko that he feels comfortable in the Bucs bullpen.
Pirates (1-4) at Dodgers (3-2) 4:10 PM–Dodger Stadium, Los Angeles MLB.com Gameday TV: ROOT The Pirates look to avoid a series sweep (or at least avoid a series shutout) today against the Dodgers. They've dropped eight straight at Dodger Stadium and have obviously been completely dreadful at the plate so far this year. It's gotta change some time soon.. Tonight's starters…...
A bittersweet night in Phoenix saw a Pirates win as well as an injury to perhaps the Pirates' best pitcher.  The Arizona heat warmed up the Pirates' bats as they scored a season-high 5 runs to give them a 5-3 run over the Diamondbacks. Wandy Rodriguez was standing in the on-deck circle before he had…
Through six games, the Pirates have scored eight runs and allowed 16. That puts them dead last in the NL in runs scored and second in runs allowed. They are 1-5. Through six games, the Diamondbacks have scored 37 runs and allowed 27. That puts them third in the NL in runs scored and ninth in runs allowed. They are 5-1.  If we're being honest, right now I'm more concerned...
Swept.  It's embarrassing.  Watching these guys bat actually makes me embarrassed.  Like I'm out there doing it. That guy knows. Someone else who knows a thing or two is Matt Shoemaker.  He is looking for someone to replace Kevin Correia. That should take care of my plugs for this preview. Now it's on to Arizona.…
Pirates News

Delivered to your inbox

You'll also receive Yardbarker's daily Top 10, featuring the best sports stories from around the web. Customize your newsletter to get articles on your favorite sports and teams. And the best part? It's free!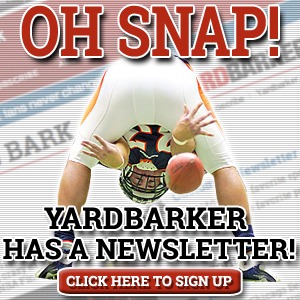 Latest Rumors
Best of Yardbarker

Today's Best Stuff

For Bloggers

Join the Yardbarker Network for more promotion, traffic, and money.

Company Info

Help

What is Yardbarker?

Yardbarker is the largest network of sports blogs and pro athlete blogs on the web. This site is the hub of the Yardbarker Network, where our editors and algorithms curate the best sports content from our network and beyond.