With the exception of a cup of coffee for Matt Dominguez, none of these players has made it to the big leagues yet. So, picking a new top ten for the 2013 season will be interesting to be sure. Sometimes, it isn't necessarily anyone in the top ten playing poorly, but someone else coming out of nowhere and contributing big numbers. Let's see how the minor league seasons finish to see what will happen next year. Nolan Arenado– Colorado Rockies (AA) PA: 467 AVG/OBP/SLG: .277/.339/.418 HR/R/RBI: 9/41/45 SO/BB: 47/36 SB: 0 The beginning of the season seems like an eternity ago. In the life span of a minor league prospect, one year can take on more significance than a single season. He started off as the obvious heir apparent at third base and now the Rockies aren't so sure. Jordan Pacheco hasn't set the world on fire, but he is decent enough for the time being. Nick Castellanos– Detroit Tigers (A+-AA) PA: 477 AVG/OBP/SLG: .350/.388/.493 HR/R/RBI: 9/61/51 SO/BB: 91/27 SB: 6 We've seen these numbers before and they came from the next third baseman on the list. Of course, you will immediately notice that he hasn't produced those numbers this year. However, Castellanos impressed a lot of people with his monster performance at the Futures Game. The Tigers can afford to be very patient with him as he has no spot to play in Detroit right now. Vinnie Catricala– Seattle Mariners (AAA) PA: 435 AVG/OBP/SLG: .238/.304/.359 HR/R/RBI: 9/51/53 SO/BB: 68/33 SB: 3 Catricala is a living testament to the fact that you can't put too much stock in minor league numbers. This is why scouts exist and why they still get paid. Moneyball would have you believe they are meaningless, but sometimes you have to pay attention to tools and the tools weren't necessarily there for Catricala. Zack Cox– Miami Marlins (AAA-AA) PA: 325 AVG/OBP/SLG: .258/.302/.428 HR/R/RBI: 9/28/33 SO/BB: 65/14 SB: 1 The Marlins are playing a game of prospect musical chairs. They traded away their disappointing third base prospect to the Astros and then traded for the Cardinals disappointing third base prospect in Zack Cox. The idea is that a change of scenery will do all of them a world of good. The Marlins demoted him to AA to help him regain his confidence and it appears to be working so far. Matt Dominguez– Houston Astros (AAA-ML) PA: 418 AVG/OBP/SLG: .246/.298/.364 HR/R/RBI: 8/40/65 SO/BB: 44/29 SB: 0 Like with Zack Cox, the Astros are hoping that a change of scenery will turn his fortunes around. Since moving to Oklahoma City, the third baseman has a .310/.352/.420 slash line in a little over 100 plate appearances. One more month like that he might earn a call up to Houston. Goodness knows they don't have much going on up there anyway. Jason Esposito– Baltimore Orioles (A) PA: 436 AVG/OBP/SLG: .219/.271/.299 HR/R/RBI: 5/47/46 SO/BB: 89/22 SB: 8 This season represents his first professional action at any level. The Orioles decided to throw him into full season ball to see if he would sink or swim. Well, he's drowning. It's not a foregone conclusion that he will leave the list. He has plenty of tools and as we've seen with Delino Deshields, those tools sometimes take awhile to actualize. Jedd Gyorko– San Diego Padres (AA-AAA) PA: 476 AVG/OBP/SLG: .310/.372/.531 HR/R/RBI: 23/69/82 SO/BB: 76/42 SB: 5 In what turned out to be a mild surprise, Chase Headley is staying in town for at least another couple of months. He may end up becoming trade bait again during the offseason. One thing is for certain, Gyorko has earned an opportunity. He may just have to wait until 2013 to get it. Francisco Martinez– Seattle Mariners (AA) PA: 350 AVG/OBP/SLG: .246/.315/.339 HR/R/RBI: 2/52/27 SO/BB: 67/30 SB: 26 Let's just say that the Mariners have probably had their fill in Chone Figgins and don't want to see anything resembling that again for awhile. Of course, prospects repeat levels in the minors all the time and sometimes that added experience helps a great deal. Sometimes a player just gets stuck where he's at. Time will tell with Martinez. Anthony Rendon– Washington Nationals (A-) PA: 56 AVG/OBP/SLG: .333/.464/.689 HR/R/RBI: 3/12/9 SO/BB: 9/10 SB: 0 There was a reason why Anthony Rendon fell to the sixth spot in the draft in 2011 and you see why. Ignore the percentage numbers and counting numbers and focus on one statistic: plate appearances. He has 56 plate appearances despite being in the organization for nearly a calendar year. He's clearly mastered short season A, but the so-called best college hitter in the draft is supposed to do that. Miguel Sano– Minnesota Twins (A) PA: 464 AVG/OBP/SLG: .254/.375/.513 HR/R/RBI: 23/59/87 SO/BB: 126/70 SB: 7 For those that freak out about strike outs, Sano is a bit of a concern. However, not all strike outs are created equal. Some strikeout simply because they have no idea when it comes to recognizing pitches. Others work the counts and get a lot of two strike counts because of that. Sano appears to be in the latter category. He doesn't get cheated when he swings, but his 70 walks at this point in the season would be well on pace to surpass 100 in a full six month season.
Original Story:
http://www.hardballchat.com/2012/08/t...
PLAYERS:
Matt Dominguez
,
Nolan Arenado
,
Jordan Pacheco
,
Nick Castellanos
,
Vinnie Catricala
,
Zack Cox
,
Jason Esposito
,
Delino DeShields
,
Jedd Gyorko
,
Chase Headley
,
Francisco Martinez
,
Chone Figgins
,
Anthony Rendon
TEAMS:
Houston Astros
,
Colorado Rockies
,
Detroit Tigers
,
Seattle Mariners
,
Miami Marlins
,
Baltimore Orioles
,
San Diego Padres
,
Washington Nationals
,
Minnesota Twins
MORE FROM YARDBARKER
MLB News

Delivered to your inbox

You'll also receive Yardbarker's daily Top 10, featuring the best sports stories from around the web. Customize your newsletter to get articles on your favorite sports and teams. And the best part? It's free!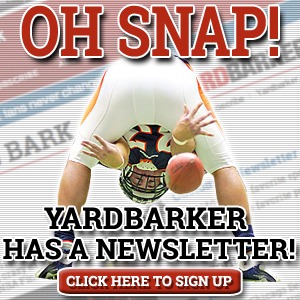 Latest Rumors
Best of Yardbarker

Today's Best Stuff

For Bloggers

Join the Yardbarker Network for more promotion, traffic, and money.

Company Info

Help

What is Yardbarker?

Yardbarker is the largest network of sports blogs and pro athlete blogs on the web. This site is the hub of the Yardbarker Network, where our editors and algorithms curate the best sports content from our network and beyond.