Found September 09, 2012 on isportsweb.com:
It was music to my ears when I heard that both Brett Lawrie and J. P. Arencibia were  back in the Toronto Blue Jay's lineup again.  Seeing Lawrie play again was especially exiting to me.   In fact, he scored the Jay's first run in game one against the Boston Red Sox. Game one was probably the best I ever seen the Toronto Blue Jays play in over a month.   Everything seemed to be clicking at the right moment for the Jays and they managed to hold on to win it 7-5.  Rajai Davis made a couple of  spectacular catches during the game. Edwin Encarnacion hit his 38th home run of the season and is getting very close to the 100 RBI plateau. As for Jay's starting pitcher, Henderson Alvarez, he had a good quality start, which has been a rare occurrence for him this season.  In 6.1 innings pitched, he gave up only four hits, two earned runs, two walks, and struck out one batter. Despite two lengthy rain delays, they were able to complete the second game. The Jays jumped out to a 5-0 lead in the second inning.   The Jays would end up winning it 9-2.   This the way I like to my beloved Blue Jays play. Anthony Gose hits his first career home run against Boston. In the ninth inning, Anthony Gose, who had a five RBI night, hit his first ever Major League home run.  It looks like this guy (Gose) maybe the whole package.  He can run, he can hit, and he can field.  Here is one player to watch in the future. Jay's starting pitcher, Aaron Laffey had a very good quality start, giving up only four hits, two earned runs, two walks and struck out two batters in 4.2 innings pitched. It wasn't easy, but the Jays managed to complete the sweep over the Red Sox by winning 4-3 this afternoon.  This is the second time in a row that the Blue Jays swept Boston at Fenway Park this season. The Jays are off tomorrow, but they will face Seattle for three games, starting Tuesday night.
Original Story:
http://feedproxy.google.com/~r/isport...
THE BACKYARD
BEST OF MAXIM
RELATED ARTICLES
The Blue Jays acquisition of Colby Rasmus last season was considered a steal by many. Though the team surrendered five players in companion deals with the White Sox and Cardinals, Alex Anthopolous brought in a young, cost-controlled centerfielder for three relievers, a starter that was never really meant for them in the first place, and Mark Teahen's contract. Rasmus was worth...
Manager John Farrell has suggested that the Toronto Blue Jays could have two hitting coaches next season. Chad Mottola, who has been the hitting coach at Class AAA Las Vegas for the past three seasons and works with the major league hitters in spring training, was called up to Toronto for September as an added coach. If Mottola did join the major league team next year, he would...
Anthony Gose hit his first major league homer and drove in five runs, and the Toronto Blue Jays moved out of the AL East's basement by beating the free-falling Boston Red Sox 9-2 on Saturday night in a game twice delayed by rain totaling 2 hours, 3 minutes. Yunel Escobar added a solo homer to spark a five-run second inning for Toronto, which has won five straight in Fenway Park...
BOSTON - Omar Vizquel has had many outstanding moments through a 24-year career that figures to send him to Cooperstown. One of them came Sunday at Fenway Park, where he hit a game-winning sacrifice fly in the ninth inning in his final plate appearance at the old yard. "I think the best (Fenway) moment was the All-Star Game (in 1999) when I came here and Ted Williams came...
The Toronto Blue Jays did their part in making the Boston Red Sox's miserable season just a little bit more wretched. They swept Boston for the second consecutive series at Fenway Park with a 4-3 win Sunday. The sweep knocked the Red Sox into last place in the American League East and moved the Blue Jays into fourth place. It's not much when you consider the hot race...
The Toronto Blue Jays need one victory for their longest winning streak of the season and a healthy Brandon Morrow could help them achieve it. Morrow will try to lead the Blue Jays to a fifth consecutive win while earning his fourth in as many starts against his former team, the Seattle Mariners, on Tuesday night. Toronto (64-75) hasn't taken five in a row since July 8-15,...
Omar Vizquel hit a pair of sacrifice flies, including one in the ninth inning that lifted the Toronto Blue Jays over the free-falling Boston Red Sox 4-3 on Sunday. Toronto entered the series in last place in the American League East but left Fenway Park two games ahead of the Red Sox. The Blue Jays have won four straight overall and six in a row against Boston. Jacoby Ellsbury...
BOSTON -- In his previous 31 major league games, Toronto Blue Jays rookie outfielder Anthony Gose had a total of two RBI. He matched that total in the second inning Saturday with a two-run single, then hit a three-run shot in the ninth inning for his first career homer, leading the Blue Jays to a 9-2 rout of the Boston Red Sox. Toronto has taken the first two games of the weekend...
The Toronto Blue Jays have activated catcher J.P. Arencibia and third baseman Brett Lawrie from the disabled list. In other moves Friday, they recalled right--hander David Carpenter and Joel Carreno and catcher-infielder Yan Gomes from Triple-A Las Vegas. Arencibia and Lawrie were in the starting lineup on Friday night in the opener of a three-game series against the Boston Red...
The Blue Jays lineup is starting to look a little more like it should. To be fully restored, of course, it would require the presence of Jose Bautista, but he is out for the season after having surgery on his left wrist. But catcher J.P. Arencibia and third baseman Brett Lawrie returned from injury Friday night and the batting order just looked better for their presence....
MLB News

Delivered to your inbox

You'll also receive Yardbarker's daily Top 10, featuring the best sports stories from around the web. Customize your newsletter to get articles on your favorite sports and teams. And the best part? It's free!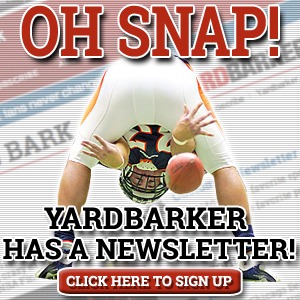 Latest Rumors
Best of Yardbarker

Today's Best Stuff

For Bloggers

Join the Yardbarker Network for more promotion, traffic, and money.

Company Info

Help

What is Yardbarker?

Yardbarker is the largest network of sports blogs and pro athlete blogs on the web. This site is the hub of the Yardbarker Network, where our editors and algorithms curate the best sports content from our network and beyond.