Found May 31, 2012 on isportsweb.com:
Before I get to Monday's game against the Baltimore Orioles, I got a little bit of news about the Blue Jays. The Toronto Blue Jays have sent Eric Thames, who has been slumping at the plate lately, down to Triple A Las Vegas on Tuesday and has called up Mike McCoy. Thames hit .3o8 in the month of April, but has only hit .190 in May. Mike McCoy has been called up from Triple A, Eric Thames gets sent down to minors The Blue Jays have also shook up their overworked bullpen a little by promoting Aaron Laffey from Triple A and sent down Chad Beck. I really amazed on how the Blue Jay played on Monday night, even though, they gave us fans a little bit of a scare at the top of the ninth inning. Jay's pitcher, Drew Hutchison was practically flawless on the mound, giving up only three hits, no runs, three walks, and struck out nine batters in seven innings. Toronto opened the scoring in the first inning when Colby Rasmus drove in Kelly Johnson with a single. Johnson then came up in the second inning and drove in David Cooper on a routine groundout. Edwin Encarnacion made it 4-0 in the bottom of the third inning with his 16th home run of the season. The next inning, Johnson, who got three RBIs in this game, hit a two run homer to make it 6-0. There was no more scoring until the ninth inning when Baltimore looked as if they were making a comeback. Wilson Betemit singled and drove in Adam Jones to give the Orioles their first run of the game. Baltimore scored one more run in the inning, but that would it as the Blue Jays win at home 6-2. Baltimore's Adam Jones kicked off game two with a solo home run in the first inning. When I saw this I thought it was going to be the Oriole's night. Fortunately for the Jays, Rajai Davis tied the game in the bottom of the third inning by driving in third baseman, Brett Lawrie with a bunt single. Later , in the same inning, Yunel Escobar, who didn't play in Monday's game due to a groin injury he suffered in Sunday's game against Texas, drove in David Cooper with a routine groundout and gave his Blue Jays a 2-1 lead. In the bottom of the fourth inning, the Blue Jays scored three more runs. First, Lawrie, who had three RBI's in this game, hit a two run homer to put the Jays up by three. "Brett (Lawrie) swung the bat well," said Blue Jay's manager, John Farrell in a news conference after the game. Blue Jay's starting pitcher, Ricky Romero had a fairly good night on the mound. "Tonight, Ricky (Romero) had better tempo, better pace to the overall game," said Farrell. Romero gave up six hits, four earned runs, one walk and struck out seven in six innings pitched. The Blue Jays broke the game wide open in the bottom of the fifth inning. Shortly after the Jays scored their eighth run, Baltimore's catcher, Matt Wieters was ejected from the game by home plate umpire, Doug Eddings what seemed to be for arguing balls and strikes. At this point of game, I thought the Blue Jays were going to win by a landslide. It turned out I was wrong. At the top of the sixth inning, the Orioles scored three runs to cut Toronto's lead to 8-4. In the ninth, Jones hit his second home run in the game to cut the lead to two. I felt my heart beating a little faster when that home run was hit. Thankfully, Blue Jay's reliever, Casey Janssen, with a man on base and with two out got Wilson Betemit to hit into a routine ground out to end the game. Toronto completed the sweep on Wednesday night by defeating the Orioles 4-1. I honestly did not think they would do it, but they did. There was a scary moment, though, at the top of the seventh inning when Jay's starting pitcher, Brandon Morrow took a line drive off his right shin and had to be carried off the field. Jay's manager, John Farrell told the media in a press conference after the game, that Morrow was okay. "Fortunately, we were able to, no pun intended, dodge a little bit of a bullet," said Farrell as he described Morrow's situation from the team's perspective. Before Morrow left the field injured, he was having a pretty good night on the mound. He gave up only four hits, one earned run, two walks, and struck out eight batters in 6.1 innings pitched. The Blue Jays open up a three game series at home against the Boston Red Sox on Friday night.
Original Story:
http://isportsweb.com/2012/05/31/toro...
THE BACKYARD
BEST OF MAXIM
RELATED ARTICLES
The Toronto Blue Jays placed right-hander Brandon Morrow on the 15-day disabled list Wednesday, retroactive to June 12, and recalled infielder Yan Gomes from Triple-A Las Vegas. Morrow left nine pitches into Monday's start against Washington after suffering a strained muscle in his left side. A second round of tests Tuesday confirmed the initial diagnosis and Morrow was placed...
When first baseman Adam Lind was sent to Class AAA Las Vegas on May 17, he was assigned on option. But now he is off the Toronto Blue Jays' 40-man roster, assigned outright to Las Vegas on Thursday after clearing waivers. The move was made to clear a spot for right-handed pitcher Robert Coello, who is being called up to provide bullpen insurance. The Blue Jays bullpen was...
Outfielder Vladimir Guerrero has been promoted to Class AAA Las Vegas, the Toronto Blue Jays announced Friday. Guerrero, 37, signed a minor-league contract with the Blue Jays on May 10 and was assigned to High Class A Dunedin. He batted .450 with four home runs in four games with the Florida State League team. He will make his debut for the Las Vegas 51s on Saturday. It will...
Blue Jays right-hander Brandon Morrow had to be helped off the field after he was struck on the lower right leg by Wilson Betemit's line drive in the seventh inning of Wednesday night's game against Baltimore. X-rays were negative, and Morrow was diagnosed with a bruised right shin. He is day to day. Morrow was hit between the knee and ankle on Betemit's infield single...
Roger Clemens' former catcher with the Toronto Blue Jays testified Wednesday that he had seen vitamin B12 ''shots lined up ready to go'' for players, a claim also made by Clemens and for which he was charged with obstructing Congress. Clemens is charged with obstruction of Congress, perjury and making false statements for denying to Congress in 2008 that he ever...
Toronto Blue Jays right-hander Brandon Morrow said he went into Wednesday's start against the Baltimore Orioles with a chip on his shoulder. He left with a bruise on his right shin after being hit by a comebacker, and he was thankful it wasn't worse. Morrow picked up the win as the Blue Jays completed a three-game sweep by defeating the Orioles 4-1 on four solo home runs...
Edwin Encarnacion hit one of Toronto's four solo home runs, pitcher Brandon Morrow left the game after being struck by a line drive and the Blue Jays beat the Baltimore Orioles 4-1 Wednesday night to complete a three-game sweep. Morrow suffered a bruised right shin when he was struck by Wilson Betemit's liner in the seventh, hopping around the mound in pain. Manager John...
TORONTO -- Clay Buchholz gave up two runs on six hits in eight innings and the Boston Red Sox took the first game of a three game series against the Toronto Blue Jays 7-2 on Friday. Buchholz (5-2) recorded seven strikeouts, including striking out the side in the sixth inning and only walked two batters. Blue Jays starter Henderson Alvarez (3-5) gave up four earned runs in 6 1...
Red Sox (26-25) Podsednik CF Nava LF Gonzalez 1B Ortiz DH Saltalamacchia C Middlebrooks 3B Sweeney RF Aviles SS Punto 2B Blue Jays (27-24) Johnson 2B Escobar SS Bautista RF Encarnacion DH Rasmus CF Lawrie 3B Arencibia C Cooper 1B Davis LF
Time: 1:07 PM ET TV: NESN/MLB Network – WEEI RED SOX (27-25) Nava LF Aviles SS Gonzalez RF Ortiz DH Saltalamacchia C Youkilis 1B Sweeney CF Middlebrooks 3B Punto 2B
Blue Jays News

Delivered to your inbox

You'll also receive Yardbarker's daily Top 10, featuring the best sports stories from around the web. Customize your newsletter to get articles on your favorite sports and teams. And the best part? It's free!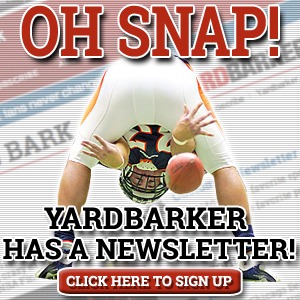 Latest Rumors
Best of Yardbarker

Today's Best Stuff

For Bloggers

Join the Yardbarker Network for more promotion, traffic, and money.

Company Info

Help

What is Yardbarker?

Yardbarker is the largest network of sports blogs and pro athlete blogs on the web. This site is the hub of the Yardbarker Network, where our editors and algorithms curate the best sports content from our network and beyond.