Found December 01, 2012 on hardballchat.com:
PLAYERS:
Mike Trout
,
Curtis Granderson
,
Andrew McCutchen
,
Michael Bourn
,
Dexter Fowler
,
Jordan Pacheco
,
Carlos Gonzalez
,
Michael Cuddyer
TEAMS:
Colorado Rockies
,
Los Angeles Angels
,
New York Yankees
,
Pittsburgh Pirates
,
Atlanta Braves
We are almost down compiling the fielding numbers for last season. We now only have right fielders left and we will have much to discuss as we compile the hitting numbers for all of the players we have mentioned. Outside of Colorado Rockies fans, we have not included most of the players. We will do that as if we review the 2012 defensive numbers for all of the teams individually. Naturally, this will help in part to understand the moves that some teams have already made and understand some of the moves they will make in the coming weeks. As for center field defense, center field used to represent all three Gold Glove positions in the outfield for each league. Last year, the coaches were required to make position specific picks and the baseball world is much better off for it. Still, we see some very unusual picks when the awards come out. American League: Adam Jones (-4.1 runs, 10th) I was listening to Sirius/XM's baseball only channel when the Gold Glove awards were announced. Adam Jones beating out Mike Trout was their lead story. I pulled the car over and laughed for about a solid five minutes. Don't misunderstand me, this isn't some perverse man crush on a boy that is half my age. There are any number of players in the American League that would have been a better choice. That would be nine to be exact. No, Jones is not a butcher along the lines of Curtis Granderson, but he has been a substandard center fielder since getting the job in Baltimore. He is however a dynamic offensive performer. Jones represents a subset of players that look like they should be good defensively. He is fast and athletic and that allows him to make the occasional great catch. The problem is that a lot of center fielders are fast and athletic, so we have to be able to differentiate between those that routinely make great plays and those that make routine plays look great. National League: Andrew McCutchen (-7.6 runs, 14th) If a worse job could be done on the voting in center field, the National League coaches found a way to do it. McCutchen only bested two regulars in the National League and one of them will be profiled soon. The reasoning behind his selection is simple. He is a budding offensive performer. If the MVP award had been given out before September, he likely would have won it. So, we see that the coaches forget that offense and fielding are two entirely different things. Michael Bourn was the pace setter this time around and it really wasn't particularly close in the National League. He is an impending free agent, so the team that gets him will be happier with the defensive production than they will be with the offensive production. Teams love to anchor the middle of their defense with quality performers if possible. He will give one lucky team a really good anchor. Case Study: Colorado Rockies We return to the Rockies this time around because Dexter Fowler mercifully wasn't selected for the award. I say mercifully because he turned in a league worst -11.7 defensive runs. If we count Chris Nelson and Jordan Pacheco together (both played third base after all) they would have more players with -10 runs or worse than any team in baseball. If we combine Carlos Gonzalez and Fowler we have -20.4 runs. We haven't gotten to Michael Cuddyer yet either. He has been a negative defender for years and certainly didn't help the cause in Colorado. So, the defensive outfield in Colorado was atrocious and if you are looking at areas where they can improve defensively we can start right there. No wonder all three outfielders are on the block. The post Total Run Index Series: Center Field Defense appeared first on Hardball Chat Baseball Blog.
Original Story:
http://www.hardballchat.com/2012/12/t...
THE BACKYARD
BEST OF MAXIM
RELATED ARTICLES
In the vein of old-fashioned baseball trades … How about Dexter Fowler for Homer Bailey? We know this much, from major-league sources: The Colorado Rockies like Bailey, the right-hander who looked like a legitimate No. 2 starter for long stretches of this year. The Cincinnati Reds like Fowler, the antidote to their worst-in-the-majors .581 OPS from the leadoff spot. Now the question...
        The answer to the question in the title seemed a little more obvious if this was posed last offseason. Justin Upton was considered one of MLB's few "five tool" players being he could hit for average, power, steal bases, play solid defense and blessed with a strong throwing arm. Dexter Fowler, on the other hand, was a player the Colorado Rockies liked, but to...
MLB News

Delivered to your inbox

You'll also receive Yardbarker's daily Top 10, featuring the best sports stories from around the web. Customize your newsletter to get articles on your favorite sports and teams. And the best part? It's free!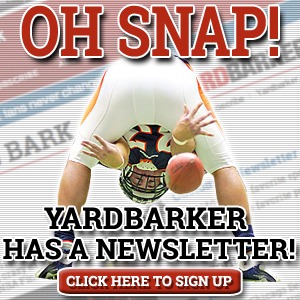 Latest Rumors
Best of Yardbarker

Today's Best Stuff

For Bloggers

Join the Yardbarker Network for more promotion, traffic, and money.

Company Info

Help

What is Yardbarker?

Yardbarker is the largest network of sports blogs and pro athlete blogs on the web. This site is the hub of the Yardbarker Network, where our editors and algorithms curate the best sports content from our network and beyond.