Found November 10, 2012 on New York Sports-Kings:
Three of the New York Yankees most integral parts may be on the move this offseason. Nick Swisher, Hiroki Kuroda and Rafael Soriano all rejected the Yankees $13.3 million qualifying offers. Thus they may now pursue their careers with other teams. The caveat in all this is the team that signs anyone of these players would have to give up compensatory draft pick Via NYDailyNews: "I'm not surprised whatsoever," general manager Brian Cashman said. "I expected it." Under the rules of the collective bargaining agreement, the Yankees can continue to negotiate with all three of their former players. Should Swisher, Soriano and/or Kuroda sign with another major-league team, the Yankees will receive a compensatory draft pick. Swisher and Soriano are expected to pursue multi-year offers, while Kuroda could still return to the Yankees on a one-year pact. "I'm excited about the opportunities we have," Cashman said. "I like the fact that we can continue dialogue with everybody that we would like to and still be in a position to gain draft picks as a worst-case scenario which would benefit our farm system as we move forward." Many Yankee fans are down on Nick Swisher, but Kuroda and Soriano would be huge losses for the Yankees' pitching staff. With Mariano Rivera coming back for another year, it appears the Yankees' closer role will be filled by the legendary all-time saves leader. However, Soriano could be a valuable set-up man and fill the role of closer after Rivera retires. As for Kuroda, he was a pleasant surprise for the Yankees this past year as he exceeded expectations.   The post Trio of Yankees reject offers, set to become free agents appeared first on New York Sports Kings.
Original Story:
http://nysportskings.com/trio-of-yank...
THE BACKYARD
BEST OF MAXIM
RELATED ARTICLES
Well, it's hot stove time! when all us bloggin' mokes fantasize deals the Yanks oughta make. So without further adieu, here's my suggested trades. And don't nobody tell me they're unrealistic! Cuz I ain't buyin' it. OBTAIN: Pittsburgh RH starter AJ Burnett. (picture right, as AJ Brunette)GIVE UP: Prospects Diego Moreno and Exicardo Cayones.Burnett won...
As part of the Erskine-Bowles deal that Bud "the Rug" See-Lug forced on the Yankees last year, the Steinboys decided they can spend no more than $187 million in 2014. As much as they'd love to go higher, the rules forbid it. They'll have to bank the profits and buy new horses, beach fronts and - in Hank's case - "Hooked on Phonics" tapes. It's...
Nick Swisher played in 148 games this past season.  It marked the seventh-straight season in which he had played in at least that many games.  He is not the type of player you expect to go down to injury, but the Yankees may be exchanging him for a player who is.  The fact is, it's difficult to find a player as durable as Swisher, and now that Swisher has rejected New York...
Hiroki Kuroda, Rafael Soriano and Nick Swisher have all rejected qualifying offers from the New York Yankees by Friday's 5 p.m. deadline. All three players had until today's deadline to inform the club of their final decisions after the Yankees had made the one-year, $13 million offers last week to ensure draft compensation if any of the three free agents sign elsewhere...
I recently acquired my second Hope Diamond Parallel, and I can't get over how absolutely AMAZING they are in-hand. For just over a five-spot, this bad boy can now call my collection its home.Numbered 10/60, it's an awesome addition to my Martin PC, and I'm really happy it's a Russ Dodgers' card. What's so noticeable, of course, is how awesome this card is...
Robinson Cano still has one year left on his on his contract with the New York Yankees but that doesn't mean his agent Scott Boras hasn't already started to draw a line in the sand. While the Yankees have more pressing concerns — like resigning steady performers like Hiroki Kuroda, Andy Pettite and Mariano Rivera with short-term pacts — there is the conundrum of what...
A debate among New York Yankees fans has been heating up over the past few days: the debate to trade Robinson Canó, or extend his contract, to a nine-figure deal, keeping him in the Bronx for the next several years.Some Yankee fans want the Yankees to honor their team's heritage of spending more and more money, always improving the team, never acknowledging any fiscal limitations...
Major League Baseball's general managers are meeting in Palm Springs, Calif., this week, which kicks the Hot Stove burner from simmer to medium-low. The burner will turn to high next month at the Winter Meetings in Nashville. Even on simmer, there is word from the Bronx that the Yankees won't pursue "big time" — or even "less-than-big-time" — free agents this winter...
Would Nick Swisher satisfy the Tigers' needs? Two different ESPN baseball writers mentioned a Swisher-to-Detroit possibility this week. Continue reading →
Multiple teams, including the Baltimore Orioles, Seattle Mariners, Philadelphia Phillies, Atlanta Braves, San Francisco Giants and Washington Nationals, are believed to have "some level of interest" in free agent outfielder Nick Swisher, reports Jon Heyman of CBSSports.com. While he isn't going to be able to duplicate Jayson Werth's $126 million contract...
All year, the Gray Lady's David Waldstein profiled Russell Martin's diligence in preparing for Yankee games, even when the poor moke wasn't hitting Taylor Swift's weight.  (By that, I mean her measurable physical weight, not her figurative impact on cow music, American Twitter culture and the sensitive male breeding population of Hollywood and Hyannis Port - which...
Yankees News

Delivered to your inbox

You'll also receive Yardbarker's daily Top 10, featuring the best sports stories from around the web. Customize your newsletter to get articles on your favorite sports and teams. And the best part? It's free!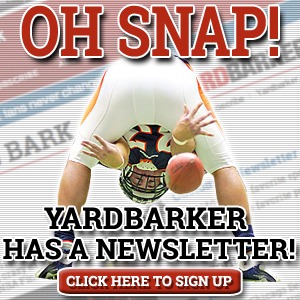 Latest Rumors
Best of Yardbarker

Today's Best Stuff

For Bloggers

Join the Yardbarker Network for more promotion, traffic, and money.

Company Info

Help

What is Yardbarker?

Yardbarker is the largest network of sports blogs and pro athlete blogs on the web. This site is the hub of the Yardbarker Network, where our editors and algorithms curate the best sports content from our network and beyond.