Found August 08, 2012 on Waiting For Next Year:
PLAYERS:
Miguel Cabrera
,
Manny Acta
,
Joe Smith
,
Vinnie Pestano
,
Chris Perez
,
Justin Verlander
,
Corey Kluber
,
Zach McAllister
,
Brian Dozier
,
Jamey Carroll
,
Asdrubal Cabrera
,
Tony Sipp
,
Denard Span
,
Ben Revere
,
Joe Mauer
,
Josh Willingham
,
Justin Morneau
,
Jason Kipnis
,
Bill Buckner
,
Ezequiel Carrera
,
Tyler Robertson
,
Shin-Soo Choo
,
Casey Kotchman
,
Ryan Doumit
,
Brian Duensing
,
Justin Masterson
TEAMS:
Detroit Tigers
,
Minnesota Twins
,
Cleveland Indians
It is absolutely incredible what is going on with my beloved Indians right now. Even if you hired a Hollywood screen writer to tell the story of the now 11-game losing streak, he or she couldn't come up with the storyline of these last three games. Sunday's implosion was one for the ages, as the Indians scored three times in the tenth inning, only to watch the Detroit Tigers get five in the bottom of the frame, capped off by a Miguel Cabrera walk-off homer. That was the end of a nine-game road trip in which they lost all nine. Then came Monday night's debacle where the visiting Minnesota Twins scored 10 times in the second inning on their way to a 14-3 beat down of the Tribe. But just when you think things can't possibly get worse, last night's game comes along. "This is a hard one," Indians manager Manny Acta said. "Guys played their hearts out." Lets just fast forward to the fun parts, shall we? The Indians led 5-1 heading into the seventh inning. You know what that means – the back end bullpen crew of Joe Smith, Vinnie Pestano, and Chris Perez would be on to close things up on this horrific season-changing losing skid. Its been a long 11 days since they beat Justin Verlander and the Tigers. The Indians, along with the 14,813 (paid attendance) fans there could taste this one. They had nine outs to get. The old adage of "whatever can go wrong, will go wrong" seems to be following around our boys right now. No matter how hard they try, or how big of a lead that had last night, a doomsday situation was right around the corner. Rookie Corey Kluber had given the Indians their first quality start (six innings, one earned run) since Zach McAllister 11 days prior. With a taxed bullpen, Acta sent the kid out for the seventh. Minnesota's Brian Dozier led off by reaching out and poking a perfectly placed double down the right-field line. Ex-Indian Jamey Carroll then grounded to shortstop Asdrubal Cabrera, who proceeded to boot the ball. The Twins were now in business with runners on the corners and nobody out. With three lefties due up, Acta pulled Kluber in favor of lefty Tony Sipp. Sipp got Denard Span to pop out and Ben Revere to ground out which scored Dozier from third. He then walked Joe Mauer, bringing Tribe killer Josh Willingham to the plate. Acta again re-appeared from the dugout, calling for Joe Smith. Smitty's first pitch hit Willingham to load the bases for another guy who wears out Tribe pitching, former MVP Justin Morneau. All season long, the Indians defense has been solid. That, along with the bullpen, have been essentially the only two consistent parts of the club. But this losing streak knows no bounds and doesn't discriminate. Morneau sent a grounder right to second baseman Jason Kipnis. As if his name was Bill Buckner, Kipnis watched as the ball went right through his legs, scoring two Twins and bringing them to within one run at 5-4. As the ball passed him, Kipnis just kept his head down in frustration. Watching from my couch, I yelled "Oh…..My……God." This was really happening. You could see the writing on the wall. These are the kind of thoughts that go through the heads of Tribe fans everywhere right now. You can't help but have them too. When you are born into this Cleveland Sports culture, its natural to expect the worst. They still had to get six more outs, but the once cushy four run lead was down to one. Vinnie Pestano, the one man who has avoided any sort of drop off in his game during the skid, put two on with two out in the eighth, but got Revere to get out of the jam. Three more outs. Before the ninth, the Tribe had one more chance to add an insurance run. Ezequiel Carrera led off with a bunt single and was sacrificed over to second by Kipnis. Twins manager smartly called for an intentional walk of Cabrera to set up the double play and have his lefty Tyler Robertson face Shin-Soo Choo. We all knew what was coming next. Choo grounded into an inning ending double-play. So onto the ninth we went. Closer Chris Perez hasn't blown consecutive save chances all season. But then again, this is "the streak" where anything is possible. After striking out Mauer, Willingham singled sharply up the middle, putting the tying run on first. He was replaced by pinch runner Darren Mastroianni, who stole second. Morneau, the man who hit the grounder in the seventh that ate Kipnis up, sent another grounder down the first base line with some weird english on it. It kicked up and deflected off of all-world defender Casey Kotchman. Mastroianni scored on the play and the game was tied. "The ball actually started off foul and kicked a couple of times," Kotchman said. "Then it took a bad hop and obviously an unfavorable bounce off my wrist. It just so happened to come in the midst of the streak." If I didn't see it with my own eyes, I wouldn't have believed it. The thing is, the flood gates were just about to open. Ryan Doumit doubled to the gap in right-center, putting the lead run on third with just one out. Tishyoki Nishioka followed with a sacrifice fly to score Morneau and the Twins completed their improbable, Indians-aided comeback. Dozier added a icing to the cake with an RBI single scoring Doumit. Perez had completely lost it. You could see it in his face. After giving up another single to Carroll and a walk to Span, Acta had seen enough and pulled his closer from the game. The boos that he said he hated to hear in his own own stadium, rightfully rained down upon him. Again, I give Perez credit for putting himself right out there in front of his locker to answer for his performance. "After the error, it's a tie game, and we still have a chance to win if I make some pitches," Perez said. "Bottom line: I'm not making pitches." He continued. "It's an unacceptable performance. It's coming at the worst time for us as a club. We've just got to fight through it. That's the only thing you can do. The games aren't going away off the schedule. We've got to keep playing and try to turn this thing around. I'm not getting off the horse." The three hour and 40 minute marathon is now followed by a 12:05 start today, just what a team that has lost 11 games in a row is looking for. The Twins go for their second sweep of the Tribe in less than two weeks. Naturally they will send out Tribe kryptonite, a left-handed starter in Brian Duensing (2-6, 4.39) to the mound. One of this two wins this season came against the Indians two Sundays ago. He will face off with the struggling Justin Masterson (7-10, 4.78 ERA). (photo via Thomas Ondrey/The Plain Dealer)
Original Story:
http://www.waitingfornextyear.com/201...
THE BACKYARD
BEST OF MAXIM
RELATED ARTICLES
Following the likes of Johnny Damon and Derek Lowe, veteran infielder — and one-time clean-up hitter — Jose Lopez has been designated for assignment by the Cleveland Indians. Lopez was hitting .249 with 13 doubles, four home runs and 28 runs batted in during 66 games with the Indians. He was designated for assignment earlier in the season, but cleared waivers and was later assigned...
I realized something during the 14-3 shellacking laid on the Indians Monday night. I've written about this team since the beginning of the 2008 season—not quite five full seasons. This is the third losing streak of at least ten games that I've covered. This seems like a lot, right? I mean, three losing streaks of at least 10 games in less than five seasons? I don't know....
One day after snapping an 11-game losing streak, the Cleveland Indians fired pitching coach Scott Radinsky. Ruben Niebla was named an interim replacement Thursday before Cleveland opened a four-game home series against Boston. Cleveland also put designated hitter Travis Hafner on the disabled list with a sore lower back and recalled infielder Jason Donald from Triple-A Columbus...
Designated hitter Travis Hafner was placed on the disabled list by the Indians with lower back inflammation. Hafner had an MRI on Wednesday and was placed on the disabled list for the second time this season Thursday. He missed six weeks with a right knee injury that required arthroscopic surgery. Hafner is hitting just .239 with 11 home runs and 32 RBI in 60 games. Infielder...
Through most of their roller coaster season, the Cleveland Indians have been able to count on two areas of the team to perform consistently: the defense and the back of the bullpen. Both areas collapsed Tuesday night, and Cleveland lost its 11th game in a row. Shortstop Asdrubal Cabrera, second baseman Jason Kipnis and first baseman Casey Kotchman all made errors in the last three...
Infielder Jose Lopez was designated for assignment by the Indians after batting .249 with four home runs and 29 RBI in 66 games this season. Right-handed pitcher Frank Herrmann was recalled from Class AAA Columbus, where he had a 2-2 record with seven saves in nine chances and a 4.28 ERA in 39 appearances. Herrmann had allowed 23 earned runs in 48 1/3 innings pitched.
Outfielder Johnny Damon and right-handed pitcher Jeremy Accardo were released Thursday by the Indians, who were unable to deal the veterans after designating them for assignment last week. Damon hit .222 in 64 games with Cleveland after signing April 17. The 38-year-old is in his 17th season in the majors. He played 56 games in left field and was also used as designated hitter...
Manager Manny Acta found it difficult to explain the Cleveland Indians' dismal losing streak, which finally ended one defeat short of tying the franchise record. The Boston Red Sox are also searching for answers. The Red Sox look to avoid a third straight loss Thursday night as they open a crucial 10-game road trip with the first of four in Cleveland. The Indians (51-60) fell...
Roster Update: The Indians added Frank Herrmann to their overworked bullpen. To make room for him, they designated Jose Lopez for assignment. Player of the Game Shelley Duncan did not have any errors as tongiht's DH, so he is today's Player of the Game. Not only was Duncan error-less, but he also hit a 2 run home run in the second inning, giving him a score of 4.40...
The Monday Takeaway The Indians must have been relieved when they sent the Twins down in order, then loaded the bases with nobody out in the bottom of the first inning, after returning home from a brutal, 0-9 road trip. Cleveland had fallen to 50-58 on the season, a likely insurmountable 9 ½ games behind the first-place White Sox, but at least the pain of Sunday afternoon's...
First Pitch: Thursday 7:05, Friday 7:05, Saturday 6:05, Sunday 1:05 Arms: Thursday: LHP Felix Doubront (10-5, 4.56) vs. RHP Ubaldo Jimenez (8-11, 5.29) Friday: RHP Clay Buchholz (9-3, 4.48) vs. LHP Chris Seddon (0-0, 7.71) Saturday: LHP Franklin Morales (3-2, 3.14) vs. RHP Zach McAllister (4-4, 3.60) Sunday: LHP Jon Lester (5-10, 5.36) vs. RHP Corey Kluber (0-0, 6.10)   ...
MLB News

Delivered to your inbox

You'll also receive Yardbarker's daily Top 10, featuring the best sports stories from around the web. Customize your newsletter to get articles on your favorite sports and teams. And the best part? It's free!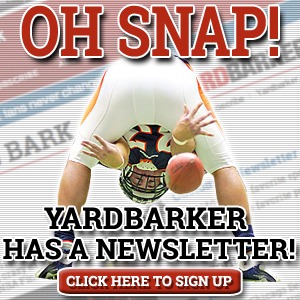 Latest Rumors
Best of Yardbarker

Today's Best Stuff

For Bloggers

Join the Yardbarker Network for more promotion, traffic, and money.

Company Info

Help

What is Yardbarker?

Yardbarker is the largest network of sports blogs and pro athlete blogs on the web. This site is the hub of the Yardbarker Network, where our editors and algorithms curate the best sports content from our network and beyond.