Found April 16, 2013 on Fox Sports North:
MINNEAPOLIS The Minnesota Twins finally moved Aaron Hicks out of the leadoff spot. The 23-year-old Hicks, who made his Major League debut on Opening Day this season, has started 10 games as the Twins' leadoff hitter. But he's batting eighth in Tuesday's lineup against the Angels. Meanwhile, second baseman Brian Dozier will take Hicks' leadoff spot. Hicks has struggled in his brief time in the majors. After drawing a walk as a pinch hitter Monday, he is now batting just .047 with a .128 on-base percentage not ideal numbers for a leadoff batter. The Twins hope the move down in the lineup can allow Hicks to relax a bit as he looks to regain his confidence. He's shown he can hit in the minors; he batted .286 with 13 homers and 61 RBI last year at Double-A New Britain. He also had an impressive spring and earned the starting center field job in camp. So far, it hasn't translated to the majors. "Just move it around and mix it up a little bit and see what happens," Twins manager Ron Gardenhire said of Tuesday's lineup. "See if he can put some swings out there and take all that thought process out of it and hopefully just get up there and take a whack." Hicks drew a walk in the eighth inning of Monday's win after falling behind 1-2 before working the count full. He then stole second base the first steal of his major league career and later took third on a wild pitch in the dirt that didn't get very far away from Angels catcher Chris Iannetta. Hicks and Brian Dozier eventually came around to score on a double to left by shortstop Pedro Florimon to push Minnesota's lead to 7-2. "Good at-bat, good base running," Gardenhire said. "A big time in the game. He got on base and had a quality at-bat. He didn't chase. We've seen him do it a million times in Florida. Now carry it up here and go from there. Hopefully he'll get deep into the game and we'll have a good time out there." Mauer excels with two strikes: Joe Mauer can hit. The Twins catcher has shown that throughout his career and has won three batting titles. But Mauer showed Monday that he's also a very skilled hitter in a situation in which most batters aren't: hitting with two strikes. Three of Mauer's four hits Monday against Los Angeles came with two strikes in the count, including an 0-2 pitch that he singled to center to drive in the final run of the game. In his career, Mauer is a .256 batter and owns a .310 on-base percentage with two strikes. Those numbers are obviously lower than his career numbers, but they're impressive stats in a tough situation. "It takes courage in the first place. Not that many guys want to get to two strikes and stand there and fight pitches off," Gardenhire said. "But it's not like he fights balls off. He puts as good of swings on with two strikes as he does any other time in the count. You just have to have a lot of confidence in knowing the strike zone and trusting your hands, and he does that. He can flat-out hit, let's just put it that way." Break in the weather: Tuesday's weather may be the best the Twins have had yet at Target Field this season. Sunday's game against the Mets was postponed by snow and rain, and Monday's game was 38 degrees at first pitch. It was around 45 degrees on Tuesday afternoon, so Minnesota took advantage of the warmer weather and rare sunshine by taking early batting practice on the field, something they haven't had much of a chance to do yet this year. "Today out there was like Florida again, it seemed like," Gardenhire joked. While the Twins won't make any excuses about the chilly weather they've endured early on, Gardenhire did admit that it can take a toll when a team plays in cold temperatures for two straight weeks. Minnesota didn't really get a break from the weather during its first road trip to Baltimore and Kansas City. The upcoming road trip to Chicago likely won't be much warmer, either. "It's not the easiest thing to do," Gardenhire said. "It's definitely different when it's cold. You don't want to go out there. Today was a nice day to get out in the sun. I would say yes, it definitely is a little rougher playing in this cold weather constantly everywhere we've been." Miracle off to 12-0 start: Thanks to a seventh-inning grand slam Tuesday by top prospect Miguel Sano, the Fort Myers Miracle Minnesota's High-A affiliate are off to an impressive 12-0 start. Sano hit a grand slam in the seventh inning to give the Miracle a 7-4 lead, which held as the final score. The 12-game winning streak matches a team record for the most consecutive wins, as Fort Myers also did so in 1995 and 2007. After Tuesday's home run, the 19-year-old Sano has four home runs and 12 RBI in 12 games this season. He's also batting .413 for the Miracle this season. Follow Tyler Mason on Twitter.
Original Story:
http://www.foxsportsnorth.com/mlb/min...
THE BACKYARD
BEST OF MAXIM
RELATED ARTICLES
MINNEAPOLIS Lost in the shuffle of Joe Mauer's four-hit night on Tuesday was the performance of the guy hitting ahead of him in the Twins' lineup. Second baseman Brian Dozier led off against the Angels, his first career start as Minnesota's leadoff man. His 2-for-4 night was enough to convince manager Ron Gardenhire to put Dozier back in the leadoff spot for the second...
MINNEAPOLIS Last season, at the ripe old age of 38, Twins infielder Jamey Carroll was an every-day player. He played in 138 games, just shy of his career high. One year later, Carroll's role in Minnesota has changed drastically. Through the first two weeks of the 2013 season, the 39-year-old Carroll is no longer an every-day player. In fact, he's made just two starts this...
MINNEAPOLIS All offseason, the main emphasis for the Minnesota Twins was to improve their starting rotation. To do so, the team signed two veteran free agents and traded for another pitcher in hopes of rebuilding what had been the American League's worst starting staff in 2012. Though it's still early in the 2013 season, it appears those offseason changes have made a difference...
Monday the Minnesota Twins filled a roster void as OF Wilkin Ramirez is in New York as his wife is giving birth. They purchased the contract of outfielder Oswaldo Arcia from Triple-A Rochester. Arcia has a talented bat but won't be up long enough to put it to much use. The post Minnesota Twins Purchase Contract Of Oswaldo Arcia appeared first on Fantasy Sports Player Rankings...
The Minnesota Twins made some relatively under-the-radar moves yesterday.  They placed left fielder Darin Mastroianni on the disabled list while recalling Oswaldo Arcia to fill out the 25-man roster.  Mastroianni had been battling a sore left ankle and was scratched from last night's game before eventually being placed on the DL. Darin Mastroianni is headed to the DL...
The Minnesota Twins have placed outfielder Darin Mastroianni on the 15-day disabled list with a stress reaction in his left ankle. Mastroianni injured his ankle on Monday night against the Los Angeles Angels and was a late scratch on Tuesday when he couldn't run on it. He left Target Field in a walking boot and will be replaced on the roster by outfielder Oswaldo Arcia. Arcia...
It's no secret that it's easier for a left-hander to pitch to Joe Mauer and Justin Morneau. The Minnesota Twins can hope that a big hit by Mauer off a southpaw in the series opener against the Los Angeles Angels will help turn things around. The Twins will be up against a left-handed starter for the second time this season Tuesday night when they face Jason Vargas, who has...
The Minnesota Twins have recalled outfielder Oswaldo Arcia from Triple-A Rochester. The move was made before Monday's game against the Los Angeles Angels. Arcia took the roster spot of outfielder Wilkin Ramirez, who was placed on paternity leave after Saturday's game. Players can stay on the list for one to three days. Arcia was batting . 414 with three home runs and eight...
MINNEAPOLIS (AP) -- Joe Mauer had another four hits and three RBIs to lead the Minnesota Twins to an 8-6 victory over the Los Angeles Angels on Tuesday. Mauer sprayed four singles into the Target Field outfield, making him 8 for 10 in the series through two games and raising his average to .386. Brian Dozier added two hits and two RBIs in his first career game batting leadoff for...
MINNEAPOLIS (AP) -- The Los Angeles Angels and Minnesota Twins have had their series finale at Target Field postponed by rain. The decision was made about 15 minutes before the scheduled start of Wednesday night's game. The Twins won the first two games of the series to drop the Angels to 4-10, matching their worst start in franchise history. The Twins said the makeup date...
MINNEAPOLIS (AP) -- Joe Mauer had a home run among his four hits and drove in three runs for the Minnesota Twins in an 8-2 victory over the Los Angeles Angels on a cold, windy Monday night that helped send several fly balls to the deepest parts of Target Field. Kevin Correia (1-1) earned his first American League win after finishing seven innings for the third time in as many starts...
MLB News

Delivered to your inbox

You'll also receive Yardbarker's daily Top 10, featuring the best sports stories from around the web. Customize your newsletter to get articles on your favorite sports and teams. And the best part? It's free!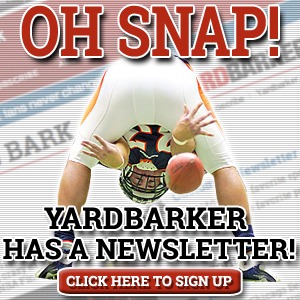 Latest Rumors
The Backyard

Today's Best Stuff

For Bloggers

Join the Yardbarker Network for more promotion, traffic, and money.

Company Info

Help

What is Yardbarker?

Yardbarker is the largest network of sports blogs and pro athlete blogs on the web. This site is the hub of the Yardbarker Network, where our editors and algorithms curate the best sports content from our network and beyond.