Found December 17, 2012 on Fox Sports North:
MINNEAPOLIS Denard Span is gone. So is Ben Revere. Both center fielders were traded away by the Minnesota Twins in recent weeks. Which raises the question: who will roam center field for the Twins in 2013? Minnesota has plenty of outfield depth throughout the organization, perhaps more so than any other position. Young outfield prospects like Byron Buxton (last year's No. 2 overall draft pick), Aaron Hicks and Joe Benson have all shown flashes in the minors. Meanwhile, outfielder Darin Mastroianni got his first extended playing time in the majors in 2012 with the Twins. While Buxton is still a few years away from the majors, the other three are all viable candidates to take over the center field job next season. "I think it's safe to say this organization's got some outfield depth," said Twins general manager Terry Ryan. "Trading two guys and your one and two hitter, we all know that's a risk. But we do have Benson and we have Mastroianni and we still have Hicks. So we've got some young guys, and we have the opportunity possibly to add to the inventory as we go through the winter." Here's a look at the three possible candidates for the Twins' starting center fielder in 2013. DARIN MASTROIANNI 2012 numbers: .252 average, 21 stolen bases, 17 RBI, 3 HR in 77 games with the Twins; .346 average, 11 RBI, 10 stolen bases in 20 games with Triple-A Rochester A fit in 2013? After playing just one game in the majors with Toronto in 2011, Mastroianni signed as a free agent with the Twins prior to the 2012 season. He began the year at Double-A New Britain but quickly climbed the ladder and was in the majors with the Twins by May 10. He served as Minnesota's fourth outfielder. Of his 77 games, only 41 of them were starts. Mastroianni showed versatility in the outfield, as he played all three outfield positions albeit just four games in center field. On the base paths, Mastroianni exhibited speed and was perhaps one of the Twins' smartest base runners. His 21 stole bases were tied for second-most on the team, but his 21 steals came in 29 fewer games than Alexi Casilla's 21 steals and 47 fewer games than stolen base leader Ben Revere, who had 40. While the 27-year-old Mastroianni has more major league experience than Hicks or Benson, the question is whether he can be an every-day outfielder. He served the Twins well in the role of fourth outfielder and late-game replacement but has yet to prove himself in the majors as an everyday player. He played 123 games in the minors in 2011, 132 games in 2010 and 131 games in 2009. Terry Ryan says: "He got a good taste of what it's all about up here this year. In the minor leagues, he was a durable player in center field. It's tough to predict those types of things until you do it. He's strong enough. I think he's strong enough mentally, and he's strong enough physically. We'll see how he responds as well." AARON HICKS 2012 numbers: .286 average, 13 home runs, 32 stolen bases, 11 triples in 129 games with Double-A New Britain A fit in 2013? Formerly one of the top 20 prospects in baseball according to Baseball America, Hicks looks poised to finally break into the majors. The 23-year-old outfielder was Minnesota's first-round pick in the 2008 draft and has worked his way through the minor league ranks. Hicks had a down year in 2011 with High-A Fort Myers, batting .242 with five home runs and 38 RBI in 122 games. But the Twins were pleased with how he rebounded to have a big year at Double-A New Britain in 2012. Hicks upped his stolen base total to a career-high 32 while he also hit a career-high 13 home runs. Like Mastroianni, Hicks can play all three outfield positions but primarily played center field (114 games) last season with the Rock Cats. The one question with Hicks is whether he'll be ready to make the leap from Double-A to the majors out of spring training. The Twins have shown in recent years that they're not against promoting players to the majors without first playing at Triple-A Rochester. He'll have his chance in spring training to make a case for himself on the 25-man Opening Day roster. Terry Ryan says: "He had a good, solid year from start to finish this year. Certainly, the biggest separator on (Hicks and Revere) is their throwing arm. They both have range. They both take good routes. They both get good jumps. Everybody knows that Benny's arm situation that anybody would evaluate him with is, well, he doesn't throw very well. Ok, you can send your cutoff guys out farther. Hicks has got a very good arm." JOE BENSON 2012 numbers: .179 average, 4 stolen bases, 8 RBI, 2 HR in 28 games at Triple-A Rochester; .184 average, 20 RBI, 13 runs in 37 games at Double-A New Britain A fit in 2013? Benson got a taste of the majors in 2011 as a September call-up. In 21 games with the Twins that year, Benson hit just .239 with two RBI in 71 at-bats. He then began the year in Triple-A Rochester but was later demoted to Double-A New Britain in May after early-season struggles with the Red Wings. Benson was also hampered by a wrist injury that required surgery. Benson has had injuries in past seasons as well, and staying healthy will be one of his biggest hurdles to climb if he wants to make the 25-man roster. The Twins' second-round pick in 2006 was rated the No. 99 prospect by Baseball America. At age 24, he's still young. But after an injury-plagued 2012 that yielded poor performance on the field, this spring will be huge for Benson to show he can bounce back. Terry Ryan says: "My biggest concern is his health. We've got to keep him on the diamond, No. 1. Two, here's an opportunity here for a young man that's a true center fielder. Really, there's nobody in front of him. It's up to him to show us, the staff and so forth, that he's got the urgency to take this thing and see what he can do with it. He had a tough year this year, and most of it was because of the health. But when he was healthy, he was struggling as well. I'm going to wipe the slate clean here and see if he's going to take advantage of this situation. It's right there in front of him." Follow Tyler Mason on Twitter.
Original Story:
http://www.foxsportsnorth.com/12/17/1...
THE BACKYARD
BEST OF MAXIM
RELATED ARTICLES
MINNEAPOLIS Minnesota Twins general manager Terry Ryan has made it clear that acquiring pitching was his top objective this offseason. He did just that on Tuesday, adding another arm to bolster the American League's worst rotation. The Twins signed veteran right-hander Mike Pelfrey to a one-year contract, according to the Associated Press. The 6-foot-7 Pelfrey previously spent...
The Minnesota Twins have agreed with right-hander Mike Pelfrey on a $4 million, one-year contract. Pelfrey was an innings eater during a four-year run with the New York Mets before missing almost all of last season after Tommy John surgery. He went 50-54 with a 4.36 ERA in seven seasons in New York. A person with knowledge of the deal tells The Associated Press that the contract...
It's been a long, hard fall from grace for the Minnesota Twins over the last two seasons. After a stretch where the team finished above .500 in nine of ten seasons, the Twins have been the bottom feeders of the AL Central in the last two years. They've lost a combined total of 195 games, been outscored by 316 runs, and have managed to do all of that with the largest two payrolls...
The Minnesota Twins and right-handed pitcher Mike Pelfrey have reached agreement on a one-year deal worth $4 million, CBSSports.com reported Sunday. Pelfrey could earn an additional $1.5 million in incentive bonuses, according to the report. Pelfrey, 28, pitched in three games, all starts, and had an 0-0 record and a 2.29 ERA in 2012 before undergoing Tommy John surgery in April...
Washington Nationals outfielder Denard Span, who was recently acquired by the team via trade from the Minnesota Twins, paid a visit to the White House on Saturday. The tour was going great until someone allegedly broke wind in the sacred building.From Span's Twitter account: No word yet whether or not the president was in the vicinity at the time...
The Minnesota Twins have signed pitcher Mike Pelfrey to a one-year deal worth $4mm, Jon Heyman of CBS Sports reports. Pelfrey will reportedly be ready by Spring Training as he continues to recover from Tommy John surgery he had early last season. If healthy, Pelfrey can earn an additional $1.5mm in performance bonuses. The right hander had spent his entire career with the Mets organization...
The Minnesota Twins have reached agreement on a one-year, $4 million contract with pitcher Mike Pelfrey. The deal, which will be finalized when Pelfrey passes a physical, includes $1.5 million in performances bonuses, ESPN.com and CBSSports.com reported. Pelfrey made $5.7 million this past season with the New York Mets. The right-hander was limited to three starts last season...
MLB News

Delivered to your inbox

You'll also receive Yardbarker's daily Top 10, featuring the best sports stories from around the web. Customize your newsletter to get articles on your favorite sports and teams. And the best part? It's free!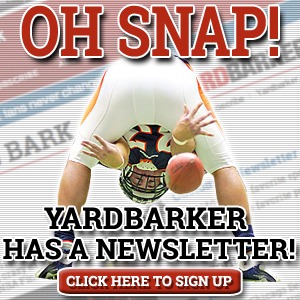 Latest Rumors
The Backyard

Today's Best Stuff

For Bloggers

Join the Yardbarker Network for more promotion, traffic, and money.

Company Info

Help

What is Yardbarker?

Yardbarker is the largest network of sports blogs and pro athlete blogs on the web. This site is the hub of the Yardbarker Network, where our editors and algorithms curate the best sports content from our network and beyond.