Found April 09, 2012 on Down with Goldy:
Well that was pretty embarrassing.  In fact, it was so embarrassing that let's just go ahead and list all the cool things that happened and then maybe we can decide which is the worst.
1.  Getting swept by a team that has finished last in their division for four straight years, hasn't had a winning season since 1997, hasn't broken 70 wins since 2005, and once again has an over/under win total in Vegas of sub-70 by a combined score of 15-5.  Actually I'm pretty sure this is the most embarrassing part, but there are all kinds of embarrassing parts that make up this part, so let's keep going.
2.   Getting two hit through 7 innings by Jake Arrieta, who is at least a semi-prospect and the best pitcher the Twins' faced in the series.  Still, Arrieta is in his third year and has yet to post an ERA under 4.60 or a WHIP under 1.46 in a season, and using
game score as a metric
he has never pitched a game that scored 75 or higher (for reference, there were 354 such games last year alone).  Well, he never had, that is, until opening day against Minnesota where his 7ip-2h-2bb-4k masterpiece scored exactly 75.  So yes, that means Arrieta best game of his career was this last one.  Great.
3.  Getting shutout for 7+ innings by Tommy Hunter, a failed prospect who is already on his second team in just his fifth year.  He's only been good enough once to make more than 20 starts in a season and ended up in long relief with Texas before being traded to Baltimore for a set-up man.  The Twins finally scored, but because the rally started with an error both runs they scored were unearned.  This wasn't Hunter's best game, game score-wise, but it was just the third time in his career he pitched at least 7 innings without giving up an earned run.
4.  Getting no hit for 7 innings by Jason Hammel, a journeyman who is on his third team in his 7th year and spent two years as a reliever and has as career ERA of 5.  My calculation of his game score puts him at 78, one less K worse than his career best of 79.  Considering he allowed zero hits over the first seven innings, I think we can consider this the best start of his career, meaning two of the three starters the Twins faced put up a career best day, while the third guy was merely put up one of his best starts.  That, my friends, is a pretty ****** indicator for how this season is likely to go from here.
5.  Collectively the Twins scored one earned run (and 3 total) and tallied 10 hits against those three starters in 22 innings while striking out 12 times.  Yes, that's more Ks than hits and one run per game against three pitchers who all have a career ERA over 4.40.  The Twins overall are batting .163 (28th in MLB), with an OBP of 238 (30th) and a SLG of .228 (30th).  Their five runs and 15 hits also rank dead last. Pitching ranks 26th in ERA and 24th in opponents' batting average, dead last in strikeouts, and the Twins are one of only four teams who haven't had a quality start yet.
6.  The Twins are paying $23 million this year to a player who hit 1-for-10 and whose only hit was a weak infield groundball that managed to be hit in a perfect spot for an infield hit.  Two of their "biggest" free agent acquisitions (Jayme Carroll and Ryan Doumit) hit a combined 0-for-18.  The team managed just three extra base hits (2 for Morneau, 1 for Willingham) and were out-homered 5-to-1.  Yeah that was a whole bunch at once but I'm getting frustrated.
Getting swept, and convincingly swept, by a terrible team while getting completely shutdown by three sub-par pitchers.  Is it possible to open a season any worse?  At least there are only 159 games to go.
Original Story:
http://feedproxy.google.com/~r/DownWi...
THE BACKYARD
BEST OF MAXIM
RELATED ARTICLES
MINNEAPOLIS The Minnesota Twins entered this season hoping right-hander Scott Baker would be starting their home-opener today. Instead, Baker was preparing to travel to New York to get a second opinion on his troublesome right elbow from Dr. David Altchek. A recent MRI showed the same flexor strain that bothered Baker at times last season, and the Twins are worried about the continual...
MINNEAPOLIS Twins manager Ron Gardenhire talked before his team's home opener Monday about Minnesota's lack of offense through its first three games. The Twins scored just five total runs in the season-opening series against the Baltimore Orioles and failed to score more than two runs in a game. Gardenhire delivered a similar message following Monday's 5-1 loss to the...
The Minnesota Twins have seen the good Francisco Liriano, and they've also seen the not-so-good Francisco Liriano. Both sides of the Twins' left-hander made appearances in Saturday's 8-2 loss to the Baltimore Orioles, but the good Liriano's appearance was nothing but a brief cameo. After a down year in 2011, Liriano had perhaps the most encouraging spring training...
Ten years ago, the Minnesota Twins were nearly eliminated as part of baseball's plan to fold two franchises for financial reasons. The court intervened, and the Twins came together to win their division and reach the American League championship series on a bargain budget with a bunch of scrappy young players that came up together in the minors. The Twins will honor that popular...
In the marathon that is a 162-game baseball season, a three-game losing streak is barely reason to panic. But after Minnesota was swept in their three-game season-opening series against the Baltimore Orioles, Twins fans seem to believe that not much has changed from last year's 99-loss season. Indeed, it was a rough opening series for the Twins, who scored just five runs in...
MINNEAPOLIS LaTroy Hawkins still remembers the call he got from manager Tom Kelly after the Twins' 2001 season. Minnesota finished the year with an 85-77 record, good for second in the American League Central. Despite the Twins' success that season, however, Kelly called to tell Hawkins that he wasn't returning as Minnesota's manager for 2002. "I felt bad...
One of my favorite movies of all-time has to be the Big Lebowski and I have to say that when I heard about this Minnesota Twins ad parodying it, I was quite excited. The commercial features former Twins pitcher Kent Hrbek as "The Big Hrboswski" and it is an instant classic:
- Sources within WWE and outside of WWE have confirmed that as of now, The Bella Twins are scheduled to leave the company when their contracts expire at the end of April. Speculation is that they just want to move on to other things. The Twins wrote the following last night during RAW: "Don't believe what you hear #! Tune into WWE Superstars this week you won't be disappointed...
Minnesota Twins right-hander Liam Hendriks remained hospitalized Sunday with an apparent case of food poisoning.
The Orioles have already won their first series of 2012, and go for the sweep today. The Twins (2012 stats): Pos Batting UZR fWAR Denard Span CF .375/.375/.375 0 0.1 Jamey Carroll SS .000/.125/.000 0 -0.1 Joe Mauer CF .167/.375/.167 0 0.0 Justin Morneau DH .375/.375/.500 0 0.1 Josh Willingham LF .286/.375/.714 0 0.1...
MLB News

Delivered to your inbox

You'll also receive Yardbarker's daily Top 10, featuring the best sports stories from around the web. Customize your newsletter to get articles on your favorite sports and teams. And the best part? It's free!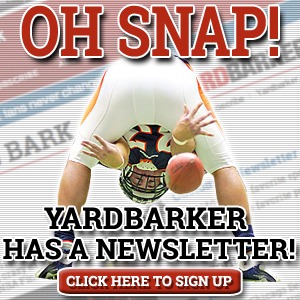 Latest Rumors
Best of Yardbarker

Today's Best Stuff

For Bloggers

Join the Yardbarker Network for more promotion, traffic, and money.

Company Info

Help

What is Yardbarker?

Yardbarker is the largest network of sports blogs and pro athlete blogs on the web. This site is the hub of the Yardbarker Network, where our editors and algorithms curate the best sports content from our network and beyond.