Found April 02, 2012 on We Should Be GM's:
[In light of Juan Pierre making the Opening Day roster, I remixed U2's "One" to honor his best skill - leading the league in caught stealing. I picked caught stealing over his second best skill, having a small head but wearing a large helmet, because that didn't fit into song easily. Enjoy.]Does he make them better?Or are they still the same?It will make it easier to blog nowWe've got someone to blameI say...Juan runsJuan swipesWhen it's Juan's speedIt's all hypeJuan runsBut it's not rare thatHe gets caught often, weDon't care for itDid I disappoint youThought Podsednik with a tearYou act like you never saw JuanGet caught stealing every yearWell it's...Too lateTonightTo drag his stats out into the lightHe's Juan, but he's not that goodHe will get Caught stealingCaught stealingJuan...Have you come here for a pennant?Why is your bat so dead?Have you come here to play left field?Why not Dom Brown instead?Do we ask too much?More than a lotYou give us nothin...
Original Story:
http://pabaseball.blogspot.com/2012/0...
THE BACKYARD
BEST OF MAXIM
RELATED ARTICLES
Congrats Pierre!You remember how it was, right?  It's the week before school starts and you are laying everything out.  You've been to the store at least three times that week getting pencils, notebooks and anything you think you might need.  Then comes the clothes.  You can't even dream about going back to school with the same gear as last year.The goal is to have a plan...
Three Phillies Nation Staff Members Anticipate Seeing This Celebration Again in October. Photo: APThe regular season is rapidly approaching and what good would a baseball blog be without predictions and projections? Today begins part one of the Phillies Nation projections as our staff predicts who will reach the playoffs and win the World Series. Tomorrow, we will bring our 2012...
The Philadelphia Phillies will play their final Grapefruit League game today. Then, they will board a plane and head North. In the wake of their Spring, there will be several questions. Several of them we have already examined. Most of them center on the health of this team. Ruben Amaro Jr. hinted over the weekend that relief pitcher Jose Contreras will begin the season on the disabled...
The Phillies are missing two big offensive pieces, Chase Utley and Ryan Howard. Their nucleus is a year older. But after five straight National League East titles, manager Charlie Manuel believes one thing hasn't changed. "I think until somebody beats us, we're the team to beat. That's what I think," Manuel said before the Phillies and Braves tied, 7-7, in Philadelphia's...
Jimmy Rollins and the core of the Philadelphia Phillies will fire up their engines anew on Thursday afternoon.  Will the October magic of 2008 return after postseason setbacks to the last 3 World Champions?  Is this the next logical step in their evolution as a cohesive unit?  Is there another team with a dominate hub, who is a worthy opponent? TAL'S HANDY CAPS   WELCOME...
If you ask around the Delaware Valley about the Phillies' chances in 2012, you'll probably get a mixed bag of responses. There are plenty of people who have faith that the team will be able to contend this season even without Chase Utley and Ryan Howard. But there are also a number of people who are very concerned about the Phillies as the season opener moves closer. There are...
OK – so obviously new jobs/responsibilities/life events have killed off Dannie (blog-speaking) and have severely limited me. But the reason for this blog was never to make money, it was as a creative outlet for reasonable sports discourse, and the start of baseball season still gets me very fired-up and in need of that outlet… I only got to one part of my Phillies preview, the...
Freddy Galvis hit a tiebreaking RBI triple in the seventh inning, Jimmy Rollins drove in two runs and the Philadelphia Phillies beat the Pittsburgh Pirates 4-3 Monday night in their first of two exhibition games back home. With Chase Utley and Ryan Howard out of the lineup, the Phillies have tried several different ways to try and replace their Nos. 3-4 hitters. Rollins, batting...
The fan favorite known to his family and friends as "J-Bone" is back with another inside look at his progress to begin a new season. Right-handed reliever Justin De Fratus shares his thoughts, exclusively with PhilliesNation.com once again, from Clearwater, FL.The 24-year-old hurler, who was selected in the 11th round of the 2007 draft, went 6-3 with 15 saves, a 2.99 ERA and...
Steve and Connie Mack break down the Philadelphia Phillies and add a little Flyers talk. With opening day this week, get the inside scoop and best opinions about the Phillies. Listen to My Two Cents live on Thursdays only on MTRRadio.com. My Two Cents 3-31-12
The Phillies returned home to play the 1st of 2 exhibition games on Monday night in preparation for Opening Day on Thursday. I had a very nice seat 22 rows behind home plate, but sadly, my camera died a few weeks ago. So I apologize in advance for the crappy photos I took with an old camera while the good one is getting repaired. Joe Blanton started the game and actually looked pretty...
The Phils win a back and forth fight with their cross-state rivals the Pirates to win the first game in their two games on-deck series, 4-3. The Phils took a 1-0 lead in the first as, with a man on third, and with one man out, Jimmy Rollins hits a sacrifice fly, scoring Juan Pierre, who had earlier doubled, then went to third on Placido Polanco's fly out. The Phils added to their...
Phillies News

Delivered to your inbox

You'll also receive Yardbarker's daily Top 10, featuring the best sports stories from around the web. Customize your newsletter to get articles on your favorite sports and teams. And the best part? It's free!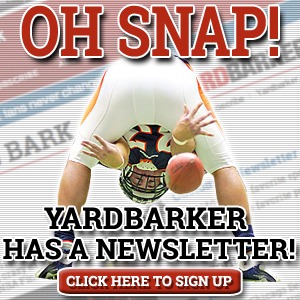 Latest Rumors
Best of Yardbarker

Today's Best Stuff

For Bloggers

Join the Yardbarker Network for more promotion, traffic, and money.

Company Info

Help

What is Yardbarker?

Yardbarker is the largest network of sports blogs and pro athlete blogs on the web. This site is the hub of the Yardbarker Network, where our editors and algorithms curate the best sports content from our network and beyond.