Found October 29, 2012 on Mets360.com:
Perhaps now that the World Series is over, we'll get some hard news coming from Mets land. The only thing that has happened semi-recently has been the announcement that Terry Collins and all of his coaches will return next year. While this news was met by the fan base with the mixture of yawns and disappointment that no one will pay for the second-half collapse, I would like to focus on one thing I am happy about – Tim Teufel will return. Teufel replaced Chip Hale on the coaching staff, both as third base coach and as infield instructor. Hale had generally received positive reviews in his tenure with the Mets and he brought with him some fresh perspective, having joined the team after a stint with the Twins. But Teufel, who both played and managed in the Mets system, was a very capable replacement. A third base coach is a weird position. It's fairly high profile but if I asked you to name the five best third base coaches in the majors, you would probably struggle to come up ...
Original Story:
http://feedproxy.google.com/~r/Mets36...
THE BACKYARD
BEST OF MAXIM
RELATED ARTICLES
Updated 10/30  Jon Heyman of CBS Sports reports the Mets and David Wright are in negotiations on a long-term deal, but assuming no multi-year deal can be completed by Wednesday, the Mets will pick up his $16-million option. The Mets and Wright are thought to have made a bit of progress in multiyear talks, though negotiations were said to be "slow" by some. Mets ownership...
Updated 10/30 7:00 PM It's official. The Mets have announced that they have exercised the 2013 options for David Wright ($16MM) and R.A. Dickey ($5MM). The Mets had until tomorrow to execute their option on Wright and until Friday to execute their option on Dickey. Updated 10/30 2:00 PM Jon Heyman of CBS Sports reports the Mets and David Wright are in negotiations on a long...
Sandy Alderson and Terry Collins have spoken glowingly about the progress made at second base by Daniel Murphy this season. "I think anytime you're a guy who's trying to learn a new position, you spend a lot of time at that position to get comfortable, and Dan has worked very, very hard," Collins said. "I think he's done a very good job defensively, he's really done...
Let's say the Reds called up the Mets and offered Drew Stubbs straight up for Lucas Duda – should the Mets make that deal? Stubbs had a poor year last year but he's a center fielder who plays pretty good defense and who can hit the ball over the fence. While he strikes out an alarming number of times, his overall contributions as a ballplayer still have some value. Last...
It's a foregone conclusion that the Mets will exercise the $5 million dollar team option on R.A. Dickey sometime in the next 2-3 days. Then there's the matter of extension talks which Sandy Alderson said would be a top priority. The question is how many years is too many years? A two year extension would make Dickey a Met through the 2015 season when he will be 40 years old....
Joel Sherman of the New York Post, spoke with several major league executives who said they believed that the Mets and Phillies will be very interested in outfielder Melky Cabrera, who will be a free agent this offseason. There's also a good chance that the Giants will try to re-sign Cabrera, especially if they are unable to work out a deal to keep center fielder Angel Pagan...
This vintage United Press International telephoto was taken the day after the Mets purchased Duke Snider for $40,000 from the Los Angeles Dodgers and reuniting him with longtime teammate Gil Hodges. Of course that's Mets manager Casey Stengel who's chatting it up with Gil and Duke on the dugout steps just before an April 6th spring training game with the Baltimore Orioles....
  For the most part, Mets fans were pleasantly surprised with the production of the Mets pitching staff in 2012. The bullpen kept us on the edge of  our seats the majority of the season, but the starters were one of the bright spots for the Mets. None shone brighter than the ace of the staff, RA Dickey. Some injuries prevented the Mets starting rotation from reaching its full...
The New York Mets picked up their 2013 contract options on third baseman David Wright and right-hander R.A. Dickey, Fox Sports reported. The moves were widely expected, and the team likely will continue to negotiate with the two key players in an attempt to keep them beyond next season. Wright, 29, will make $16 million in 2013, while Dickey, 38, will earn $5 million. Both would...
Ken Davidoff of the New York Post says that due to lingering payroll flexibility issues the Mets have no margin for errors like the Angel Pagan trade and the Frank Francisco signing. he also points out that their is a lack of organizational depth to execute a significant trade without impacting the major-league team nor the dollars to compete with the big boys in free agency....
Hurricane Sandy is churning its way up the Eastern seaboard.  No, I'm not talking about Mets' general manager Sandy Alderson.  I'm talking about an actual meteorological event here.  But now that I think of it, the Mets' Sandy has a few things in common with Mother Nature's Sandy. Let's take a look at the tale of the tape between Hurricane Sandy and Sandy Alderson...
My grandparents moved to Puerto Rico when I was three years old.  After they moved to San Juan, I would only see them for a few weeks at a time when my parents and I would visit them during my summer vacation from school.  Because those trips would coincide with the middle of baseball season, my grandfather would always want to talk to me about baseball. When I was eight years...
Mets News

Delivered to your inbox

You'll also receive Yardbarker's daily Top 10, featuring the best sports stories from around the web. Customize your newsletter to get articles on your favorite sports and teams. And the best part? It's free!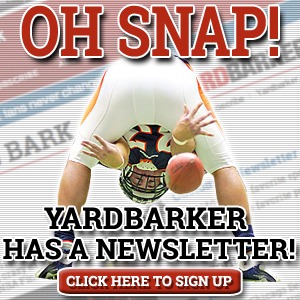 Latest Rumors
Best of Yardbarker

Today's Best Stuff

For Bloggers

Join the Yardbarker Network for more promotion, traffic, and money.

Company Info

Help

What is Yardbarker?

Yardbarker is the largest network of sports blogs and pro athlete blogs on the web. This site is the hub of the Yardbarker Network, where our editors and algorithms curate the best sports content from our network and beyond.