Found July 14, 2012 on Fox Sports:
PLAYERS:
Justin Upton
,
Buster Olney
,
Billy Beane
,
Kevin Towers
,
Trevor Cahill
,
Craig Breslow
,
Jarrod Parker
,
Ryan Cook
,
Bob Melvin
,
Josh Reddick
TEAMS:
Arizona Diamondbacks
,
Oakland Athletics
Late Friday night, I tweeted, "Justin Upton could have been perfect for the Athletics. The problem: They're on his no-trade list." Correction: The Athletics were on Upton's no-trade list. They no longer are, according to sources with knowledge of his contract. Upton is permitted to block trades to four teams per season, according to the six-year, $51.25 million extension he signed with the D-backs in March 2010. When the Diamondbacks discussed Upton in trades during the 2010-11 offseason, the four teams he could veto were the Athletics, Royals, Indians and Tigers. But he is permitted to change the list every year. Three of his four teams are now different, sources said. One of his additions was the Yankees, as first reported by ESPN's Buster Olney. The identities of the other teams are not known. So, back to the original premise: The Athletics might not be as perfect for Upton as I originally thought. But you can bet that their general manager, Billy Beane, will at least explore the possibility with his D-backs counterpart, Kevin Towers. The D-backs are not certain to move Upton, but they've opened the second half by dropping two straight games to the lowly Cubs. They might get a better deal for Upton in the offseason than they would now. Still, the Towers-Beane dynamic is not one to ignore. The two are among the sport's boldest decision-makers, and they made a major trade last offseason, with the A's sending right-hander Trevor Cahill and reliever Craig Breslow to the D-backs for right-hander Jarrod Parker, outfielder Colin Cowgill and reliever -- and All-Star -- Ryan Cook. The Athletics, thanks in part to that deal, have emerged as a surprise wild-card contender. Their manager, Bob Melvin, was Upton's first manager in Arizona. And what is the one thing they need most? Offense, which also is the one thing they rarely can buy on the free-agent market. An outfield of Upton, Yoenis Cespedes and Josh Reddick would significantly boost a club that ranks last in the AL in runs per game. And money isn't as big a problem for the Athletics as you might think. The A's reduced their Opening Day payroll from $66.5 million in 2011 to $55.3 million in '12, and they've got only $28 million in commitments for '13, according to Cot's Baseball Contracts. Upton's salary, meanwhile, is $6.75 million this season, $9.75 million next season, $14.25 million in 2014 and $14.5 million in '15. Sure, the final two years are steep. But by then, the A's might be headed to San Jose. And, remember, they could always flip Upton for less expensive players if they got in a bind. The bigger obstacle here is that the two teams might not be a match -- the A's are deep in starting pitching, and the D-backs' biggest needs are at shortstop and third base. Then again, if Towers acquired more pitching, he could always work off his surplus to address other needs, perhaps even in a three-team blockbuster. Will all of this happen? Probably not. But at the very least, it could happen. If the Diamondbacks want to send Upton to Oakland, he can't stand in their way.
Original Story:
http://msn.foxsports.com/mlb/story/ar...
THE BACKYARD
BEST OF MAXIM
RELATED ARTICLES
The Justin Upton trade rumors haven't tapered off and one has to wonder why the Diamondbacks would trade a budding young superstar? Upton doesn't turn 25 until August 25th. He is a two-time All-Star, coming off a 31 homer, 88 RBI season and seemed poised to take a titanic leap in 2012. However, at the All-Star break Upton was hitting .273 with just seven homers and 37 RBIs...
  The Justin Upton trade rumors haven't tapered off and one has to wonder why the Diamondbacks would trade a budding young superstar? Upton doesn't turn 25 until August 25th. He is a two-time All-Star, coming off a 31 homer, 88 RBI season and seemed poised to take a titanic leap in 2012. However, at [...]
Justin Upton is a former No. 1 overall pick. At the time of his being drafted, scouts were prone to compare him to Ken Griffey Jr. He is now 24 years old and fresh off a fourth-place finish in the 2011 National League MVP voting. He is the face of the Arizona Diamondbacks and, considering his pedigree and talent, signed to an extremely team-friendly deal for the next several seasons...
Before I get to Friday's game, I got a trade rumor involving the Toronto Blue Jays. I was listening to a Toronto radio station on Wednesday night and the announcer mentioned that Justin Upton from the Arizona Diamondbacks was on the Jays radar screen.  Now I don't know how Upton would fit into the Blue Jays [...]
It was a week ago today that I wrote about why I wouldn't trade for Justin Upton. The main reason was that the price in prospects would be too high, although other reasons included the limited resources for small market teams (Upton would cost an average of $12 M a year). Today we heard that the Pittsburgh Pirates were emerging as serious bidders for Upton. In those same rumors...
Over the last week or so and especially this weekend, rumors regarding the Pirates and Arizona's Justin Upton have been heating up. The Pirates reportedly had a scout in Chicago this week to watch Upton, and ESPN's Jayson Stark called the Pirates a "serious contender" for the young outfielder. Jon Heyman of CBS, however, reported that there "is nothing serious" between...
Justin Upton has power to veto a trade to four teams, sources say.
UPDATE 3:51 PM: Jon Heyman is hearing that there's nothing serious with Justin Upton yet. He also says the Pirates are "probably not a fit" and that they won't include Cole or Taillon. UPDATE 1:16 PM: Jon Morosi reports that the Pirates have a scout in Chicago watching Upton this weekend. UPDATE 12:45 PM: Stark said on Baseball Tonight that the Pirates could get Upton without...
From Jon Heyman:The Yankees are looking harder at the outfield market than the pitching market, as they still have concerns about Brett Gardner's elbow situation. They've talked to the Phillies about Shane Victorino and the Diamondbacks about Justin Upton, but Upton is a major long shot for them and right now they see the price tag as too high on either. Victorino may...
From Jayson Stark: #Pirates emerging as serious bidder for Justin Upton. More on that and other trade buzz on the 12:30 ET edition of Baseball Tonight! — Jayson Stark (@jaysonst) July 15, 2012 #Pirates so serious about Justin Upton they're sending signals they could include Starling Marte in an Upton deal -- but not Cole or Taillon — Jayson Stark (@jaysonst) July...
The Pittsburgh Pirates continued to search for ways to bolster their roster, with an emphasis on offense, but the big move had yet to drop. They've expressed interest in at least two outfielders, the Diamondbacks' Justin Upton and the Padres' Carlos Quentin, with Upton apparently the preferred choice. The team also is hoping to add a pitcher, preferably one for starting...
Arizona Diamondbacks general manager Kevin Towers told the Arizona Republic on Saturday he has told outfielder Justin Upton he may be traded. Towers said he told Upton: " 'If something gets close.' I said, 'you'll be a part of the process. I'm not going to shock you with something.' "I told him you should look at it in a good way that people...
MLB News

Delivered to your inbox

You'll also receive Yardbarker's daily Top 10, featuring the best sports stories from around the web. Customize your newsletter to get articles on your favorite sports and teams. And the best part? It's free!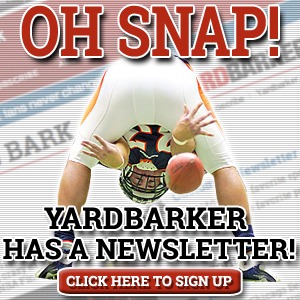 Latest Rumors
The Backyard

Today's Best Stuff

For Bloggers

Join the Yardbarker Network for more promotion, traffic, and money.

Company Info

Help

What is Yardbarker?

Yardbarker is the largest network of sports blogs and pro athlete blogs on the web. This site is the hub of the Yardbarker Network, where our editors and algorithms curate the best sports content from our network and beyond.