Found January 24, 2013 on Fox Sports Detroit:
PLAYERS:
Justin Verlander
,
Zack Greinke
,
David Price
,
CC Sabathia
,
Felix Hernandez
,
Clayton Kershaw
,
Miguel Cabrera
,
Anibal Sanchez
,
Octavio Dotel
,
Joe Torre
,
Greg Maddux
,
RA Dickey
,
Derek Holland
,
Kris Medlen
,
Ryan Vogelsong
TEAMS:
Detroit Tigers
,
Los Angeles Dodgers
,
Tampa Bay Rays
,
New York Yankees
,
Seattle Mariners
,
Toronto Blue Jays
,
Texas Rangers
,
Atlanta Braves
,
San Francisco Giants
DETROIT -- Justin Verlander, Tiger for Life. That has a nice ring for both Verlander and Tigers fans. And a deal to keep him in Detroit for the duration of his career could become a reality either before or after his current deal for five years at 80 million expires after the 2014 season. I told Verlander during a media gathering at Comerica Park on Thursday that when Zack Greinke signed his six-year, 147 million dollar contract with the Los Angeles Dodgers in December, I thought of him and what kind of a deal might be in his future. Then I asked if he thought he might become baseballs first 200 million pitcher? Verlanders face lit up, he looked up and laughed. Heh! he said. Thats a loaded question. Verlander paused and decided to answer it any way. You guys know how competitive I am about everything, he said. But it would be what I am comfortable with, and there have not been any discussions along those lines yet. And I dont know if there will be. He will turn 30 on Feb. 20, and has been one of the games top pitchers since 2009. He was the American Leagues Cy Young Award winner and MVP in 2011, and was runner-up to 2012 Cy Young winner David Price of the Tampa Bay Rays. Verlander likely will become the richest pitcher in the game in the next two years, and is certain to eclipse the 161 million over seven years New York Yankees lefty CC Sabathia signed for in 2009 that extended to eight years at 182 million two years ago. Though, Felix Hernandez of the Seattle Mariners could beat him to 200 million, and Los Angeles Dodgers ace Clayton Kershaw also has a shot at that figure. Still, as nice as that big, round figure would be for Verlander, what matters most is where he spends the rest of his prime pitching. I have made it no secret that I love Detroit, Verlander said. I have been a big part of this city, and this city has become a big part of me. Id love to play my whole career here. My goal is to get into the Hall of Fame, and I would love nothing better than to go into the Hall of Fame with an Olde English D on my chest. He could join Hall of Fame outfielder Al Kaline and second baseman Charlie Gehringer in that regard. They are the only two players enshrined in Cooperstown who played for Detroit and Detroit only. Justin Verlander, Tiger for Life. Tigers president and general manager Dave Dombrowski also has to like the sound of that. So, I am sure that Dombrowski will approach Verlander and his agents, Mark Pieper and Mike Milchin of SFX, about just such a deal sometime between now and the beginning of the 2014 season. While that thought will linger until something is accomplished, it appears that a long-term contract for Verlander is on the back-burner. On the front-burner is his decision on whether or not to pitch for the United States in the World Baseball Classic, which will be played March 2-19 at various sites with the finals at AT&T Park in San Francisco. Tigers third baseman Miguel Cabrera and pitcher Anibal Sanchez will compete for Venezuela, and reliever Octavio Dotel is on the Dominican Republics roster. Verlander said Team USA manager Joe Torre and pitching coach Greg Maddux are giving him time to make up his mind. The 28-man rosters must be submitted on Feb. 20. I havent decided on that yet, Verlander said. Torre and Maddux are giving me time to see. It would be an outstanding experience. But first and foremost is to be prepared for our season. Verlander said the fact that he pushed back his throwing program by a half of a month in order to accommodate a season that ran until the end of October with the World Series run is the issue. Ill have to see how the arm responds, said Verlander, who began his throwing regimen last week in Lakeland, Fla., where the Tigers have spring training and he has a home. If I have no problem in the bullpen sessions (beginning Feb. 12), then I will have a better idea. It will definitely be an adjustment pitching in that (WBC), but I am not afraid to make adjustments. And to play for your country would mean something. The current Team USA rotation consists of 2012 National League Cy Young Award winner R.A. Dickey, now with the Toronto Blue Jays, and Derek Holland, Kris Medlen and Ryan Vogelsong. Verlander would form quite a one-two punch with Dickey. Verlander has the games most devastating fastball and curve; Dickey is the primo knuckleballer. Whether or not that happens, one thing is clear. The Team USA rotation is the only one Tigers fans want to see Verlander become part of outside of their own.
Original Story:
http://www.foxsportsdetroit.com/01/24...
THE BACKYARD
BEST OF MAXIM
RELATED ARTICLES
Players do not often reveal their motivations these days.  It can hurt their contract negotiations when working on an extension.  Justin Verlander is not concerned with that, though.  At the Detroit Tigers' annual luncheon, Verlander made no secret of his desire to spend the rest of his career in Detroit. Jason Beck of MLB.com says the question about what Verlander wants...
The hot stove in regards to the Detroit Tigers isn't exactly burning at this point in the offseason. Smoldering, maybe. The Tigers may very well make some additional moves to tighten up the roster but by and large the attention is turning to the roster as it currently sits. With that in mind, here are some burning questions that fans are demanding answers to. This will be a 2-part...
The Papa Grande era in Detroit is over. And that is probably for the best. Despite his 110 saves from 2010 to 2011 and despite being perfect in 2011, Valverde saw a serious reduction of his ability to fool or blow away major league hitters in 2012, particularly late in the season. And the eccentric closer was completely pounded during the last two post seasons. So now Valverde is...
SOUTHFIELD, Mich. -- Miguel Cabrera doesn't strike out very much. While becoming the first player to hit for the Triple Crown since 1967, the Detroit Tigers third baseman fanned just 98 times in 622 at-bats in 2012. So you can understand why any pitcher who gets the best of Cabrera would brag about it, and Tigers reliever Phil Coke did just that during a winter caravan stop...
After winning the American League pennant in 2012 but losing the World Series in four straight games, the Detroit Tigers are ready to try to take that elusive final step. The Tigers are led again by a collection of stars that would make pretty much any team envious. Right-hander Justin Verlander was the AL MVP two years ago, and slugger Miguel Cabrera was voted MVP last season after...
TOLEDO, Ohio -- Tigers manager Jim Leyland ducked past several reporters Wednesday night before an event at Fifth Third Stadium. You guys thought you got rid of me, Leyland eventually said with a smile. Leyland signed another one-year contract shortly after the World Series, which is just fine with him. He prefers to review his situation at the end of each season. He was asked...
Detroit Tigers ace Justin Verlander recently stated that he would like to spend his entire career in the Motor City and earn Hall of Fame honors in the process.  What is the likelihood of this happening? According to baseballreference.com career leaders for WAR (wins above replacement), of the Top 50 pitchers of all-time only Walter Johnson, Bob Gibson, Carl Hubbell, Jim Palmer...
The spotlight of spring training is going to be shining largely on rookie Bruce Rondon. The almost-anointed successor to departed Jose Valverde as Detroit's closer was the subject of the most questions as the Tigers began their winter publicity caravan prior to last weekend. Rondon, 22, has yet to throw a pitch in the majors but when he does the radar gun will likely clock...
Dan Szymborski's ZiPS projections, which have typically appeared in the pages of Baseball Think Factory, are being released at FanGraphs this year. Below are the projections for the Detroit Tigers. Szymborski can be found on Twitter at @DSzymborski. Other 2013 Projections: Angels / Astros / Athletics / Blue Jays / Brewers / Cubs / Diamondbacks / Giants / Mets / Nationals / Phillies...
Coming into 2012, one of the biggest questions the team was facing was whether or not superstar Miguel Cabrera could successfully make the shift back to third base. Cabrera was able to hold his own, but just how well did he do, and was it good enough to stick there long term?
Tweet   After a 2012 season that saw Delmon Young hit .267 with 18 home runs and 74 RBI (as well as earn ALCS MVP honors) the Detroit Tigers opted to not re-sign him, allowing Young to become a free agent. Detroit's loss is the Philadelphia Phillies' gain, or that's what they're banking on. The [...]
MLB News

Delivered to your inbox

You'll also receive Yardbarker's daily Top 10, featuring the best sports stories from around the web. Customize your newsletter to get articles on your favorite sports and teams. And the best part? It's free!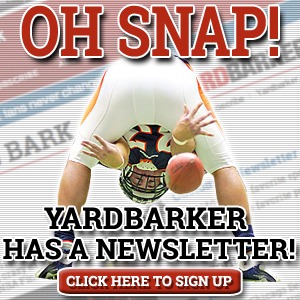 Latest Rumors
The Backyard

Today's Best Stuff

For Bloggers

Join the Yardbarker Network for more promotion, traffic, and money.

Company Info

Help

What is Yardbarker?

Yardbarker is the largest network of sports blogs and pro athlete blogs on the web. This site is the hub of the Yardbarker Network, where our editors and algorithms curate the best sports content from our network and beyond.