Found November 18, 2011 on ObsessiveGiantsCompulsive:
PLAYERS:
Barry Zito
,
Ryan Vogelsong
,
Bill James
,
Josh Beckett
,
Chad Billingsley
,
Matt Cain
,
John Danks
,
Ryan Dempster
,
Yovani Gallardo
,
Zack Greinke
,
Roy Halladay
,
Cole Hamels
,
Aaron Harang
,
Danny Haren
,
Felix Hernandez
,
Ubaldo Jimenez
,
Scott Kazmir
,
John Lackey
,
Cliff Lee
,
Jon Lester
,
Tim Lincecum
,
Gil Meche
,
Brett Myers
,
Roy Oswalt
,
Jake Peavy
,
David Price
,
CC Sabathia
,
Ervin Santana
,
Johan Santana
,
Ben Sheets
,
James Shields
,
Javier Lopez
,
Justin Verlander
,
Edinson Volquez
,
Adam Wainwright
,
Jered Weaver
,
Todd Wellemeyer
,
Randy Wolf
TEAMS:
San Francisco Giants
,
Boston Red Sox
,
Los Angeles Dodgers
,
Chicago White Sox
,
Chicago Cubs
,
Milwaukee Brewers
,
Philadelphia Phillies
,
San Diego Padres
,
Los Angeles Angels
,
Seattle Mariners
,
Cleveland Indians
,
Houston Astros
,
Tampa Bay Rays
,
New York Yankees
,
New York Mets
,
Detroit Tigers
,
St. Louis Cardinals
A couple of the reasons I used to hit just about every Giants blog way back when are that 1) I like to find solutions to questions, and 2) it's a waste if I find something interesting, good or bad, and don't share it with other Giants fans (that's probably why I've made a career in research).  Back then, the idiot quotient was still relatively low and I didn't have to go through 999 columns of dreck before I get to some interesting and serious Giants discussion, where interesting questions get asked and I would answer.  That's why I used to come in second in polls on MCC when asked who was the most informative poster there (I always came in second to Steve Shelby, which is no shame, he's really good).  So I kind of miss that, but I don't miss getting totally aggravated by all the nonsense I see out there.Long time reader Allfrank just recently made my day by asking me a question on my blog (Thanks! BTW) about Vogelsong's chances of repeating in 20...
Original Story:
http://obsessivegiantscompulsive.blog...
THE BACKYARD
BEST OF MAXIM
RELATED ARTICLES
It's not a crazy offseason for the Giants front office so far. They haven't been actively pursuing top tier free agents, publicly anyways. As of now we know of two players that aren't coming back. Pat Burrell is likely headed to retirement because of his foot problems. Jonathan Sanchez has been traded for Melky Cabrera.According to Andrew Baggarly of the San Jose Mercury News...
Henry Schulman of the San Francisco Chronicle says Tim Lincecum's representative, Rick Thurman, told him this morning he and the San Francisco Giants have not had one discussion about a multi-year contract and, in fact, have had "no substantive talks" on even a one-year deal that would prevent the sides from going to salary arbitration.   "My only expectation is that we'll...
Well, the Giants have finally made their fourty-man roster moves: Darren Ford has been designated for assignment, as has Waldis Joaquin. The Giants have purchased the contracts of Tyler Graham, Charlie Culberson, Hector Correa, Dan Otero, and Roger Kieschnick. More to come…
Larry Baer spoke recently about the Giants needs this off season. After watching the video it is pretty apparent that the Giants will not be players in any of the top (or even mid level) free agents this off season. "Around the field, certainly we want to add some bats. We are going to be careful that we do it the right way.&quot...
Timmy's agent doesn't expect a long-term contract discussion to happen this winter. (Photo by Stephen Dunn/Getty Images) The agent for Giants ace Tim Lincecum says he's not expecting discussions with Giants management about a long-term contract extension for his client, according to a new article by San Francisco Chronicle writer Henry Schulman. Rick Thurman told Schulman...
(All entries courtesy nationalpastime.com) 2009: Tim Lincecum becomes the eighth hurler in baseball history, joining Sandy Koufax, Denny McLain, Jim Palmer, Roger Clemens, Greg Maddux, Pedro Martinez and Randy Johnson, to win back-to-back Cy Young Awards. The Giants right-hander, receiving less first-place votes than the third runner-up Adam Wainwright, outpoints the Cardinals...
If you're in the San Francisco area and have been struggling to think of a way to keep pests, birds, hippies, and other unwanteds in your garden the Giants have the perfect solution for you: the Brian Wilson lawn gnome giveaway on May 20.The Hagerstown Suns, a minor league team that Wilson once toiled for, held a similar giveaway last season and seeking to capitalize on such...
Commissioner Selig announced today that the Major League owners have formally approved the designation of Larry Baer as the control person of the San Francisco Giants.  The Major League Clubs voted during today's quarterly ownership meetings. Baer's official title with the Giants is CEO. The approval of Baer comes after the Executive Committee of the San Francisco Giants...
(All entries courtesy nationalpastime.com) 2001: In a landslide vote (30 of 32 first-place votes) by the BBWAA, Giants' left fielder Barry Bonds (.328, 73 HR, 137 RBI) wins the Most Valuable Player Award for an unprecedented fourth time (1990, '92-'93 with the Pirates). Three-time MVPs include Yogi Berra, Roy Campanella, Joe DiMaggio, Jimmie Foxx, Mickey Mantle, Stan Musial...
Just got the 2012 Bill James Handbook, which has a TON of 2011 statistics that you can't get anywhere else, or hardly anywhere else.The first thing I wanted to get into was the Fielding Bible stats in the front of the book, using their Plus/Minus system which they then translate into Runs Saved.  And generally, 10 runs saved is the equivalent of one extra win.OK, going with...
Major League Baseball owners formally approved CEO Larry Baer as the control person of the San Francisco Giants, culminating his climb to the upper echelons of the game.
MLB News

Delivered to your inbox

You'll also receive Yardbarker's daily Top 10, featuring the best sports stories from around the web. Customize your newsletter to get articles on your favorite sports and teams. And the best part? It's free!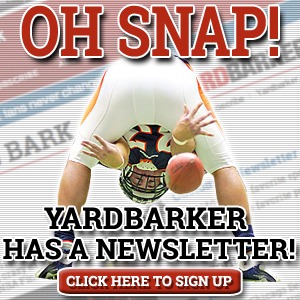 Latest Rumors
The Backyard

Today's Best Stuff

For Bloggers

Join the Yardbarker Network for more promotion, traffic, and money.

Company Info

Help

What is Yardbarker?

Yardbarker is the largest network of sports blogs and pro athlete blogs on the web. This site is the hub of the Yardbarker Network, where our editors and algorithms curate the best sports content from our network and beyond.