Found January 22, 2013 on Fox Sports Midwest:
PLAYERS:
Albert Pujols
,
Yadier Molina
,
Adam Wainwright
,
John Mozeliak
,
Matt Cain
,
Cole Hamels
,
David Freese
,
Allen Craig
,
Jon Jay
TEAMS:
Los Angeles Angels
,
St. Louis Cardinals
,
San Francisco Giants
,
Philadelphia Phillies
,
Los Angeles Dodgers
ST. LOUIS - Fans in St. Louis are familiar with the scenario of a franchise superstar player entering the final year of his contract with the Cardinals. Albert Pujols left. Yadier Molina stayed. Next up is Adam Wainwright. The star right-hander enters the final year of his contract in 2013 and will get a longterm deal and a massive raise from someone in the near future. But will that be from the Cardinals? Wainwright and the club discussed the parameters of a contract extension late last summer but the right-hander requested that the talks be tabled so he could focus on their playoff push. "They were trying to get something done last year during the season," Wainwright said. "I just figured, for one, it wasn't going to hurt my case to wait it out and see where some of these other guys signed. But two, we were getting to the end of the season in September and the playoffs were coming up and I knew we had a great chance to win. "I wanted to put my focus into those games coming up. I just needed to be completely focused on that. I couldn't spend my time thinking about my contract status when my team needed me to go out and perform." Asked if he liked the terms and dollars being discussed with the club during those talks, Wainwright said, "Yeah, I liked where it was headed. I did. We'll just look to see what happens." Wainwright went 14-13 with a 3.94 ERA last season, his first since missing all of 2011 due to Tommy John surgery. He reached the 200 innings mark during his first playoff start, an astonishing accomplishment for someone just a year removed from such a serious surgery. The right-hander became one of the best starters in the game before he got hurt, lowering his ERA in each of his four seasons as a starter. He went 14-12 with a 3.70 ERA in 2007 and saw it lower to 3.20 in 2008, 2.63 in 2009 and a career-best 2.42 in 2010. Wainwright won 39 games in the two years prior to getting hurt, finishing with a runner-up finish in the Cy Young voting in 2010 by winning 20 games for the first time in his career. The Cardinals picked up Wainwright's two-year, 21 million contract prior to the 2012 season and he's scheduled to make 12 million this year in the final installment. But what's next remains to be seen. The Cardinals have yet to re-engage Wainwright's representation about a longterm extension but figure to so in the weeks leading up to Spring Training. "We'll take the next four weeks and see what we can do," said general manager John Mozeliak. "We're always open to talking so when we do it and when we work through things, if it rolls into Spring Training I'm certainly comfortable with that. "We both want to try and get to a positive ending and that's something we'll work towards." The market for Wainwright has been somewhat set with a number of similar pitchers signing huge contracts in the past year. Right-hander Zack Grienke, who is two years younger and has a Cy Young Award on his resume, recently signed a 6-year, 147 million deal with the Los Angeles Dodgers. But Grienke has a career ERA of nearly a half-run lower than Wainwright and hasn't won more than 16 games in a season. Wainwright has won at least 19 games twice. Grienke's deal was the largest AAV (average annual value) for any pitcher and the biggest total deal for a right-hander in MLB history. Giants starter Matt Cain signed a six-year, 127.5 million extension last April and Phillies lefty Cole Hamels then set the record in late July, signing a six-year, 144 million extension to remain in Philadelphia. Cain was just 27 at the time of the contract, almost a full four years younger than Wainwright. He has a similar career ERA to the Cardinals right-hander but has proven to be more durable, throwing at least 200 innings in each of the past six seasons. Hamels was 28 when he signed his new deal, three years younger than Wainwright His ERA was comparable but the left-hander made at least 31 starts in each of the past five seasons. How does Wainwright fit into the picture? It's hard to tell. He likely won't be able to get the total dollars that Greinke got and reaching Cain or Hamels status could be difficult as well. But he could come close in AAV if he signs a four or five year contract instead of the six that those pitchers got. Given his age it's difficult to see the Cardinals giving him a six-year contract. But would a team be willing to do it on the open market next winter? Probably not, but Wainwright could always wait and get to free agency to find out for himself. Asked about the possibility of seeing himself in another uniform, Wainwright said, "I don't even want to think about it. I'm really excited about this coming year. I've loved my time in the past. I really don't want to get too far ahead of myself. We have a whole year of baseball to play." Pujols set the start of spring training as a deadline for talks between his side and the Cardinals in 2011. A deal wasn't reached, he finished out the final year of his contract and left in free agency that winter. The Cardinals negotiated and signed Molina to a new 5-year, 75 million deal during Spring Training last year. Wainwright said he won't put a deadline for talks like Pujols did, which could bode well for the Cardinals. "I stay out of it anyways," Wainwright said. "If they want to talk about it with my agent, they're more than welcome to. But I have a job to perform and I'll go out there every fifth day and be ready to pitch. I don't respond well when I'm thinking about other stuff on the mound. I'll let those guys handle it." When the topic of a hometown discount came up, Wainwright said, "The only way for me to answer that is that I love this city and I love our team. I'll just keep it at that. And I'm just happy to be here." Chairman Bill DeWitt Jr. admitted Sunday that the club's payroll will probably be forced to go up in coming years due to raises for players like David Freese, Allen Craig and Jon Jay. Like Wainwright, he felt positive about the direction extension talks were headed last season. But trying to come up with enough money to sign him remains a different story. "I thought so," DeWitt Jr. said of last fall's talks. "These are never easy negotiations when you get into the level where he is. "You can be sure we'll try to sign him. Whether we'll be able to remains to be seen, but he's the kind of player we want on the Cardinals on a continuing basis."
Original Story:
http://www.foxsportsmidwest.com/01/22...
THE BACKYARD
BEST OF MAXIM
RELATED ARTICLES
ST. LOUIS Chris Carpenter acknowledged over the weekend that the 2013 season could be his last as a Major League pitcher. But he also wasn't ready to commit to anything like announcing his retirement. Carpenter will be 38 years old when his contract runs out at the end of the upcoming season. And after missed nearly all of the 2012 campaign due to injury, he's mainly focused...
ST. LOUIS, Mo - The St. Louis Cardinals announced today that they have agreed to terms with pitcher Jason Motte on a two-year contract for the 2013 and 2014 seasons, avoiding salary arbitration. Motte, 30, tied for the National League lead with a career high 42 saves in 2012 and became the first Cardinal in franchise history to record every save during the season. The right-hander...
Jason Motte had already filed his arbitration paperwork and was ready to let the process play out if necessary.  However, the St. Louis Cardinals will continue negotiating with their players all the way up until their salary arbitration hearings.  In Motte's case, it did not take quite that long.  He and the Cardinals have agreed to a two-year extension. According to...
Mike Matheny first encountered Stan Musial about two decades ago, watching the Hall of Famer draw a harmonica out of his jacket with an impish grin and captivate yet another crowd. Whichever way the St. Louis Cardinals decide to memorialize Stan the Man, whether they wear armbands or a patch on their uniforms, their manager expects his team to adhere to Musial's work ethic....
Public visitation will be Thursday and the funeral mass Saturday at the Cathedral Bailica of St. Louis. ST. LOUIS, January 21, 2013 – The St. Louis Cardinals announced that the family of Stan Musial has made the following funeral and public visitation arrangements for the Cardinals Hall of Famer. A public visitation is planned for Thursday, January 24th from 2 P.M. to 8 P.M....
The St. Louis Cardinals versatile and valuable utilityman Matt Carpenter is the team's 2012 Rookie of the Year.
Reliever Jason Motte and the St. Louis Cardinals have agreed to a $12 million, two-year contract, avoiding salary arbitration. The 30-year-old right-hander had a career-high 42 saves in 49 chances last year, when he was 4-5 with a 2.75 ERA. He made $2 million. Motte is 17-13 with a 2.87 ERA and 54 saves since his major league debut in 2008. He will be eligible for free agency after...
The president of the St. Louis Cardinals believes the oft-delayed development project is very close.
The St. Louis Cardinals are stacked with young pitching across the board in the farm system.  While No. 10 in our ranking of the Cardinals top prospects of 2013 featured a position player, No. 9 will introduce the first of many pitchers that promise to make out top ten. Our No. 9 prospect in the Cardinals organization is Tyrell Jenkins Tyrell Jenkins,RHP, 20 (will turn...
ST. LOUIS Catcher Yadier Molina thought brother Bengie was going to sign with the Cardinals to be his backup prior to the 2011 season. Two years later, he'll finally get the opportunity to put on the same uniform. After a deal fell through prior to the 2011 season to have Bengie join the Cardinals as a player, the oldest Molina brother has joined the club as their assistant...
MLB News

Delivered to your inbox

You'll also receive Yardbarker's daily Top 10, featuring the best sports stories from around the web. Customize your newsletter to get articles on your favorite sports and teams. And the best part? It's free!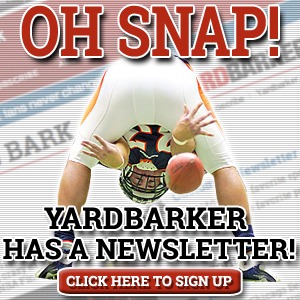 Latest Rumors
The Backyard

Today's Best Stuff

For Bloggers

Join the Yardbarker Network for more promotion, traffic, and money.

Company Info

Help

What is Yardbarker?

Yardbarker is the largest network of sports blogs and pro athlete blogs on the web. This site is the hub of the Yardbarker Network, where our editors and algorithms curate the best sports content from our network and beyond.