Found February 20, 2013 on isportsweb.com:
Last year when writing this preseason piece about the Washington Nationals, I typed this: "Is it too ridiculous to say that this team could shock the world and win the National League East? I'm not so sure about that." Sometimes it feels good to be right when we're so often wrong. The Nationals set the National League East ablaze from the opening bell in 2012. Nobody won more regular season games than Washington's 98 a season ago. They were balanced both home and away, going 50-31 in D.C. and 48-33 on the road. Their run differential of +137 was also baseball's best. In the NL, only the Cincinnati Reds were stingier in terms of allowing runs than the Nationals. So where can a team like that go from here? It's all about a repeat performance in the regular season and ramping up their game come playoff time. Having Stephen Strasburg in the mix for the whole season will certainly help solve that problem. Losing in the first round of the playoffs hasn't been sitting well with a team as talented and competitive as the Nationals. So what did they do in the offseason? Get better of course, much better. Wins bring in the fans, which brings in the revenue, which ramps up ownership's confidence level in spending money. The result: they brought centerfielder Denard Span in via trade, signed Dan Haren to a $13M deal to replace the departed Edwin Jackson, re-upped Adam Laroche for 2 years and $24M after his outstanding 2012, and to put a final cherry on top of the offseason, they inked the highest profile closer on the market – Rafael Soriano for 2 years and $28M. 3 Up                                                                      Best Case Scenario for 2012 The Nats went from a sleeper team last offseason to the best in the business and all they've done since then is improve upon an already dynamic roster. Their goal will be to go deep into the playoffs after last October's 5-game disappointment v. St. Louis. But with what GM Mike Rizzo has assembled for a 25-man roster, which is by and large considered the best in baseball, a World Series championship is well within reach. Stephen Strasburg Most Important Nationals Stephen Strasburg is the hottest name going among starting pitchers in the National League. What he did in quite a bit short of a full season was phenomenal. He struck out 197 hitters in just 159.1 innings of work. His fastball and breaking ball are to die for, but his changeup can be absolutely lethal. I expect his 3.16 ERA and 1.15 WHIP to both come down in 2013. Watching several of his starts last year he seemed to dominate for 5 innings and often struggled in the 6th. With a year of seasoning under his belt and a clearer understanding of the stamina necessary to make it work for 7-8 innings and 162 games, he should be ready to contend for the Cy Young, if not win it outright. The gloves are officially off, which makes projecting his stats all kinds of fun. I'd expect something like this: 185 innings, 18 wins, 240 K's, 2.75 ERA and 1.10 WHIP. Offensively, the most important Nat remains Ryan Zimmerman. He signed a 6-year, $100M deal last offseason to lock in his stature as the face of the franchise. And thank goodness for cortisone shots. Struggling with an AC joint injury in his shoulder, Zimmerman showed no power in the first 3 months of the season as he had difficulty ripping the bat through the zone and barreling up the baseball. By the end of June he was hitting just .234 with 5 homers and 31 RBI's. With the help of the cortisone injections, and finally feeling comfortable to swing through the ball, he hit .366 with 10 homers and 24 RBI's in July alone. He stayed hot the rest of the year and finished with a .282 average, 25 homers, and 95 RBI's, which is pretty much right in line with his career norms. Zimmerman has often dealt with the injury bug throughout his career. If he can find a way to stay near 100% healthy for the full slate of games, he could easily get back to his 30 homer/100 RBI past, circa 2009. Potential Breakout Players Last year I called on Ian Desmond and Danny Espinosa to step up their games offensively. Desmond answered the call with a true breakout season (career highs in avg. – .292, doubles – 33, homers – 25, and RBI's – 73). It's Espinosa's turn. The K's really stand out (189 in 2012) along with his lack of productivity from the left side of the plate. The switch-hitter went just .234 with a .303 on-base % v. righties compared to .281/.344 v. lefties. If he can step up his game from the left side then look out as this offense will flip into yet another gear. For Tyler Moore, it will be all about opportunity. He will start the season as a right-handed stick off the bench. But if someone goes down and he can step into the lineup, he has the tools to create damage at the plate. In his rookie season he hit .263 with 10 homers in just 156 at-bats. As a minor leaguer in 2010 playing in high A ball he crushed 43 doubles, 31 bombs, and knocked in 111 runs. He followed that up in 2011 at AA Harrisburg with 35 doubles, 31 more homers, and 90 RBI's. He strikes out a bit too much but has major sock in his bat. Keep an eye on him. 3 Down Worst Case Scenario Danny Espinosa needs to step up With the Nationals and the injury histories of Zimmerman, Strasburg, and Jordan Zimmermann, the surgeon's table will always be their worst-case scenario. Throw in the PED rumors surrounding Gio Gonzalez and the pitching staff could have a few holes poked in it. My personal feeling is that all will be well on these fronts. With what they are building in Washington, I suspect that their true bottom this year is missing out on the NL East crown and settling for a play-in wild card game. Areas of Concern Ummm, Bueller? Bueller? Bueller? The defense is very solid. Bryce Harper will play the corner opposite of Jayson Werth as they sandwich Denard Span. The infield has all kinds of talent. The offense should only be better this year with a true leadoff man like Span setting the table. The starting rotation and bullpen are off the charts good. I'm really at a loss here. You tell me. Who Needs to Bounce Back From a Down 2012 I'm guessing the Nationals paid Dan Haren $13M for his career numbers, not the 4.33 ERA and 1.29 WHIP he logged in 2012 with the Angels. Haren's strikeout totals (142) were way down last season, by far his lowest since he broke in full time in 2005. Is the 32-year old looking at the tail end of his career or can he rebound and join an otherwise fierce rotation and play a key role? Tyler Clippard saw his numbers jump in 2012 as well. He went from a 1.83 ERA and 0.84 WHIP in '11 to 3.72 and 1.16 in '12. In analyzing his peripheral numbers however, everything remained pretty much in line with his dominant 2011. Expect the bad luck to cease and the numbers to return to elite status as he works in a setup role. [Follow me on Twitter @isportsJoe]
Original Story:
http://feedproxy.google.com/~r/isport...
THE BACKYARD
BEST OF MAXIM
RELATED ARTICLES
A lot will be expected of Bryce Harper as he enters his second full season with the Washington Nationals. To help prepare for the upcoming year, Harper reportedly put on about 20 pounds over the winter. He belted 22 home runs in 139 games last season, but a rigorous workout regimen could have that number on the rise in 2013. "I take a lot of pride in my workouts," the 20-year...
Jordan Zimmermann might be the best Number 3 starter in baseball. You can argue whether Strasburg or Gonzalez is Number 1, but everyone will agree that those two are your top two. But then you get Jordan Zimmermann on the third day and that is not a picnic by any stretch of the imagination. Gonzalez had a WHIP of 1.129 and Strasburg finished 2012 with a 1.155. Right behind them...
ESPN.com reported yesterday that five new names were on the Biogenesis list. He also reported that fomer Phillies prospect and Nationals star pitcher Gio Gonzalez is "cleared" of taking banned substances. Gonzalez is recorded in the documents receiving a good amount of substances from the clinic for $1000.00, but they...
An undeserved .232 batting average and just 58 RBI in Jayson Werth's debut season as a National (2011) sank him to the 217th overall ranking in fantasy. In injury-riddled, yet surprisingly productive, 2012 campaign saw him rank just 325th overall. This year Yahoo! has Werth ranked just 215th in its preseason rankings.Have we all forgotten how great Werth was from 2008-2010?Last...
Previously linked to the Biogenesis clinic in south Florida, Gio Gonzalez has maintained that he did not receive any substances banned by Major League Baseball. The latest documents appear to support Gonzalez' claim according to ESPN. Both sources, speaking independently, identified Gonzalez as the only Bosch client named thus far who did not receive performance-enhancing drugs...
Bryce Harper and Under Armour unveil the most bro commercial of all time, with the star baseball player shirtless lifting glow in the dark weights.
Bryce Harper's new UA ad gets very weird very briefly. [USAT Sports] Harper's offseason workout regiment sounds intense. [Nats Journal] Jayson Werth's beard is even bearder than usual this spring. [Bog] Seeing the Nats' new rotation together makes me happy. [Nats Blog] Hey gang, there's a new Nats blog to check out. [Nats Outsider] Brady Anderson has a big new fancy front...
Major League Baseball has experienced an astounding  series of events regarding performance-enhancing drugs, and the latest case – Anthony Bosch's list of players who allegedly received PEDs — continues to grow as more reports are revealed. According documents obtained by ESPN's Outside the Lines, five more players have been implicated in the scandal. However, it's not...
What else can baseball fans do in January but dream of October? In You May Say I'm a Dreamer, the Outside Corner staff will imagine the route to a World Series in 2013 title for all 30 teams. What a difference a year makes. In just one year, the Washington Nationals managed to go from a darkhorse club, with an outside shot at making the postseason, to National League powerhouse...
Nationals News

Delivered to your inbox

You'll also receive Yardbarker's daily Top 10, featuring the best sports stories from around the web. Customize your newsletter to get articles on your favorite sports and teams. And the best part? It's free!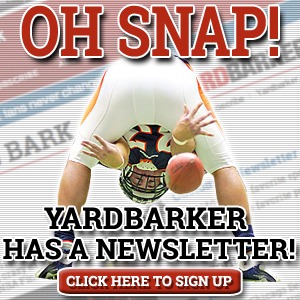 Latest Rumors
Best of Yardbarker

Today's Best Stuff

For Bloggers

Join the Yardbarker Network for more promotion, traffic, and money.

Company Info

Help

What is Yardbarker?

Yardbarker is the largest network of sports blogs and pro athlete blogs on the web. This site is the hub of the Yardbarker Network, where our editors and algorithms curate the best sports content from our network and beyond.