Found May 03, 2012 on Fox Sports West:
ANAHEIM, Calif. Jered Weaver didnt stop celebrating until 3:30 in the morning. But several hours later, as he sat in the dugout reliving Wednesday nights no-hitter, he still wasnt ready for a good nights sleep. Im still a little bit pumped up, he said. I wish I could go back out there again tonight, but my arm wouldnt let me. Weaver and arm deserve a few nights off. His 121-pitch gem in a 9-0 victory over the Minnesota Twins marked the 10th no-hitter in Angels history and was the teams first individual no-hitter at home since Nolan Ryan in 1975. The Hall of Fame called. Weaver will send his jersey and a game ball to Cooperstown, although he said hes keeping the ball that right fielder Torii Hunter caught for the final out of the game. Catcher Chris Iannetta will also send his game jersey, and Tim Mead, the Angels vice president of communications, collected several handfuls of dirt from the mound to send along. The people at The Late Show with David Letterman had hoped to use Weaver for their Top Ten list, but production problems prevented his appearance. And then there were all those phone messages he needed to answer. There was a lot of text messaging, I think 116 to be exact, he said. I just got to them all right now. Obviously, the support was tremendous. It still hasnt kicked in yet. Its one of those things you never expect to do at a major league level, and to have it happen here in front of the home fans was a very special night. Weavers parents, Dave and Gail Weaver, were in the stands along with his wife Kristin, whom he married last November. They rushed onto the field and exchanged hugs. When he came into the clubhouse afterward, his teammates showered him with sprays of champagne and beer. That was pretty cool, Weaver said. The chance to remain in Southern California, where he was born and raised, and pitch in front of his family is likely one reason Weaver chose to re-up with the Angels last August for five years and 85 million rather than wait for free agency after this season. Hes very comfortable out here, manager Mike Scioscia said. He has a very close family, and he feels good with their ability to come see him pitch. But I think his expectations are right along the lines of what ours are, to get to a World Series and win a World Series. At Angel Stadium, Weaver has a career 45-18 record and a 2.59 ERA. No wonder he likes it here. Any pitcher likes to pitch at home, he said. Its just comforting wearing the white unis and having your hometown fans cheer you on. Its why I stayed here. I love the atmosphere, I love the community, I love everything about it. Weaver also loved sharing the moment with his dad, who pitched to him and his brother, former major league pitcher Jeff Weaver, when they were kids. He saved a game ball for his father, he said, and made sure to snap some photos with him on the field after the game. And I gave him a nice cold Bud Light, so that was nice, Weaver said. I still dont think its left his hand.
Original Story:
http://www.foxsportswest.com/05/03/12...
THE BACKYARD
BEST OF MAXIM
RELATED ARTICLES
ANAHEIM, Calif. On one grand and glorious evening, the Angels washed away the misery that was April. Rather, Jered Weaver washed it away. He did it with a no-hit pitching performance Wednesday night that was commanding and inspiring, and perhaps it will be the turning point in what has been a mostly moribund season at Angel Stadium. After he threw the last pitch of the game...
For the fifth time in team history, the Minnesota Twins finished a game without a hit. There was simply nothing the Twins could do Wednesday against Angels starter Jered Weaver, who tossed the first no-hitter of his career and the ninth in team history. Weaver got ahead in counts, changed speeds and simply made the Twins' batters look uncomfortable. In the end, it was a 9...
Jered Weaver tossed the tenth no-hitter in Angels' history on Wednesday night, holding the Minnesota Twins to just two baserunners all night on a strikeout-passed ball and a walk. He struck out nine and even laughed in the face of superstition by relieving himself taking a piss right before taking the mound for the ninth inning. The Minnesota Twins are a horrible, horrible...
Last night Jered Weaver threw a no-hitter, blanking the Minnesota Twins 9-0. He walked one and struck out nine. The most amazing part of it as I watched it unfold was that one of my best buddies and resident Angels fan MJ Lloyd (of Halo Hangout and Off-Base Percentage) called it earlier in the day. Above are the text messages to prove it. Read more about it at the OC Register Angels...
For The Associated Press The Los Angeles Angels' commitment to Jered Weaver is paying off. Signed to a five-year, $85 million contract extension last August, the 29-year-old left-hander pitched his first no-hitter Wednesday night, dominating lowly Minnesota in a 9-0 cakewalk. All the Twins could muster against the two-time All-Star was one walk - and one other baserunner when...
Last night, Jered Weaver threw the 274th no-hitter in baseball history — or so the stories say. There have been two no-hitters so far this year, and ten so far in this young decade. Half of them came in 2010, the year whose no-hit frequency led some to dub it "The Year of the Pitcher." And, indeed, the five regular-season no-hitters thrown in 2010 (along with a sixth, by Roy...
The ace of the Los Angeles Angels tossed a gem tonight against the Minnesota Twins, allowing no hits, and just one walk, in a 9-0 win in Anaheim.  Jered Weaver's no-hitter is the second of this major league season, the first being a perfect game by Phil Humber of the White Sox just eleven days
Jered Weaver of the Los Angeles Angels has thrown a no-hitter against the Minnesota Twins. His final was 9 innings, 121 pitches 9 strikeouts and one walk to Josh Willingham in the 7th (Chris Parmalee reached on an error). What makes the no-hitter even sweeter for Weaver is that he was able to do it at home. Last season, Weaver signed a five-year $85mm extension that many around the...
A view from the cockpit.It's Saturday morning, and I'm flying from New York to Chicago, with aspirations to see the Dodgers at Wrigley this afternoon.Thinking back on recent days around baseball, developments have been a mix of good and bad.Wednesday night was delightful, as Jered Weaver threw a no-hitter at home and in front of his family. Cameras caught him sharing emotional...
The eyes of the baseball world were on Anaheim tonight watching Jered Weaver throw a no-hitter against the Minnesota Twins. It was an incredible performance and truly amazing to watch. But it wasn't the only rarity for the Angels in the game. No, something almost as incredible to behold was going on right underneath everyone's noses, but it didn't get nearly the same...
MLB News

Delivered to your inbox

You'll also receive Yardbarker's daily Top 10, featuring the best sports stories from around the web. Customize your newsletter to get articles on your favorite sports and teams. And the best part? It's free!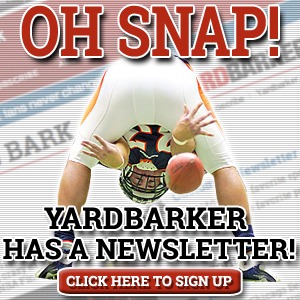 Latest Rumors
The Backyard

Today's Best Stuff

For Bloggers

Join the Yardbarker Network for more promotion, traffic, and money.

Company Info

Help

What is Yardbarker?

Yardbarker is the largest network of sports blogs and pro athlete blogs on the web. This site is the hub of the Yardbarker Network, where our editors and algorithms curate the best sports content from our network and beyond.