Found September 12, 2012 on Down with Goldy:
I was going to do a statistic-laced post about the candidates for the Twins' rotation next year, but my computer kept shutting itself down due to depression so instead I'll just do that thing where I type whatever I think about.  I'll eventually get to the Twins' rotation because I've already put in too much time to just let it die, but man, looking at Cole Devries and P.J. Walters in the same night is a nightmare not even Poe could have come up with.
-  So Stephen Strasburg is officially shut-down now after 159 innings because he had a rough last outing, which really hurts the Nationals chances in the playoffs and is just, weird.  I understand the thinking behind the move, I just don't think it's the right plan.  Simply getting to the playoffs is damn hard, so when you have a chance at a special year I don't think it makes a whole lot of sense to jeopardize that when you don't even know if there's any actual benefit to doing so.
In the playoffs everybody will bump up one spot, which means the extra starts - assuming four starters - will go to Ross Detwiler instead of Strasburg.  Detwiler's a nice little pitcher - 3.23 ERA, 1.19 WHIP - nice.  But he strikes out half as many batters as Stras while walking the same amount, he's gotten a little bit lucky this year while Strasburg has gotten a tiny bit unlucky (BABIP-wise), and Detwiler throws three average pitches while Strasburg has three above average ones.  I suppose when you end up replacing your ace with your #4 you could a lot worse than Detwiler, but man, Strasburg.  Strasburg, man, Strasburg.
Honestly, is this the worst possible way they could have handled this?  If you're firmly committed to that 160-180 innings limit, however misguided, why wouldn't you at least make an attempt to maximize your value out of it?  Don't just keep running him out there every fifth day because you know come early September you've just run out of your best bullets (armor piercing, exploding, acid tipped, whatever).  Why not skip a few starts?  Why not go with a six-man rotation?  You could even go with a four man rotation and then slot him in just when you need another arm.  Or hell, spot start him part of the time and then use him in relief here and there.  Manage him so you have innings left for him in the playoffs, even if they're just bullpen innings.  Game 7, World Series:  would you rather start Strasburg or Detwiler?  Or how about Game 7, leading 3-2, 8th inning and your opponent has a man on second with zero outs - Strasburg or Craig Stammen?  Ugh.  I'd be so frustrated if I were a Nats fan, but then again I heard from some dude on the radio today that everybody in Washington is buying into this crap, so I guess they deserve what they get.  I hope Detwiler gets completely rocked.
-  I'm not generally one to make excuses for the University of Minnesota because it's more fun to just rip on stuff, but I had a conversation with some co-workers today that kind of made me think a little bit.  Think about all the cities that have all four major sports, like we do:  Boston, Chicago, Denver, Dallas, Detroit, Miami, New York, Philly, Phoenix, San Fran, and D.C.  And look at the most successful college sports program in that same city:  Boston College, Northwestern, U of Denver, Southern Methodist, Detroit-Mercy, U of Miami, St. John's, Villanova/Temple, Arizona State, Cal-Berkeley, Georgetown.  Now looking at that list, and considering success in ALL college sports, who'd you rather be than the University of Minnesota?  Miami and Cal, right?  Maybe B.C.?  Obviously St. John's and Georgetown are better in hoops, but they don't even have football teams I don't think.
So maybe, just maybe, I'm a little too hard on the teams.  After all, most college powers are located in some butthole town in the middle of nowhere so the population has really no choice but to spend all it's money and fan points on the college.  It's also how mini-cults like State College and the like happen, so I'm not saying that's a good thing, but it certainly gives you an idea of why the Gophers struggle at times.  Oh god, I don't even know who I am anymore.  Look away, I'm hideous.
This is me. -  I'm watching this show Suburgatory for the first time and there's this chick on there named Jane Levy who is an absolute dead-ringer for Emma Stone, both appearance and line delivery-wise, which is totally awesome because I'm madly in love with Emma Stone and now there are two of her which doubles my odds.  Actually, two of her makes that pairing a contender for my dream threesome.  It's either those two, Natalie Portman and Keira Knightley, or Mila Kunis and Justin Timberlake.
It's like a slice of heaven.  Red-headed, smart, sarcastic, sexy heaven -  I'm sure I had lots of important stuff to say but then I got distracted by Real World and booze and so here we are.
Original Story:
http://feedproxy.google.com/~r/DownWi...
THE BACKYARD
BEST OF MAXIM
RELATED ARTICLES
Apparently, the doctor who performed Tommy John surgery on Stephen Strasburg wasn't aware of the Nationals plan of shutting their ace down. This is according to Deadspin.com. When the Nationals shutdown Strasburg the entire MLB was in shock. Even though this news wasn't out of the blue. It seemed inevitable that the Nationals front office was going to shutdown Strasburg after...
He may be shut down for the season, however, the Stephen Strasburg topic will not die. I know, I know, this has been beaten like a rented mule – but until now I haven't been able to put my feelings down on paper. As the Nationals approach the postseason with one of the best records in the game, they'll be second guessed time and again for their decision to cut off one of the...
News came out today that Stephen Strasburg's doctors said that there was no definitive evidence that shutting him down would actually help him. Why do I have the feeling this story is just going to get weird for the sake of being weird?In an article from the LA Times, Strasburg's surgeon, Dr. Lewis Yocum, said he was not consulted about Strasburg's innings pitch limit...
SITTING IT OUT: Perhaps Strasburg wouldn't be sitting out the rest of the season if the Nationals had handled him like they did Kris Medlen. Fantasy baseball managers who have been riding Stephen Strasburg all season must now enter their playoffs without their ace starter who has been shelved for the rest of the season based on the controversial innings count.  Could this have...
"He pitched a superb ballgame." (Davey Johnson, via MASN postgame, 9/12/2012) Nationals 2, Mets 0: On the night Stephen Strasburg was supposed to make his final start of 2012, John Lannan stepped in and shut down the Mets. Ryan Zimmerman, Ian Desmond provided the firepower. Lannan's line: 5.2 IP, 5 H, 0 R, 1 BB, 2 K, 11-3 groundouts-flyouts. ...
NEW YORK -- The Washington Nationals didn't need Stephen Strasburg to subdue the stumbling New York Mets. John Lannan filled in for what was initially scheduled to be Strasburg's final start with 5 2/3 scoreless innings Wednesday night, and four relievers finished off a 2-0 win for Washington. Ryan Zimmerman and Ian Desmond homered for the Nationals, who swept the three...
  It's been a while since I've posted this feature, so I apologize to those of you who have asked for it in the past. The last week has been filled with ups and downs for the Washington Nationals. Stephen Strasburg had his season end a start early as he had a terrible game on Friday against the Marlins, where he only lasted three innings and gave up five runs. ...
John Lannan pitched 5 2-3 shutout innings in his first start since replacing Stephen Strasburg in Washington's starting rotation, and the Nationals lowered their magic number for clinching a playoff berth to six with a 2-0 win over the punchless New York Mets on Wednesday night. Ryan Zimmerman homered in the fourth off rookie Matt Harvey (3-5) and Ian Desmond connected off Jon...
As September dwindles on and the playoff picture becomes clearer than ever before, it becomes blatantly obvious that the National League is a three team race. The Nationals (89-54), Reds (87-57) and Giants (81-62) all lead their divisions by 8.5, 11.5, and 7.0 games, respectively and now seem to be fighting for the top seed in the National League. The Nationals, at the...
Today I wrapped up the West Virginia Power 2012 season recap. The three lowest levels in the farm system are now complete, which covers a lot of the young pitchers in the system. It also covers a lot of the guys who fall under the "projectable frame" category. You might see that term used a lot. When a pitcher has a projectable frame, it usually means that the pitcher is tall...
MLB News

Delivered to your inbox

You'll also receive Yardbarker's daily Top 10, featuring the best sports stories from around the web. Customize your newsletter to get articles on your favorite sports and teams. And the best part? It's free!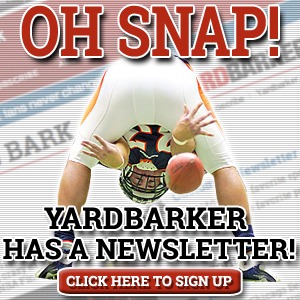 Latest Rumors
Best of Yardbarker

Today's Best Stuff

For Bloggers

Join the Yardbarker Network for more promotion, traffic, and money.

Company Info

Help

What is Yardbarker?

Yardbarker is the largest network of sports blogs and pro athlete blogs on the web. This site is the hub of the Yardbarker Network, where our editors and algorithms curate the best sports content from our network and beyond.