Found June 28, 2013 on 643ball:
PLAYERS:
Steve Cishek
,
Joaquin Benoit
,
Jason Grilli
,
Jonathan Papelbon
,
Mariano Rivera
,
Aroldis Chapman
,
Craig Kimbrel
,
Addison Reed
,
Edward Mujica
,
Rafael Soriano
,
Casey Janssen
,
Sergio Romo
,
Grant Balfour
,
Glen Perkins
,
Ernesto Frieri
,
Ryan Madson
,
Greg Holland
,
Fernando Rodney
,
Huston Street
,
Kevin Gregg
,
Kenley Jansen
,
Bobby Parnell
,
Koji Uehara
,
Jose Veras
,
Jim Henderson
,
Heath Bell
,
JJ Putz
,
Rex Brothers
,
Mark Melancon
,
Charlie Manuel
,
Michael Cuddyer
,
Jason Heyward
,
Justin De Fratus
TEAMS:
Miami Marlins
,
Detroit Tigers
,
Pittsburgh Pirates
,
Philadelphia Phillies
,
New York Yankees
,
Cincinnati Reds
,
Atlanta Braves
,
Chicago White Sox
,
St. Louis Cardinals
,
Washington Nationals
,
Toronto Blue Jays
,
San Francisco Giants
,
Oakland Athletics
,
Minnesota Twins
,
Los Angeles Angels
,
Kansas City Royals
,
Tampa Bay Rays
,
San Diego Padres
,
Chicago Cubs
,
Los Angeles Dodgers
,
New York Mets
,
Boston Red Sox
,
Houston Astros
,
Milwaukee Brewers
,
Arizona Diamondbacks
,
Colorado Rockies
James_in_to Joaquin Benoit is officially welcomed into the closer world and Steve Cishek pulls away from the nasty bullpen committee to get his job back. Jason Grilli has been a little shaky and Papelbon has been just plain terrible. Biggest movers... Joaquin Benoit and Steve Cishek move up 5 spots each to #23 and #25 Jonathan Papelbon moves down 3 spots to #13 1. Mariano Rivera  2. Jason Grilli - He's been a little shaky in his last 3 innings of work, giving up 6 hits and 4 ERs. 3. Aroldis Chapman - He blew his 3rd save of the season on Saturday, giving up 2 ERs on 2 hits and 2 walks.  He was very wild in this appearance, but he was still throwing his triple digit heat.4. Craig Kimbrel5. Addison Reed - Blew the save on Tuesday vs the Mets because no one could catch an infield pop-up. My little rant…I hate that pitchers don't try to catch pop-ups, especially ones that are hit right in front of them, so stupid…rant over.6. Joe Nathan - Has converted 26 of 27 save opportunities with a 8.91 K/9 and only surrending 2 HRs in 33.1 innings.7. Edward Mujica8. Rafael Soriano9. Casey Janssen10. Sergio Romo (+1) 11. Grant Balfour (+1) - Balfour has now converted 34 saves in a row.12. Glen Perkins (+2) - Has converted 9 saves in a row since his last blown save. He also has a career high 12.56 K/9.13. Jonathan Papelbon (-3) - Since Jun 17th, Papelbon has blown 4 saves in 6 opportunities and his K/9 of 7.92 is a career low. He has a long leash in Philly, but this may affect his trade market a bit. 14. Jim Johnson (-1) - Blew the save last night against Cleveland after converting 9 in a row. His job is more than safe after surviving his disastrous May outings.15. Ernesto Frieri - With Ryan Madson in his rear view mirror, Frieri has put together a solid year. Converting 18 of 20 save opportunities and 13.10 K/9.16. Greg Holland17. Fernando Rodney - He's been much better since mid may, lowering his ERA to 4.83 and a K/9 of 12.22.18. Huston Street19. Kevin Gregg20. Kenley Jansen 21. Bobby Parnell22. Koji Uehara- Koji was picked over Tazawa and converted his first opportunity last night against Colorado.23. Joaquin Benoit (+5) - Benoit is the closer until he implodes or the Tigers trade for one. He should be very valuable if he stays in this role.24. Jose Veras (-1) 25. Steve Cishek (+5) - He's converted 9 saves in row in the month of June.26. Francisco Rodriquez/Jim Henderson (-2) - K-Rod picked up his 300th career save on Saturday and has looked a lot better than Henderson. I think K-Rod is the man until a hiccup occurs.27. Heath Bell (-2) - He has somehow given up at least 1 ER in his last 5 appearances. JJ Putz can't get back soon enough.28. Chris Perez (-2) - Will be activated tonight and put back into the closer's role.29. Rex Brothers (-2)- Rex did a nice job in the role, but Betancourt should be activated on Friday.30. Mariners Closer by Committee (-2) Next in line...Mark Melancon- I'm not saying Grilli is losing his job any time soon, but I also don't think his leash is as long as other top closers. Melancon has been fantastic this season with 22 holds, 2 saves, 1 blown save, a 9.63 K/9, 0.94 B/9 and 1 allowed HR.Justin De Fratus- If Papelbon is traded, I look for De Fratus to get the first crack at the closer's role in Philly. Mike Adams is done for the year and Bastardo walks too many (4.78 BB/9) and isn't striking out as many as the past few years (8.89 K/9). De Fratus' numbers aren't much better, but I believe Charlie Manuel has more confidence in Justin than Bastardo. Recent Post:Prospecting Week 13: OutfieldersThree Up, Three Down: Michael Cuddyer, Cole HamelsThree Up, Three Down: Jason Heyward, Leonys MartinPaul Clewell@Chuckles643   
Original Story:
http://www.643ball.com/1/post/2013/06...
THE BACKYARD
BEST OF MAXIM
RELATED ARTICLES
As July 1 approaches, the MLB trade rumor mill will begin churning out nuggets of speculation on a daily basis, and the Detroit Tigers won't be immune to the chatter. This year, unlike a season ago, the Tigers' offense appears to be set in stone. I don't expect any Jeff Baker type of disasters this time around. Likewise, the starting pitching needs the help of no one. It will...
While most teams wonder what happens with hot-pitching Marlins' pitcher, Ricky Nolasco, the Marlins are just as likely to deal some relievers at the trade deadline as they often do around this time.The popular rumor was they would trade closer, Steve Cishek, since Miami does not have any interest in competing this season and can take advantage of numerous teams with reliever needs...
Jonathan Papelbon and the Philadelphia Phillies may need to work up some new dance moves. He's struggled this week and there are signs he might be in trouble. And for fantasy owners, there is the chance he's dealt at the deadline. Kevin Gregg could also see himself the train out of town at the deadline. Those pens offer a dearth of options if either of those closers are dealt...
PHOTO: AP The Phillies jumped out to a 2-0 lead that was quickly erased, and found themselves looking at a series loss with the game 5-2 in the 7th. But Kevin Frandsen hit an RBI single and Delmon Young hit a two-run home run to send the game to extras. It took until the 13th for them to score, when heads up baserunning by Chase Utley and Domonic Brown put the Phillies ahead 7-5...
MLB News

Delivered to your inbox

You'll also receive Yardbarker's daily Top 10, featuring the best sports stories from around the web. Customize your newsletter to get articles on your favorite sports and teams. And the best part? It's free!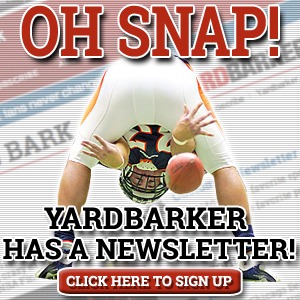 Latest Rumors
Best of Yardbarker

Today's Best Stuff

For Bloggers

Join the Yardbarker Network for more promotion, traffic, and money.

Company Info

Help

What is Yardbarker?

Yardbarker is the largest network of sports blogs and pro athlete blogs on the web. This site is the hub of the Yardbarker Network, where our editors and algorithms curate the best sports content from our network and beyond.