Found April 09, 2013 on ChadMoriyama.com:
I like Yasiel Puig. I like him a lot, actually. I even ranked him as the top prospect in the Dodgers system for 2013. However, if you follow me on Twitter, most of what I tweet about him is sort of dismissive. That's not because I'm not excited about him, but rather because he seems to make people incredibly stupid. For example, look at the tweets just from the last couple of days replying to Dylan Hernandez when he mentions Puig, and you can find **** like this: @dylanohernandez bench Kemp and put Puig in — Ryan Perez(@WreckItRyan) April 7, 2013 @dylanohernandez if only we had an outfield spot or two occupied by sorry ass players (Etheir/Kemp) where Puig could be plugged in to. — Herbie Verstinks (@HerbieVerstinks) April 7, 2013 Bench Matt Kemp and Andre Ethier after six games in 2013! Sounds like a rational plan! @dylanohernandez Can he play an infield position? — Julio Ojeda (@Julio_SportsFan) April 7, 2013 @dylanohernandez try 3B for Puig. — Monstarr (@rancimo) April 7, 2013 "Can he play positions in the major leagues that he's never played before and never trained for?!" I mean … what? Hanley Ramirez is athletic and talented and has played shortstop in the MLB and MILB forever … and he's still widely known by most everybody as a horrid defender. Fans can't stand to watch his slow turns at second base or Dee Gordon throwing the ball away, but Puig? Well ****, he could do it, right? WHY NOT?! How hard could shortstop or third base be? Ugh. I would legitimately sooner try Adrian Gonzalez at third. It's far less dumb. —– But those are just four examples and it doesn't mean anything, right? Yeah, I wish. Feel free to Twitter search for him or just read the replies to mainstream writers whenever his name is brought up. You'll be amazed by how insane some of the stuff is. Look, all prospects have promise, and, more than most, I get the excitement. But the Dodgers have had guys who jumped levels and showed flashes of an elite future before, most recently Rubby De La Rosa, but they have never generated anywhere near this type of excitement/delusion. So while Puig will likely produce in the majors, and he has star upside, what is it exactly about him that makes people lose their goddamn minds? Seriously though, as a meme, it's entertaining, but people are getting serious about it and I have to implore you to please stop before anything short of a stellar MLB debut/Hall Of Fame career leads to people incessantly booing him … as if he was Kemp after an 0-4 outing in 2013 even after back-to-back .900+ OPS seasons.
Original Story:
http://feedproxy.google.com/~r/ChadMo...
THE BACKYARD
BEST OF MAXIM
RELATED ARTICLES
While Don Mattingly believes Matt Kemp's shoulder may be a mental hurdle he'll have to get past, he and the Dodgers staff are not concerned about it affecting Kemp physically, as the injury hasn't cropped back up after off-season surgery and there have been no lingering side effects. "He may be thinking about [the shoulder], but it doesn't seem like it any more," manager...
The Los Angeles Dodgers not only did some sweeping this weekend but they re-organized the garage as well. Coming off a weekend sweep of the Pittsburgh Pirates, GM Ned Colletti made good on a few off season promises. The Dodgers are counting on Ramon Hernandez to be the veteran they need to back up AJ Ellis. Last winter, Colletti said that obtaining a veteran back-up catcher for A...
Hyun-Jin Ryu, Matt Kemp and Clayton Kershaw have serious skills on the baseball diamond. But what about the dance floor? .@hyunjinryu99 brought some style to the Dodgers clubhouse. RyuStyle ft. @therealmattkemp and @claytonkersh22: atmlb.comXAk4uH Los Angeles Dodgers (@Dodgers) April 9, 2013 The trio performed 'Gangnam Style' in the Dodgers clubhouse and, well, have a look...
The Dodgers' offense is off to a slow start, which is pretty much the norm for this club in the last, oh, 25 years. At least, it seems that way. In the same breath, the pitching is off to a great start, which is par for the course. The Dodger pitching staff is tops in a ton of categories: Runs - 10 Earned runs - 6 Hits - 28 Doubles - 1 Walks - 8 Shutouts - 3 ...
Los Angeles Dodgers starting pitcher Clayton Kershaw has been named National League Player of the Week after his two lights out performances to start the season. At a time when the Dodgers' bats have struggled to find consistency, Kershaw, the team's ace, has at least done his part to shut down the opposition, going 2-0 in two starts and not allowing a single earned run...
For anybody who believes that over the years we have become a more crass, less refined and an increasingly boorish group of fans who attend MLB games at baseball parks, think again. A 1940 report from Life Magazine documents the pummeling of umpire George Magerkurth by Brooklyn Dodgers fan Frank Gernano following a game between the Dodgers and the Cincinnati Reds on Sept. 16, 1940...
The first Sunday afternoon game at Dodger Stadium was played in nice weather and beautiful sunshine.  A sellout crowd (52,053 tickets sold according to Vin Scully) showed up to watch the Dodgers play the final game of the 3 game series against the Pittsburgh Pirates. Hyun-Jin Ryu started for the Dodgers and immediately gave up a single to Starling Marte, the second consecutive game...
Carl Crawford led off with an opposite-field homer and A.J. Ellis added a two-run shot to back Chad Billingsley's strong season debut and lead the Los Angeles Dodgers to a 4-3 victory against the San Diego Padres on Wednesday night. Billingsley (1-0) opened the season on the disabled list after bruising his right index finger during a bunting drill on March 15. He held San Diego...
That … about sums it up, I think.
Dodgers News

Delivered to your inbox

You'll also receive Yardbarker's daily Top 10, featuring the best sports stories from around the web. Customize your newsletter to get articles on your favorite sports and teams. And the best part? It's free!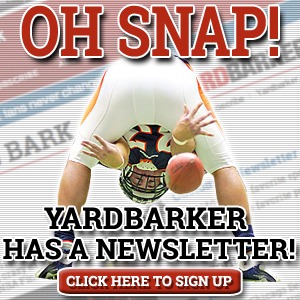 Latest Rumors
Best of Yardbarker

Today's Best Stuff

For Bloggers

Join the Yardbarker Network for more promotion, traffic, and money.

Company Info

Help

What is Yardbarker?

Yardbarker is the largest network of sports blogs and pro athlete blogs on the web. This site is the hub of the Yardbarker Network, where our editors and algorithms curate the best sports content from our network and beyond.