Found January 19, 2012 on Mets360.com:
Depending on how things shake out this year, the Mets might need to turn to Justin Turner a lot more this year than they anticipate. Turner turned in a solid 2011 campaign batting .260 with four home runs and 51 RBI's in 435 at-bats while chipping in at second base, third base and in a pinch at shortstop. With the Mets suffering from so many injuries last year (Daniel Murphy, Jose Reyes, Ike Davis, David Wright etc.), Turner was thrust into the lineup when he got called up from Buffalo. Once he was called up on April 19, Turner gave the Mets a bolt of energy right off the bat. Turner appeared in 117 games and was one of the more productive RBI's hitters for the Mets, routinely hitting well in the clutch. So, what kind of role can we expect Turner to have in 2012? Initially, expect Turner to come off the bench and provide a nice bat off the bench, while filling in at second, third; maybe even at first, or possibly shortstop(although that seems very unlikely with the signing of R...
Original Story:
http://feedproxy.google.com/~r/Mets36...
THE BACKYARD
BEST OF MAXIM
RELATED ARTICLES
R.A. Dickey returns to his family after climbing Mt. Kilimanjaro R.A. Dickey is back from his climb up Mount Kilimanjaro and there's a great article in the NY Times today that is well worth reading. Dickey said the group surpassed their goal of $100,000 with the help of a gift from Jeff Wilpon, the chief operating officer of the Mets. Before the climb, Wilpon and the Mets had...
Whether or not the Mets should retire Gary Carter's number is something that Mets fans are debating today. What are your thoughts on that? The following post was originally published in July of 2011 by Derek Candela. Some strong cases are made on both sides within our comments. Enjoy this latest MMO Flashback. Our prayers and thoughts are with Gary Carter.  - Joe D. While it...
The Mets' decision to auction off parts of the old walls at Citi Field is getting a lot of attention lately – moreso than the new walls. Check this out… Because they can't lure you to the ballpark with a winning team, the Mets will try to lure you with home runs. They're bringing in the outfield walls at Citi Field to goose scoring, and here's a question we definitely...
After an offseason that seemed to be quite boring in the minds of most fans. People ask the question: Do the Mets have any chance to make the playoffs this year? And there is only one way to answer that question, and it's surprisingly yes. You never know. The Giants won in 2010, and nobody even put them as a contender to win that division. The Mets aren't some talentless team...
The Mets have announced that they have invited both starting pitcher Matt Harvey and and outfield prospect Matt Den Dekker to the Major League Spring Training Camp. Currently some of the other notable young players on the current 40 man roster who will be at Spring Training include Jeurys Famila, Reese Havens, Wilmer Flores and Cesar Puello. It will be interesting and exciting...
Mike Pelfrey and the Mets settle on a one year deal avoiding for arbitration, $5.675 M got the Mets 33 starts averaging 5.84 innings per start for 193 innings with an ERA of 4.74, WHIP 1.47 and a 7-13 record. I'm no fan of Pelfrey's and wish the Mets had dealt him as a change of scenery guy, but lets compare him to the market to see what type of value we got for him.  I...
Garrett Olson (28 years old) was a former first round pick (supplemental round – pick 48) by the Baltimore Orioles in the 2005 draft. I was still living in Baltimore when he made his professional debut in 2007, and there was a lot of local hype around Olson (at the time, the Orioles were looking for hope anywhere and everywhere, and to some degree, still are). He struggled as a...
For the Mets, it's another winter without having to worry about arbitration hearings. The team yesterday avoided arbitration with Mike Pelfrey, Andres Torres, Ramon Ramirez and Manny Acosta by agreeing to terms with each player. Oliver Perez in 2008 was the last Mets player to actually go to arbitration...
After posing this question via twitter, a debate ensued between myself and several Met bloggers including our own Joe D. and Brandon Butler. I thought I would ask the MMO faithful this same query: Would you do anything to sign Josh Hamilton next winter? Even if it meant losing David Wright? Personally, I think it is something to consider. Now that the Rangers have inked Japanese...
NEW YORK (AP) -- A trustee trying to recover money for investors in Bernard Madoff's Ponzi scheme was blocked Tuesday from immediately appealing a ruling limiting how much the New York Mets' owners might have to give up to other investors.
Gabe in Brooklyn sent in the following e-mail: "Yoenis Cespedes has been an interesting topic of the offseason, but why no interest from the Mets?" I have no idea. I assume they don't feel it's worth spending so much money on a mostly-unknown product. It could also just be the talent. I mean, there are teams with interest (like the Cubs and Marlins), and teams who supposedly...
Mets News

Delivered to your inbox

You'll also receive Yardbarker's daily Top 10, featuring the best sports stories from around the web. Customize your newsletter to get articles on your favorite sports and teams. And the best part? It's free!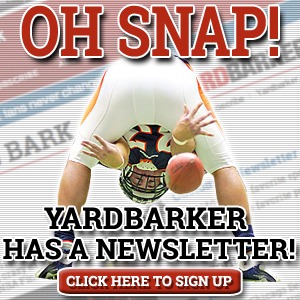 Latest Rumors
Best of Yardbarker

Today's Best Stuff

For Bloggers

Join the Yardbarker Network for more promotion, traffic, and money.

Company Info

Help

What is Yardbarker?

Yardbarker is the largest network of sports blogs and pro athlete blogs on the web. This site is the hub of the Yardbarker Network, where our editors and algorithms curate the best sports content from our network and beyond.