Found May 04, 2012 on hardballchat.com:
"I've never heard of anyone pulling fat." — Fernando Valenzuela If you haven't had an opportunity to check out Rob Kelley's take on the Mariano Rivera story, please go check that out here. He said what needed to be said in this instance. It is unfortunate that it needs to be said at this point, but it needed to be said. There will be a number of stories on the injury itself and a look back at Mariano Rivera's storied career. However, there won't be a lot of people that mention this angle. If Mariano Rivera were the only player to tear his ACL then it would be a freak injury and horrible luck. Yet, we have Mat Gamel from the Brewers also tearing his ACL, we have Derrick Rose from the Chicago Bulls tearing his ACL without contact, and we have Terrell Suggs rupturing his Achilles tendon during the NFL offseason. So, now I ask the question again: what in the heck is going on here? The quote above is attributed to Fernando Valenzuela, but he isn't the only person to utter it. It was his response to questions about his conditioning. It's quite possible that he spent more time at the buffet table than he did in the weight room. Of the major sports, baseball players get that reputation more than most. There have been a number of players (particularly pitchers) who might donate their body to science fiction. Every fan has an image of their favorite fat pitcher. Bartolo Colon looks like he might quit a half-mile into a one mile race, but he's pitching better than he ever has. Then, there is Mariano Rivera. Rivera might be in better shape than 95 percent of the pitchers in MLB. Many of them are half his age, but they likely wouldn't be able to keep up with his workout regimen. So, how does a player that is in peak physical condition become so susceptible to this injury? Answering that question could be the key to keeping all of our athletes as safe as humanly possible. There can be no doubt that many modern athletes are in better shape than the athletes of the prior generation. Athletes are bigger, stronger, and faster than their counterparts from the 1960s, 70s, and 80s. It's true in the NFL, NBA, and it's certainly true in baseball. The good news is that players can do more incredible things on their field and on the court. The downside might be more injuries like we are seeing. There is a downside to building up your muscles as much as some of these players. Other parts of your body like the tendons and ligaments may not be able to keep up. Of course, I'm not a doctor and I didn't stay at a Holiday Inn Express last night, but it seems logical that when parts of you get bigger while other parts stay the same size, there comes with that a propensity to get injured. This could explain why there are more of these injuries in the NFL and NBA where athletes need to weight train more. As a former coach, I've seen these injuries come more in high school than ever before. Athletes are being forced to choose one sport to specialize in. With this specialization comes an increase in off-season weight training and work outs. A generation ago, there was no real off-season. Football players went on to play basketball, and then baseball. They didn't go to the weight room because they were always playing a game somewhere. Specialization may make athletes stronger and better relative to athletes that play everything, but they may not be healthier.  That's the downside to specialization. There is good news and bad news with this particular situation. The bad news is that the specialization train isn't going back into the station. Coaches at all levels have seen too much improvement when they get their athletes 12 months out of the year. Furthermore, you can conceivably get more kids involved when each kid can focus on one sport. The good news is that there are always advances in training. Along the way we learned more efficient ways to weight train. We've learned new methods for cardiovascular workouts. More importantly, we learned when to say when on all kinds of workouts. This is why we ask questions like this. There has to be a reason why we are seeing more ACL injuries than we did twenty and thirty years ago. If we find the answer to that question then maybe we can help prevent them by working smarter. In addition to being the editor of hardballchat.com, Scott Barzilla is also the proud father of one and the author of four books. His books can be found at Amazon and Barnes and Noble. Barzilla's Hall of Fame Index was nominated for the Sporting News Award for statistical advancement.
Original Story:
http://www.hardballchat.com/2012/05/w...
THE BACKYARD
BEST OF MAXIM
RELATED ARTICLES
Mariano Rivera was carted off the field with an apparent knee injury during batting practice before Thursday's game between the Yankees and Royals in Kansas City, according to news reports. Rivera, baseball's career saves leader, apparently injured himself shagging fly balls in the outfield, but was smiling as he was carted off, according to a report by The (N.J.) Star-Ledger...
The Greatest Mariano "Mo" Rivera is the best closer in Major League Baseball history and is arguably the best pitcher in New York Yankees history. His legacy is filled with clutch performances. If there were a baseball definition of "reliability," "Mo's" face would lay next to the word. For the past 18 years, there has been on rock of the Yankees pitching staff. That...
Yankees closer Mariano Rivera emphatically stated Friday that a torn ACL in his right knee will not spell the end of his Hall of Fame career. "I'm coming back. Write it down in big letters. I'm not going out like this," Rivera told reporters Friday in Kansas City. The 42-year-old all-time saves leader hinted before the season that 2012 would be his final campaign...
Mariano Rivera tore his ACL when he fell while chasing a fly ball during batting practice prior to the Yankees-Royals game on Thursday. When we learned about the severity of the season-ending injury, LBS writer Steve DelVecchio speculated that it could also be career-ending. After all, consider that Rivera, 42, cryptically hinted in February that this would be his last season. On...
KANSAS CITY You're joking, right? This wasn't in the script. The script says Mariano Rivera walks away when he's good and ready, and not a minute sooner. And he doesn't walk, either. He sprints like a jackrabbit in spring and leaps straight into the arms of his teammates, who collectively hoist him onto their shoulders one last time. He's waving his cap in the...
From this point forward, perhaps shagging fly balls in the outfield before a game should only be mandatory for pitchers who are under the age of 42. Maybe it isn't exactly mandatory, but tracking down balls is something some of the Yankees players like to do to warm up and stay in shape. Yankees fans are now crossing their fingers the injury Mariano Rivera suffered while taking...
Yankees closer Mariano Rivera was examined Monday by three doctors at two hospitals as he determines where he will have knee surgery. New York general manager Brian Cashman said Rivera was seen by team physician Dr. Christopher Ahmad at New York Presbyterian Hospital and by Dr. Russell Warren, a knee specialist at the Hospital for Special Surgery. Rivera's agent, Fernando Cuza...
Mariano Rivera tore his ACL last night in warmups trying to shag a fly ball.  The question on everyone's mind is should he retire?  This has to be a sign right?  I mean he has shagged balls his whole career and he goes down with a torn ACL in his 17th season.  The man is 42 years old and his team finally has a chance to be knocked out of the playoffs after it seems like 20...
Reasons why Mariano Rivera will pitch again
The all-time saves leader, Mariano Rivera, suffered a torn ACL yesterday while shagging fly balls at Kauffman Stadium in Kansas City and according to Bryan Hoch of MLB.com it is still unknown if he'll ever pitch again. "At this point, I don't know," Rivera said, repeating softly (via Hoch), "At this point, I don't know. I have to face this first." According to Hoch...
This was not a great week to be a closer for a handful of Major League Baseball teams. Between injuries and demotions, many teams are scrambling to find solutions to teh back end of their bullpens. The most devastating news to any closer came to Mariano Rivera of the New York Yankees, who suffered a season ending ACL injury shagging fly balls. It was extremely sad to...
Jamie Moyer's pre-game ritual is a little more extreme than shagging fly balls. But just like in the case of Mariano Rivera, the end result was tragic
MLB News

Delivered to your inbox

You'll also receive Yardbarker's daily Top 10, featuring the best sports stories from around the web. Customize your newsletter to get articles on your favorite sports and teams. And the best part? It's free!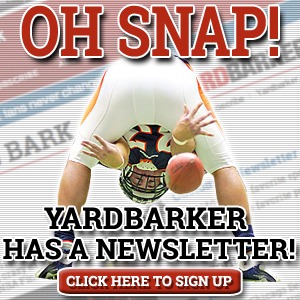 Latest Rumors
Best of Yardbarker

Today's Best Stuff

For Bloggers

Join the Yardbarker Network for more promotion, traffic, and money.

Company Info

Help

What is Yardbarker?

Yardbarker is the largest network of sports blogs and pro athlete blogs on the web. This site is the hub of the Yardbarker Network, where our editors and algorithms curate the best sports content from our network and beyond.