Found January 28, 2013 on IT IS HIGH, IT IS FAR, IT IS caught:
The thinking fan ponders every news event and political issue with one fundamental concern: How does this affect our Yankees?For example, take gun control. If the national yogurt-tofu squat-to-pee crowd bans our Second Amendment assault weapons, how will Jete ever again sleep securely? I figure he always doses while spooning a loaded piece, and I'm not referring to aerobics instructors. Good grief, if he wasn't known as "El Capitan," John Sterling could call him "The Bushmaster." Take away his firearms, and Jete's BA could plunge 20 points. Then again, what if some aspiring supermodel wakes up in the middle of the night, fingers the wrong gun and goes Claire Danes on our hero? Then we're looking at Eduardo Nunez. It's complicated.But there's nothing complicated about picking the Yankee-friendly winner of the 2013 Super Bowl.Baltimore. We need the Rave-Ons to win. Why? For starters, in the post-game dignitary parade, Ray Lewis will kill som...
Original Story:
http://johnsterling.blogspot.com/2013...
THE BACKYARD
BEST OF MAXIM
RELATED ARTICLES
Yankees sign Juan Rivera to minor league deal   Yesterday, the Yankees signed 34-year-old outfielder Juan Rivera to a minor league contract, as first reported by ESPN. He will be expected to compete against Russ Canzler and Matt Diaz for a spot as a reserve outfielder and an extra right-handed bat. Yankee fans may remember Rivera, as he played for the Bombers from 2001-2003. He...
Derek Jeter has worked out on a baseball field for the first time since breaking his left ankle last October. The 38-year-old New York Yankees captain fielder 55 grounders on the grass in front of the infield dirt at shortstop Monday at the team's minor league complex. He also hit in a batting cage. ''Everything went well,'' Jeter says. The 13-time All-Star...
He came out of the Yankee clubhouse wearing team insignia shorts and a long sleeve tee shirt.  He walked to the main practice field without a limp.  Yankee shortstop and Captain Derek Jeter was back on the field. Jeter broke his left ankle in Game 1 of the ALCS versus the Tigers, effectively ending both his and the Yankees' seasons.  The 13-time All-Star had surgery...
Ben and Sam preview the Yankees` season, and Pete talks to ESPN New York columnist Wallace Matthews (at 15:45).
TAMPA, Fla. — Derek Jeter worked out on a baseball field Monday for the first time since breaking his left ankle last October. The 38-year-old New York Yankees captain fielded 55 grounders on the grass in front of the infield dirt at shortstop at the team's minor league complex. He also hit in a batting cage. "Everything went well," Jeter said as he drove out of the complex...
As the pathetic clown's pocket that the three-time AL MVP has consistently proven to be, New York Yankees third baseman Alex Rodriguez was one of six players linked to purchasing human growth hormone and other performance-enhancing substances from an anti-aging clinic in Miami called Biogenesis that is run by Anthony Bosch. With MLB conducting a massive investigation, the 37-year...
A-Rod is done. Done as in suspended? Done as a New York Yankee? Done as a major leaguer? The answers to each of those questions might be "yes," but we don't know any of that for certain. When I say, "done," I'm talking about Alex Rodriguez's reputation. His attempt to rehabilitate his once-pristine image. And, of course, his chances of making the...
The presumption of innocence is a sacred principle within the United States judicial system. When it comes to baseball, though, it's becoming harder and harder to jump on board with the whole "innocent until proven guilty" thing, even if we'd like to think the Steroid Era is yesterday's news. Alex Rodriguez and Gio Gonzalez — two players linked in a damning Miami New...
The New York Yankees saw a lot of change this offseason.  One of the biggest changes is who will be catching games for them in 2013.  Russell Martin left via free agency and signed with the Pittsburgh Pirates.  Now, the Yankees will have to rely on Austin Romine. Andrew Marchand of ESPN New York broke down the top reasons why Martin would be missed in New York.  Specifically...
Is there trouble on River Ave? Or is there celebration? Although Alex Rodriguez hopes to return from hip surgery sometime after the All-Star break at Citi Field, Yankees general manager Brian Cashman claims that the veteran third baseman could miss the entire season. Cashman dropped this bomb in an interview with WFAN in New York on Friday. Rodriguez, who is now 37, underwent surgery...
The Miami News Times published an article on Tuesday following a three-month investigation that has plenty of people across baseball talking. The article, which was based on records obtained from an anti-aging clinic in south Florida, links multiple MLB players to performance-enhancing drugs. The players named in the report include Alex Rodriguez, Melky Cabrera, Nelson Cruz, Gio...
The Padres have signed right-hander Freddy Garcia to a minor league contract according to Jerry Crasnick of ESPN (via twitter). The 36 year old pitched to a 5.20 ERA in 107 1/3 innings for the Yankees last year. His extended stats show a 7.5 K/9 and 2.9 BB/9 for 2012. He was hampered by an uncharacteristically high homerun rate at 15.8% HR/FB. Garcia owns a career line of 4.15 ERA...
MLB News

Delivered to your inbox

You'll also receive Yardbarker's daily Top 10, featuring the best sports stories from around the web. Customize your newsletter to get articles on your favorite sports and teams. And the best part? It's free!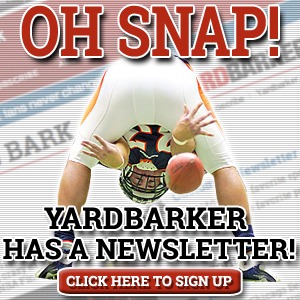 Latest Rumors
Best of Yardbarker

Today's Best Stuff

For Bloggers

Join the Yardbarker Network for more promotion, traffic, and money.

Company Info

Help

What is Yardbarker?

Yardbarker is the largest network of sports blogs and pro athlete blogs on the web. This site is the hub of the Yardbarker Network, where our editors and algorithms curate the best sports content from our network and beyond.