Found February 05, 2012 on Waiting For Next Year:
While We're Waiting serves as the early morning gathering of WFNY-esque information for your viewing pleasure. Have something you think we should see? Send it to our tips email at tips@waitingfornextyear.com.
The Kotchman signing and what it means for Shelley: "However, I can't shake the feeling that the Indians have found real value with Shelley Duncan and it's a shame to not take advantage of it somehow. I don't mind the Kotchman signing but this was not a case, as it has been portrayed most of the offseason, of a club with no first basemen or right-handed bat available. When I really sat down and looked at this, I'm surprised there wasn't more of a push to simply hand Duncan the job and see how it goes. I certainly hope Duncan's on the roster on opening day, and I wouldn't predict he'll be cut. The Indians are generally pretty smart and the smart thing to do would be to find Duncan at-bats. If I were Michael Brantley, I'd be wondering where, and if, I'd be playing most of the season." [Let's Go Tribe]
-
The Vikings at-large chances as college basketball hits the home stretch: " Unfortunately for Cleveland State, the Horizon League isn't as strong this year. CSU has to hope an early win at Vanderbilt and a victory over Akron is good enough to offset losses to Youngstown State and Hofstra. Assuming CSU can keep winning, the Vikings' BracketBusters matchup with Drexel could be critical. It's the only Top 100 RPI game remaining on their schedule." [Dave Ommen/Beyond the Arc]
-
More on Urban Meyer and recruiting: "I believe Meyer did not break a single rule in flipping Kyle Dodson, Noah Spence, etc., this recruiting season. And I believe that because he's the coach at Ohio State, and I know folks these days at Ohio State have to play by the rules. The NCAA is not only watching, but the NCAA knows every phone line, every email address, every car belonging to Ohio State and probably has spies at every stoplight on campus, too. Meyer is always going to walk on the line between right and wrong and NCAA-legal and NCAA-illegal, but he's going to stay on the right side — especially now. I'm not in the camp that believes Meyer is an entirely wholesome and genuine guy who just cares about the kids, but I do believe he simply out-hustled and out-sold the rest of the Big Ten and most of the rest of the country the last eight weeks and will spin this momentum forward. The others should hustle themselves rather than whine. Game on." [Zac Jackson/FoxSportsOhio]
-
Hello darkness, my old friend: "I really don't get it, but Brian Daboll has once again found another team to be the offensive coordinator for. This time, he is joining former Browns head coach Romeo Crennelwith the Kansas City Chiefs…I think I'm just surprised that when you have new head coaches who are receiving opportunities, it surprises me that a guy like Daboll (who did not go over very well in his two years here) can retain such a high position for three different teams in three years. Heck, with that honor, you'd almost think that he's in line to be a head coach somewhere in the future." [Chris Pokorny/Dawgs by Nature]
-
Looking at the Cavs roster as contract deadlines approach: "But, the bigger news is that next Friday all non-guaranteed contracts for the season become guaranteed if the player is still on the roster. That means a team has to release the player by 6 p.m. ET on Tuesday so they can clear waivers before being released. Thus, if Alonzo Gee, Samardo Samuels and Mychel Thompson are still on the Cavaliers roster at tip time in Miami next Tuesday night they can rest easy as they will be getting paid for their entire contracts regardless of if they make it through the season in Cleveland." [Fear the Sword]
-
It's not in comic sans, but it's close: "On Saturday, newish Jazz owner Greg Miller took to his own blog to tear into Karl's hypocrisy. Or, as we delicately put it on Friday, Malone "playing the martyr" as he often does. Miller's post, and I'm not sure you're allowed to use this description in Salt Lake City on Sundays, is scathing." [Kelly Dwyer/Ball Don't Lie]
Original Story:
http://www.waitingfornextyear.com/201...
THE BACKYARD
BEST OF MAXIM
RELATED ARTICLES
Indians general manager Chris Antonetti began the offseason by saying that Matt LaPorta would have to come to spring training and win the first base job. Antonetti made no secret of the fact that in searching for another hitter, he was considering any and all available first basemen below the two marquee free agents, Albert Pujols and Prince Fielder. That search ended Feb. 3 when...
If the Indians are for sale, who does LarryDolan sell the team to? (Photo: AP)Some news, notes, and thoughts from my Indians notebook…To sell or not to sellFirst off, let me just be up front and note that before I get into any of this I am merely speculating. No one from SportsTime Ohio or the Indians has told me anything, I am simply just putting two and two together with some...
The Cleveland Indians recently added a first baseman who is coming off a strong season in eight-year major league veteran Casey Kotchman. The left-handed hitter batted .306 with 10 home runs in 146 games for Tampa Bay last season.
Note: This Indians argument occured earlier this week, before the Casey Kotchman signing. Please disregard all nonsense involving Matt LaPorta as a first baseman. For a more recent outlook on the firstbase situation, check here. Joe: Last week we discussed the state of the Indians outfield going into Spring Traning. This week we'll take on the infield. Let's start with the...
While We're Waiting serves as the early morning gathering of WFNY-esque information for your viewing pleasure. Have something you think we should see? Send it to our tips email at tips@waitingfornextyear.com. Minnesota Vikings' expert comments on Brad Childress: "Childress came to Minnesota as a respected, well-like coordinator from Philadelphia, but he may have come down...
Name: Rocco Dominico Colavito Position: Right Field Nick Name: Rocky Number: 38 Tribe Time: 1955-1959, 1965-1967 DOB: 08/10/1933 Accolades: 3 Time All-Star (1959,1965-1966), Top 5 MVP (1958-1959, 1965) Stats G AB R H 2B 3B HR RBI TB BB SO SB CS SB% OBP SLG AVG OPS ISOP ...
MLB News

Delivered to your inbox

You'll also receive Yardbarker's daily Top 10, featuring the best sports stories from around the web. Customize your newsletter to get articles on your favorite sports and teams. And the best part? It's free!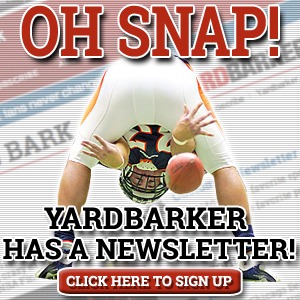 Latest Rumors
Best of Yardbarker

Today's Best Stuff

For Bloggers

Join the Yardbarker Network for more promotion, traffic, and money.

Company Info

Help

What is Yardbarker?

Yardbarker is the largest network of sports blogs and pro athlete blogs on the web. This site is the hub of the Yardbarker Network, where our editors and algorithms curate the best sports content from our network and beyond.