Found July 16, 2012 on Obstructed View OLD:
When I wrote about Matt Garza's trade value last month I showed that it's not that high. Aside from the Cubs kicking in some money to cover the rest of his salary this year, the Cubs couldn't expect to get all that much in return. People have consistently told me I'm wrong. Apparently some anonymous GMs were on record (can you really be on record if you're anonymous?) as saying he had more trade value than Cole Hamels or Zack Greinke, both of whom are far better pitchers. The additional year that Garza has beyond this year certainly matters, but I've argued that it's not a cheap year. If Garza were under contract for $12 million next year I've wondered if people would feel the same way. He is essentially under contract for $12 million next year because that's what he'll likely receive in arbitration.
So why is Matt Garza worth more than I think? The first reason I can come up with is that he's pitched in the AL East. From 2008 through 2010 Garza threw nearly 600 innings for the Rays and he allowed under a hit per inning, just over 3 walks per 9 and struckout enough to have a K/BB of about 2.3. His ERA was 3.86 and his ERA+ 109. Neither of those numbers are fantastic by any means, but an ERA 9% better than league average in that division is probably better anywhere else. He was an above average pitcher in the best division in baseball. 
A lot of teams in the AL East wonder how a pitcher will do when he comes into that division. It's something the Red Sox and Yankees have concerned themselves with for a long time. They don't have to worry about that with Matt Garza. He's been there and done that.
There are no games that have a higher stress level than those in the playoffs. Garza reached the postseason in 2008 and 2010. In 2008 the Rays went to the World Series. In all, Garza made 5 postseason starts and threw the ball quite well against the league's best teams. He has a career postseason ERA of 3.48. 
Garza is still just 28 years old. A player's peak is typically between the ages of 26 and 28 so Garza is right there. A team could realistically expect Garza to be as good or better than he's been in his career. 
Although it's not a cheap 2013, he does have more than one year remaining before he can file for free agency. That year is likely to provide value above what a team may think they can get on the free agent market for the same cost. It also gives the team some time to explore a long-term contract with Garza, which would give them a team friendly contract for several years. 
Overall, teams may look at Garza and believe he's more valuable because of the experience in the AL East, the postseason, his age and his contract. These have nothing to do with what we typically use to assign value, but it's entirely possible this is why Garza might be more valuable than the numbers show. 
Original Story:
http://www.obstructedview.net/comment...
THE BACKYARD
BEST OF MAXIM
RELATED ARTICLES
Ryan Dempster's talents extend beyond the the baseball field as he showed host Tim Kurkjian on ESPN's "Baseball Tonight." Dempster— riding an incredible 33-inning consecutive scoreless streak— did a pretty good impression of Fat Bastard from the Austin Powers movies during an interview and the Chicago Cubs starter had Kurkjian giggling like a school girl while...
Here are a few updates on the trade front, via MLBTR. **The Pirates were one of six teams scouting Matt Garza this weekend, according to ESPN Chicago's Doug Padilla. I wouldn't read much in to it other than due diligence. There's usually a big gap between scouting a player and trying to trade for him. It's also important to note that Garza was going up against Arizona. So...
WILL NOT BE IGNORED
A Massachusetts woman was arrested near the home of Cubs president Theo Epstein after telling police she was "inviting Mr. Epstein to go to church."
Ryan Dempster's first choice is the Los Angeles Dodgers and his second is the Atlanta Braves, according to major-league sources. Whether the veteran right-hander would allow the Cubs to trade him to another team could be determined in the next several days. Dempster, as a player with 10 years of service, the last five with the same team, has the right to veto any deal. The...
I went to the Chicago Cubs vs Arizona Diamondbacks game on Saturday to drink watch the game at one of the rooftops. While there I came across some guy wearing a #11 Jones Cubs shirt and for the life of me couldn't figure out who it was. I can pretty much tell you who was the backup catcher for the San Diego Padres 5 years ago (Michael Barrett) so figuring out who a player that...
Both below .500, the Chicago Cubs and Arizona Diamondbacks could look to make some deals before the trading deadline at the end of this month. Chicago right-hander Matt Garza is among the players rumored to be on the trading block but he'll get at least one more start with his current club. Garza will try to lead the Cubs to their first home sweep of Arizona in four years, their...
Ryan Dempster, right now (maybe not next week) of the Chicago Cubs is currently in the midst of a 33 consecutive scoreless inning streak (Even crazier is he went on the DL and came back and continued his streak). This has only helped generate more interest in the right hander as ESPN Chicago's Bruce Levine notes that at least 10 teams are interested. Among those teams are the...
With the July 31 trade deadline approaching, a handful of players are being dangled as trade bait. Whether it's All-Star caliber players, borderline standouts or role players, there's a bevy of talent available. A player's contract -- and the emergence of farm hands -- usually triggers the process. Before the swapping season begins, NESN.com took a look at the biggest...
Source: The Red Sox are aggressive in the pursuit of Ryan Dempster. Cubs going through their process on the right-hander. — Buster Olney (@Buster_ESPN) July 16, 2012 I was thinking that Ryan Dempster would probably not be traded, but with as many as 10 teams interested I'm thinking the odds of him being dealt are increasing. I'm also thinking the odds of the Cubs acquiring...
On baseballs midsummer marketplace, there is no Big Board to tell us the value of Cole Hamels or Matt Garza. General managers arent crammed together on a trading floor, like at the New York Stock Exchange, although that would be highly entertaining. (I want to see Jon Daniels and Jerry Dipoto, of the rival Rangers and Angels respectively, working feverishly to acquire Zack Greinke...
There are varying reports on whether or not the Red Sox have interest in Cubs pitcher Ryan Dempster, but they're apparently eyeing another Chicago hurler as well. FOXSports.com reports that the Red Sox are still interested in right-handed pitcher Matt Garza. "The Red Sox, according to a source, maintain equal or greater interest in Cubs right-hander Matt Garza, who is under...
<a href="http://bronxpinstripes.com/wp-content/plugins/wordpress-feed-statistics/feed-statistics.php?url=aHR0cDovL2Jyb254cGluc3RyaXBlcy5jb20vbnl5L2FuLXVwZGF0ZS1vbi10aGUtdHJhZGUtZnJvbnQvYXR0YWNobWVudC9jaGljYWdvLWN1YnMtbWF0dC1nYXJ6YS13cmlnbGV5LWZpZWxkLw==" rel=\"attachment wp-att-9465\">Cubs SP Matt Garza could be the Yankees' best bet for pitching help...
MLB News

Delivered to your inbox

You'll also receive Yardbarker's daily Top 10, featuring the best sports stories from around the web. Customize your newsletter to get articles on your favorite sports and teams. And the best part? It's free!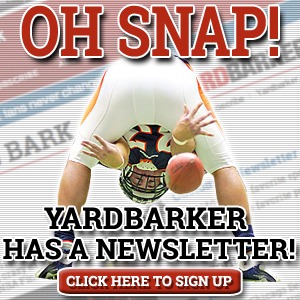 Latest Rumors
The Backyard

Today's Best Stuff

For Bloggers

Join the Yardbarker Network for more promotion, traffic, and money.

Company Info

Help

What is Yardbarker?

Yardbarker is the largest network of sports blogs and pro athlete blogs on the web. This site is the hub of the Yardbarker Network, where our editors and algorithms curate the best sports content from our network and beyond.