Found April 04, 2013 on The Nats Blog:
Earlier today, the Washington Nationals announced that they signed righty starter Chris Young to a minor-league deal, and he will report to Triple-A Syracuse after extended spring training. Young spent time in Nationals spring training before opting out of his spring contract. Signing a journeyman veteran pitcher to a minor league deal is usually not big news for a team like the Nats, who have the best pitching rotation in baseball. However, it is this time. While the Nats have some of the best five starters in the game, the sixth starter was a real problem without Young around. The three leading candidates for the sixth starter spot inside the organization before the Young signing were, well, let's just call them underwhelming: Yunesky Maya, Ross Ohlendorf, and Zach Duke. Maya was signed to a four-year, $8 million deal in 2010, and I feel pretty confident in saying that it's GM Mike Rizzo's worst, and perhaps his only bad, signing to date. Maya has been pretty dreadful ever since signing with the team. In 2011, in 22 games started in Triple-A Syracuse, he posted a 5.00 ERA. In 2012, he spent the whole season with Syracuse and started 28 games posting a 3.88 ERA, but his 4.52 FIP tells the real story of his performance. He's a low-velocity pitcher who has to be just about perfect to have success, and he's very rarely perfect. Ohlendorf actually had a cup of coffee with the Padres in 2012, and there wasn't too much positive to draw from that, either. He had a 7.77 ERA and a better, but still not at all good, 4.90 FIP in nine starts and four relief appearances spanning 48.2 innings. He had even worse numbers in 2011 in nine starts with the Pirates: 8.15 ERA, 6.28 FIP. Duke had some serious success after his call up in September last year, and it was good enough to earn himself a spot as the only lefty in the Nats bullpen for 2013. He will be the main long reliever, but it's not usually the best idea to move guys around during the season without properly stretching them out. Not to mention, it would open a gap in the Nationals bullpen. Duke may be capable, but the Nats won't want to remove him from his current role. Young provides a veteran presence if a sixth starter is needed for a doubleheader or, in the worst case scenario, if one of the Nats' starters get hurt. That's not to say Young is the best pitcher in the world here, but he's not too shabby for a number six starter who would slot into the five spot in case of an injury. In 20 starts with the Mets in 2012, he had a 4.15 ERA and 4.50 FIP. Great numbers? No, but his FIP at the major league level is marginally better than Maya posted in the minors last year, and it's leagues better than Ohlendorf in the majors in each of the last two seasons. Remember this: a sixth starter is never something for which you can truly plan. If the player is that good, he's going to be on an MLB 25-man roster already. These are either veteran free agents who have nowhere else to go, like Young, or they're prospects you don't have room for on the big league club who are almost big league ready. Most teams aren't lucky enough to have the latter available in their farm system, so they rely on guys like Chris Young. As far as sixth starters go, the Nationals have landed a pretty good option.
Original Story:
http://www.thenatsblog.com/2013-artic...
THE BACKYARD
BEST OF MAXIM
RELATED ARTICLES
GETTING FREAKY
Washington Nationals pitcher Gio Gonzalez had a funny quote after a start where there was a lot of cold weather he was dealing with.
Washington Nationals outfielder Jayson Werth has one of the most recognizable beards in sports. If he ever signed a contract with the New York Yankees and had to shave, the amount of people who are able to identify Werth would probably decrease by at least 75%. That's why the at-bat music he has been using during the Nats' opening series of the year against the Miami Marlins...
Pitching in April can be a very difficult task for hurlers who play in colder climates. Going to a baseball game in Boston, New York or Washington, D.C. at the beginning of the season can be a very uncomfortable experience, and Washington Nationals pitcher Gio Gonzalez got a taste of that on a chilly 45-degree Wednesday night against the Miami Marlins. Gonzalez handled the conditions...
Gio Gonzalez of the Washington Nationals threw six innings of scoreless baseball on Wednesday, but it was his comments after the game which really got people talking. Personally, I love it and think he really needs to speak more often. make of the quote below, what you will. "It was definitely difficult, especially with this cold weather," he said. "It was tough to get a...
Take a look at the salary each member of the Washington Nationals will be making for the 2013 Major League Baseball season.
Bryce Harper may or may not be ready to be the MVP for the Washington Nationals, but one thing is certain: He's already living the MVP lifestyle.  Fresh off of tearing up Spring Training and homering not once but twice on Opening Day, a 2-0 Nats victory, Harper was on the guest list for a pre-screening of '42' at the White House on Tuesday night, hosted by Mrs. Michelle...
Right-hander Jordan Zimmermann worked around eight hits over six innings, Ryan Zimmerman's three hits included a two-run double, and the Washington Nationals beat the Miami Marlins 6-1 Thursday for a season-opening three-game sweep. Jayson Werth tacked on a three-run homer in the seventh, and Bryce Harper had another eventful day, collecting two hits, taking an elbow to the...
For Nats phenom Bryce Harper, life is sweet. He's young, rich, adored by millions, and, best of all, has a lifetime supply of burritos from Chipotle Mexican Grill. In Washington's first game of the season Harper smacked a pair of dingers against the Marlins, a taste of what's to come for the 2013 season. Harper's latest adventure living the good life had him at the White...
by: Dan Howard Staff Writer YEEEEAAAAHHH BABY!!! Dat's what I'm talkin' bout! Dat's what "swag" looks like! In case you don't know that's what's called takin' a team to the woodshed, also known as a butt whuppin'. The Nationals are heading to their team hotel with some Big Red welts on their backsides! Hey all you so called experts, those stone tablets...
Nationals News

Delivered to your inbox

You'll also receive Yardbarker's daily Top 10, featuring the best sports stories from around the web. Customize your newsletter to get articles on your favorite sports and teams. And the best part? It's free!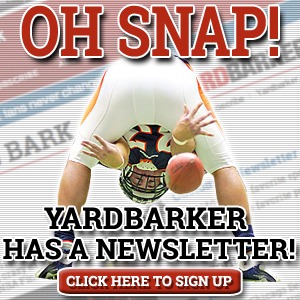 Latest Rumors
Best of Yardbarker

Today's Best Stuff

For Bloggers

Join the Yardbarker Network for more promotion, traffic, and money.

Company Info

Help

What is Yardbarker?

Yardbarker is the largest network of sports blogs and pro athlete blogs on the web. This site is the hub of the Yardbarker Network, where our editors and algorithms curate the best sports content from our network and beyond.