Found May 02, 2012 on Fantasy Baseball 365:
It's no secret that the savy manager can make or break his team with the buy low/sell high trade mantra. An extreme example is the trade I've just executed in my 12 team mixed keeper league. I was offered Joey Votto, Roy Halladay and a 3rd round pick in next years draft for Josh Hamilton and my 2nd rounder. This is an extreme example, and I think the planets alligned for it. The other owner loves Hamilton, and happens to not like Votto (I don't know why) so the hot and cold starts of each player has worked to my favor.

The biggest name with the coldest start this season is Albert Pujols. Through 102 plate appearances this year he has 0 homers, 8 runs scored and 5 RBI. His .208/.255./.292 line is enough to make seasoned fantasy managers cringed and panic (at least on the inside... never let the other managers know you are afraid. You ALWAYS know more than them...even if you don't, make them think you do). But this is where we come in with some sabermetric observations that may reveal a light at the end of the tunnel.


The first thing that jumps out at me is that Pujols has horrible plate discipline this year. He has a 0.43 BB/K ratio this year. His BB% is 5.9%, well off his 13% career mark. His K% is the highest it's been since his rookie season. I think the root of this is just horrible plate discipline. Not only is he swinging at a career high percentage of pitches so far, he has never swung at more pitches outside the strike zone. His O-swing% is 41.4%, almost double his career mark while the Z-swing% is about 7 points off his career at only 58.1%. Despite all this, his Swinging Strike Rate is at his career mark (5.6%). So now we need to determine if the cause of this is just poor discipline or a product of what is being thrown at him.

Jonathan Scippa of Baseballanalytics.org ran some heat maps to illustrate Pujols's struggles this season. Looking at them I take away that his slump is self induced. pitchers are throwing him the same way as in years past, he just appears to be pressing.

Once he can relax (easier said than done) he should return to be Pujols we know and love the rest of the season. ZiPS (R) thinks so too, pegging him for 28 HR's over the rest of the way, albeit with a .291 AVG.
Original Story:
http://www.fantasybaseball365.com/201...
THE BACKYARD
BEST OF MAXIM
RELATED ARTICLES
At some point this season, Albert Pujols is going to turn it on. He has to. Through 23 games this season, Pujols has yet to hit his first homerun as a member of the Angels and has only four RBIs. He is hitting .217 with an on-base percentage of .265. Albert is one of the reasons Los Angeles is off to an 8-15 start, and he will probably be one of the reasons they go on a tear at some...
ANAHEIM, Calif. Every at-bat looks the same. No matter what he does, Albert Pujols can't seem to shake himself out of his slump. He hits the ball hard, most of the time anyway, but it invariably becomes a ground ball out to third base. He did it again Thursday night against the Toronto Blue Jays. Three at-bats became three grounders to third, one of them a double play in...
It's the first week of May, and the baseball season has had more no-hitters thrown so far than Albert Pujols home runs hit. The Angels slugger is in the midst of the worst power outage of his career, stepping up to the place 107 times (and counting) to start this season without hitting a home run. Perhaps not so coincidentally, his new team in Los Angeles (of Anaheim) has also...
The May 2nd, 2012 edition of daily news for the Los Angeles Angels ...
Los Angeles Angels Albert Pujols stands in the infield after the top half of the fourth inning against the New York Yankees on Opening Day at Yankee Stadium in New York City on April 13, 2012. UPI/John Angelillo With April now in the books, what were some of the biggest surprises through the first month of the 2012 MLB Season? I've outlined five shockers below. Pujols suddenly...
Albert Pujols is scuffling right now. He is an offensive black hole. Well, let me clarify, at the plate, he is a black hole; I wasn't trying to suggest his inability to hit the ball is offensive, though some Angels' fans may argue otherwise. There's no denying the fact that Pujols is playing extremely poorly; I'm not here to argue against that. At this point there are 3...
The May 3rd, 2012 edition of daily news for the Los Angeles Angels ...
ESPN Stats and Info recently tweeted this. Carlos Beltran with 2 HR and a career-high 7 RBI vs #Pirates … in 1st 3 innings of game. — ESPN Stats & Info (@ESPNStatsInfo) May 3, 2012 This significance of this is that Beltran was brought into St. Louis to replace Albert Pujols. That's currently two more
Ryan Howard (left) and Albert Pujols (Photo credit: Wikipedia) The New York Yankees are not the only team happy that April is finally over, as a few other MLB teams are hoping to turn things around in May. So, here is a quick list of the Yankees and three other troubled teams who should be much better than they were in April: 1 -  Back in Spring Training, the New York Yankees were...
Each Tuesday during the fantasy baseball regular season Mike Harmon and John Halpin hop on the internet to talk all things baseball in their weekly Fantasy 15 podcast. This week assistant fantasy editor Joel Beall joins the guys to talk about Evan Longoria's injury, Albert Pujols' struggles at the dish and other fantasy baseball news and notes. >> Listen to Fantasy...
There's this new movie – maybe you've heard of it – called The Avengers. It's supposed to be pretty epic, but I'll leave that discussion for other places. Here, it's all baseball, so we're not going to look at the movie, cartoon, or comic book versions of the Avengers, but rather who their baseball counterparts might be. Giancarlo Stanton is The Hulk – Obviously...
@ Toronto Blue Jays (14-11) @ Los Angeles Angels of Anaheim (10-15) Pitching Probables: TOR – Brandon Morrow (2-1, 3.03 ERA)  LAA – Dan Haren (1-1, 3.34 ERA) Game Info: 7:05 PM PT; TV - Fox Sports West; Radio - KLAA 830 [wayin]afd5880d-8ef6-4d00-9d5b-f7417c20cf21[/wayin] After a no-hitter last night, is there any doubt that tonight will be the night that Albert Pujols finally...
MLB News

Delivered to your inbox

You'll also receive Yardbarker's daily Top 10, featuring the best sports stories from around the web. Customize your newsletter to get articles on your favorite sports and teams. And the best part? It's free!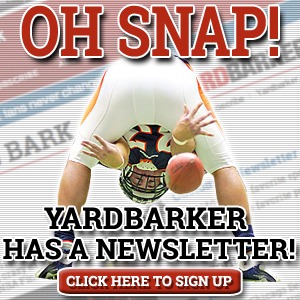 Latest Rumors
The Backyard

Today's Best Stuff

For Bloggers

Join the Yardbarker Network for more promotion, traffic, and money.

Company Info

Help

What is Yardbarker?

Yardbarker is the largest network of sports blogs and pro athlete blogs on the web. This site is the hub of the Yardbarker Network, where our editors and algorithms curate the best sports content from our network and beyond.