Found January 08, 2013 on World Series Dreaming:
With Wednesday's announcement of the MLB Hall of Fame class of 2013 just a few hours away, Sammy Sosa is quietly waiting for his call to come.  He believes he deserves to be in the HOF.   Surprisingly, there are many fans out there who agree!  He did have impressive numbers in his career.  He did have a lot to do with the revival of the game with the Home Run race with McGwire after many fans had walked away from the game after the strike.  They brought the spark back to the game, reminded us all how we loved the sport, even after the business side of the sport got in the way during the strike. As a Cub fan, I can say that I cheered for many of those 609 home runs he hit, most of which were hit in a Cubs uniform.  I did the "Sam-my!  Sam-my!" chant when he'd come to the plate in big situations.  I forgave (but didn't forget) the corked bat incident.  I heard the whispers, and deep down, knew they were probably true, when it came to the steroids, but he was our beloved Sammy Sosa!  H...
Original Story:
http://worldseriesdreaming.com/2013/0...
THE BACKYARD
BEST OF MAXIM
RELATED ARTICLES
NOW THAT'S SOMETHING
It's been a while since we checked in on our old pal Sammy Sosa. And we were thrilled to find out that he's doing well. We were even more thrilled to find out via Deadspin that he has a Pinterest page. And it's a Pinterest page that you should visit every single day for the rest of your life. Why? Because it has to be the best Pinterest page on Pinterest. Just has to be. [Pinterest...
Former Chicago Cubs slugger Sammy Sosa is just one of the many retired professional athletes that has tried to get their name back in the spotlight by joining social media. He joined Twitter (@TheRealMr609) back in October, and he has more recently taken his talents to the popular photo sharing/social network site, Pinterest. Naturally, hearing about Sammy Sosa joining Pinterest...
Sammy Sosa has a pinterest page (and Twitter). I heard rumors about it this morning and then I saw Deadspin's post that it has been confirmed as him. Nothing but a wall of photos of Sosa posing in his home. There's Sammy in a suit! There's Sammy in a nice sweater! So carefree! So happy! And every single photo has the same caption:  "Sammy Sosa. Yes, I'm the real Sammy...
First reported by Deadspin and then picked up by the world, the great Sammy Sosa wants to let you know that he is in fact the real Sammy Sosa on Pinterest (also on Flickr). The way Sammy is going to do that is by posting variations of the same two photos over and over again with the same caption. "Sammy Sosa. Yes, I'm the real Sammy Sosa, and this is my Pinterest." I must...
Categories: BREAKING NEWS MLB NewsTags: Baseball Hall of FameMark McGuireMLB Hall of FameSammy SosaDo you remember the summer of 1998 when the nation's sportswriters were fawning over Mark McGuire and Sammy Sosa.  Baseball had been suffering from the strike of 1994-5 and needed something to bring it back.  According to the baseball writers of America, McGuire and Sosa were...
There's a chance the podium under the chandeliers in the gold-and-ivory-colored Vanderbilt Room of the Waldorf Astoria Hotel will go unused Thursday. With the cloud of steroids shrouding the candidacies of Barry Bonds, Roger Clemens and others, baseball writers may fail for the only the second time in more than four decades to elect anyone to the Hall of Fame, rendering a news...
Over a year ago I applied the Keltner List test to Sammy Sosa and figured I'd do the same thing for most of the eligible candidates just for fun. Bill James came up with the Keltner List back in 1985 and I'll let Wiki explain. The Keltner list is a systematic but non-numerical method for determining whether a baseball player is deserving of election to the National Baseball...
NEW YORK (AP) Steroid-tainted stars Barry Bonds, Roger Clemens and Sammy Sosa were denied entry to baseball's Hall of Fame, with voters failing to elect any candidates for only the second time in four decades. Bonds received just 36.2 percent of the vote, Clemens 37.6 and Sosa 12.5 in totals announced Wednesday by the Hall and the Baseball Writers' Association of America...
This was the Hall of Fame ballot that all MLB players and fans were waiting on. This was the year that Barry Bonds, Sammy Sosa, and Roger Clemens were up for election into the Baseball Hall of Fame in Cooperstown. These three have either admitted or believed to have used player enhancing drugs during the "steroid era" in Major League Baseball. For a player to be elected into...
Cancel your vacation to Cooperstown. Not one player on the 2013 ballot is getting inducted this year. Barry Bonds, Roger Clemens, Sammy Sosa and Mike Piazza were among those denied enshrinement into the Baseball Hall of Fame when the voting results were revealed on Wednesday. The Baseball Writers' Association of America (BBWAA) decided that no one on this year's ballot was worthy...
Steroids and the Baseball Hall of Fame just don't mesh well. Steroids in baseball paint a picture of shady cheaters, selling out their bodies, integrity, morals, honor, and self-respect in dark corners of clubhouses around the USA, aided by equally-as-shady trainers and suppliers. The Baseball Hall of Fame in Cooperstown is everything that is right with sports; legends inhabiting...
The Baseball Hall of Fame for the first time since 1996 will have no inductees. This is the first year that most the players who are suspected to be steroid users are all on the ballot. Barry Bonds, Mark McGwire, Sammy Sosa, Roger Clemens, and Rafael Palmeiro all received less [...]
MLB News

Delivered to your inbox

You'll also receive Yardbarker's daily Top 10, featuring the best sports stories from around the web. Customize your newsletter to get articles on your favorite sports and teams. And the best part? It's free!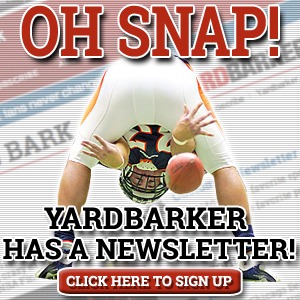 Latest Rumors
The Backyard

Today's Best Stuff

For Bloggers

Join the Yardbarker Network for more promotion, traffic, and money.

Company Info

Help

What is Yardbarker?

Yardbarker is the largest network of sports blogs and pro athlete blogs on the web. This site is the hub of the Yardbarker Network, where our editors and algorithms curate the best sports content from our network and beyond.