Found March 05, 2013 on The Daily Stache:
This morning on Mets Today, it was discovered that the Mets' club option on Johan Santana for 2014 will turn into a player option if Santana either wins his first National League Cy Young or pitches 215 innings this season. If one of those two admittedly unlikely events occurs, Santana could choose for the Mets to pay him $25 million in 2014, which would hamper the struggling franchise's ability to spend on free agents. Although right now it looks like a longshot for Santana to get to 215 innings this season (he would have to average 6.5 innings per start without missing a start), that could change if he's able to start a game in the first week of April. If Santana and the Mets begin the season playing well, we could be in for some interesting decisions as the trade deadline approaches. Remember, even with a "lousy" team last season, the Mets were still 46-40 at the All-Star break and just half a game out of the NL Wild Card. If a similar scenario presents itself this season, the Mets will forced to think about selling off Santana, especially if he is on pace to reach 215 innings pitched. Yes, it is much easier to imagine that the Mets will play poorly despite Santana's best efforts, and even easier to imagine that both Santana and the Mets will go in the tank by mid-June, but an underwhelming Mets team playing over its head in the middle of the summer isn't exactly unheard of. And if the Mets are playing over their heads, there's a good chance that Santana has been a part of it. Should Santana defy the aging process and keep the Mets in contention through July, the front office will have a very tough decision to make. Keep Santana on the roster and risk paying a 35-year-old pitcher $25 million next season, or trade him away for another close-to-the-majors prospect, knowing that another late summer swoon is all but inevitable? You never really know how you're going to feel until you get there, but I have to say that when presented with both choices, I would rather hold onto Santana. You really never know which season is going to be "the season." That wouldn't make it any easier to throw away another young asset and $25 million in 2014 payroll. I'd say that I hope the Mets don't have to make a decision about Santana, but based on the prospects for the 2013 season, it would be a pretty awesome decision to have to make. The post Will Santana be traded even if the Mets are contenders? appeared first on The Daily Stache.
Original Story:
http://dailystache.net/will-santana-b...
THE BACKYARD
BEST OF MAXIM
RELATED ARTICLES
Things just keep getting worse and not better on the Johan Santana front. Andy Martino spoke to more than one team source and the consensus seems to be that Johan Santana will not be ready by Opening Day which totally wipes out Santana's assertion that "he knows what he's doing" and everything is okay. "I know the deal, spring training is for training okay!". The Mets'...
Updated by John Delcos at 10:00 AM Players hit in the cages this morning as it rained here. The weather here has been awful; rainy and chilly. Nothing sun drenched about PSL these days. Those hitting include Daniel Murphy, who took an injection for a strained intercostal muscle on his right side. Also on the injury front, Jenrry Mejia was examined in New York yesterday for a thyroid...
It's that time of the year!  Time to see what the Mets PR and marketing staff have come up with to entice you to step right up and greet the Mets.  Of course a team that won much more than they lost WOULD help, but such as it is, here is what promotions and special days you can look forward to this year at Citi Field. First off, a bit meh about this year's slogan "Great Place...
Some of you may think of this as an odd post from me as I usually post about the minor leagues or the draft. But I came across this on MLB Trade Rumors and thought it was different and interesting. B.J. Rains is doing a series about why some MLB players chose the agents that they did. This one about David Wright naturally grabbed my attention. As you all know, Wright signed an...
I was at Citi Field last season, when the Ike-man jacked one onto the Shea Bridge. Davis has got what I call light-tower-power! Is there a chance that we could see two Mets all-stars this summer at Citi Field? The more I think about it, the more I am beginning to believe that David Wright might not be the only Mets player in the Midsummer Classic. If Ike Davis can start out this...
So, my kids surprised me last night with a really early Mother's Day gift – tickets to Banner Day! After ESPN's decision to schedule the original May 26th date for Sunday Night Baseball, the Mets held a fan vote to allow fans to choose when Banner Day should be held and ended up moving the date to Saturday, May 11. I'll be there. You have to understand – Banner Day was...
Some athletes will use anything as a motivator while others simply know what it takes to get ready. Today, pitching coach Dan Warthen tried to sell the idea Johan Santana used perceived criticism of his physical condition as the spark to get him on the mound for the first time since Feb. 19. Santana threw the day after GM Sandy Alderson said he didn't think the soon-to-be 34...
New York Mets reliever Pedro Feliciano wore a heart monitor while pitching and reported no problems or discomfort during his first spring training outing. Feliciano threw one inning against the Miami Marlins in a ''B'' game on a practice field behind Roger Dean Stadium. He allowed one run - on Ben Lasater's home run - hit a batter and struck out one. '&...
LETS TALK METS BASEBALL WITH RUSTY STAUB! JOIN US AT 3:00 PM NOW! WATCH IT HERE! Help raise awareness for the New York Police and Fire Widows' and Children's Benefit Fund. The charity was started by Rusty in 1985 to help the widow's and children of New York first responders killed in the line of duty. Joining us on the hangout will be Mark Berman of Blogging Mets and of...
Ike Davis is now in the mix of names being considered for Team USA's currently vacant first base position for the World Baseball Classic says Adam Rubin of ESPNNewYork.com. The spot was held by Mark Teixeira, but a strained right wrist put an end to that, leaving team USA with only Ben Zobrist and Joe Mauer as the only two on the roster with any experience at first. In addition...
Mets News

Delivered to your inbox

You'll also receive Yardbarker's daily Top 10, featuring the best sports stories from around the web. Customize your newsletter to get articles on your favorite sports and teams. And the best part? It's free!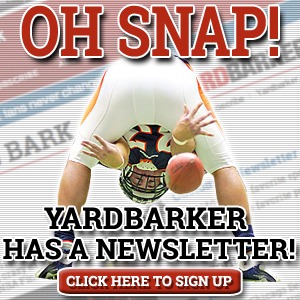 Latest Rumors
Best of Yardbarker

Today's Best Stuff

For Bloggers

Join the Yardbarker Network for more promotion, traffic, and money.

Company Info

Help

What is Yardbarker?

Yardbarker is the largest network of sports blogs and pro athlete blogs on the web. This site is the hub of the Yardbarker Network, where our editors and algorithms curate the best sports content from our network and beyond.