Found February 28, 2012 on Mike Silva's New York Baseball Digest:
PLAYERS:
Sandy Alderson
,
David Wright
,
Fred Wilpon
,
Nolan Arenado
,
Zack Wheeler
,
Jacoby Ellsbury
,
Clay Buchholz
,
Ryan Zimmerman
,
Jose Reyes
,
Robinson Cano
,
Adrian Beltre
,
Aramis Ramirez
,
Kevin Youkilis
,
Cole Hamels
,
Chase Utley
,
Hanley Ramirez
,
Matt Dominguez
,
Anthony Rendon
TEAMS:
New York Mets
,
Colorado Rockies
,
Boston Red Sox
,
Washington Nationals
,
Miami Marlins
,
New York Yankees
,
Texas Rangers
,
Milwaukee Brewers
,
Philadelphia Phillies
More than a week ago, New York Mets GM Sandy Alderson finished his long drive down to Port St. Lucie, FL for spring training. A week ago Saturday he held a gathering with reporters, answering questions on the state of the Mets organization. There was no truth to the rumor that Alderson was late for this meeting because he was filling out his expense report for his trips gas usage. Supposedly, Alderson had to get that in by 12 noon or the funds would not be reimbursed.
Alderson was asked about David Wright and said the Mets recent money woes will not impact the team's ability to sign Wright beyond 2013. Yesterday, owner Fred Wilpon reiterated what Alderson said. However, he did not comment on whether Alderson was reimbursed for his gas costs.
Wright currently is in the final year of the 6-year, $55 million contract he signed in August 2006 with the Mets, which pays him $15 million in 2012. But the Mets do hold a $16 million option ($1 million buyout) for next season. If Wright is traded before 2013, this option can be voided by the player and he becomes a free agent after the 2012 season.
With the Mets recent money crunch (they have cut $50 million off their 2012 payroll), will the Mets have enough cash to keep Wright past this season, and if not, will trade Wright and, if so, when will this trade occur?
If a trade is warranted, is it better to trade David this season or pick up his option and trade David during the next off season?
First off, trading Wright should not even be considered. The return the Mets would receive for a full season (2012 if traded now) or a half-season (if trade at the deadline) would not even be close to what "value" the Mets have in Wright. If he is productive, it is better to let him play through his contract and if he leaves, take the picks. The Mets are not getting a Nolan Arenado and others from Colorado or package deals from any other team. The trend is for teams to keep their young players, and despite shaking Zack Wheeler free from San Francisco, getting top talent for a short term rental just does not happen very often.
If the Mets were going to trade Wright, it would have been a few years ago, back when Wright had serious value (before his beaning) and they could have received a bounty in return.Funny how I got ripped big time for that trade proposal, but now the Red Sox probably wouldn't even trade Jacoby Ellsbury or Clay Buchholz straight up for Wright.
A supposed big wrench in any Mets plans for Wright was the recent signing by the Washington Nationals of third baseman Ryan Zimmerman to a 6-year, $100 million dollar extension. Both are in their prime guys with good sticks (Wright is better) and good gloves (Zimmerman much better).
But the new Zimmerman contract should have nothing to do with Wright remaining a member of the New York Mets for the long term.
Much has been said about Wright and the Mets ability to keep him past 2013. The Mets couldn't keep Jose Reyes long term, even after offering somewhere in the vicinity of $100 million dollars.
However, there was no amount of money which would have Reyes a New York Met. He wanted to leave. To leave and not be around a rebuilding program and get all the grief he gets with the New York media. Reyes has always been about himself, and never really about the team. And if you happen to not agree…bunt that!
But the Mets do not have to have a full bank account to keep Wright. Despite the Zimmerman deal, Wright has total control over whether he stays a Met or not. I am not trying to be cute here, but Wright can accept a below market deal* to stay in New York. Does he really need the biggest deal?
When most players sign "below market" deals, it is usually when they are entering or already in the midst of their arbitration years. The extension buys out the remaining arbitration years and usually a few free agent seasons. It is a great deal for both sides. It gives financial security for the player, and gives the team long term cost control during the player's prime seasons.
 Examples of this are David's extension and the current deal the Yankees gave Robinson Cano. When players who sign these types of deals finally become free agents, they usually want the highest dollar amount since it is likely their last big contract.
But signing Wright depends on a couple variables, mostly how the Mets play this year.
Besides the new Zimmerman deal, before the 2011 season, the Texas Rangers signed Adrian Beltre to a 5-year, $80 million deal (plus a $16 million option); the Milwaukee Brewers signed Aramis Ramirez to a 3-year, $36 million deal (plus a $15 million option).
Those are the three latest multi-year deals for third basemen.
What team would need a third baseman and be willing to give a Zimmerman type deal to Wright? Boston likely will need a third baseman, as Kevin Youkilis is a free agent after 2013, assuming his option is picked up. But Boston has serious financial issues with long term contracts tied up with below cost players. I don't believe they will be willing to shell out a six or seven year deal for Wright. Baltimore? No one wants to play there as it is worse atmosphere anywhere except for Houston. Seattle or Cleveland? Not their style. Most other American League teams are all set or currently have young guys already manning the hot corner.
In the National League, throw out all the West Coast teams and most of the Central. Scary for Mets fans, but the biggest needs at third base two years from now in the NL are all in the NL East.
Philadelphia doesn't have anyone now great at third, let alone anyone on the horizon, plus they have to worry about Cole Hamels and Chase Utley coming up as free agents in 2013 and 2014, respectively. Bet they wish they had that Ryan Howard money back. Chipper will definitely be retired by 2014, so the Braves are a real possibility, and are further ahead in their young pitching and young hitting, the type of team the Mets want to be. Wright might like that scenario.
The Miami Marlins have shown they are willing to spend, at least for this year. Heaven forbid the Marlins give up on the Hanley Ramirez experiment and youngster Matt Dominguez then go after Wright. Imagine the left side of the Marlins 2014 infield being Reyes and Wright? The Nationals just signed Zimmerman to that long-term deal, and have Anthony Rendon, their top pick in last year's draft, whose primary position is third base. But Rendon has not even played an inning of pro ball (also had a bunch of injuries in college) and it is not likely the Nationals will keep Zimmerman long term at third base, probably moving him over to first base.
Moving Zimmerman and signing Wright would unite the two Virginia natives with their "hometown" team.
As I mentioned earlier, there are two main variables with Wright. First were his thoughts on the Mets becoming contenders. No player entering his 30s wants to play for a losing organization. The second variable is Wright himself. Since Wright is coming off two down power years out of the last three and has been injured, too, if the Mets decide to keep Wright, he is more suited to the Beltre type deal. He also will be 30 years old come his free agency after 2013, two years older than Zimmerman but two years older than Beltre.
I believe Wright has more substance and loyalty than Reyes did.
It would not necessarily be the longest term or biggest dollar amount of a proposed contract that would keep Wright in New York. If Wright saw the right situation in New York, like the young core showing signs of promise, with young kid pitchers on the way, he would stay for a "below-market" deal.
But the Mets also have to see Wright as the organization veteran to help the foundation of this new core. Wright must show he is over the bad back and can hit for power and field the ball like he could a few years ago, both parts of his game highly affected by a bad back.
Wright already signed his "below market" extension a few years ago which bought him out of a few free agent years. His opportunity to make big money is coming up.
If the Mets are improving, and I believe they will be better, and Wright has an injury-free productive season, the Mets should pick up his 2013 option, THEN offer him an extension exactly the same as the Beltre contract. Five years, $80 million, take it or leave it. This would bring Wright and the Mets together through the 2018 season. David could change the culture of going for the best deal offered and Wright would be smart to stay in New York, especially if he sees the Mets improving.
This offer should stay open throughout the 2013 season, no pulling it off the table. Let him make the decision of loyalty to the Mets or taking the most dollars. This will put the ball in Wright's hands.
Let's hope he doesn't throw this ball away.
Original Story:
http://nybaseballdigest.com/2012/02/2...
THE BACKYARD
BEST OF MAXIM
RELATED ARTICLES
Only a couple more days before the first game of the spring season.  The Mets face the Nationals and we might get another glimpse on Bryce Harper the new young stud of the Nats.  Remember when we had a hot prospect named F Mart…Of course our prospects go the normal course in Metdom.  They cant hit and spend there life being injured.  Except of course Jose Reyes who of course is trying to be
Ever since the Mets moved into Citi Field, David Wright hasn't quite been the same hitter. His strikeout rate rose from 16.4 percent at Shea Stadium to 22.9 percent at Citi Field. His power also suffered to the point where Wright had two seasons well below a .220 ISO (.140, .172) when his lowest ISO in five years at Shea was .217. The Mets are bringing the walls in a couple feet...
CBS Sports' Eye on Baseball posted a Mets Spring Primer which included their fantasy sleeper and bust, as well as the Mets outlook this season from opposite sides of the spectrum. Also check out their complete Mets Fantasy Preview. Fantasy sleeper: Lucas Duda "From July 15 (about the time he took over for a departed Carlos Beltran) to the end of the season, Duda hit .322 with...
New York Mets third baseman David Wright lost a friendly bet with the Mets COO Jeff Wilpon a few month ago over the 2012 Sugar Bowl, which saw Virginia Tech (which Wright's brothers attended) face Michigan (the alma mater of Wilpon's father and Mets owner, Fred Wilpon). As you probably know by now, the Wolverines went on to beat the Hokies 23-20, and on Monday, Wright...
The New York Mets missed the playoffs for the 5th straight season in 2011. Their string of collapses and disappointments has become a running joke in professional baseball, and now it seems the Mets are getting in on it too. Jeff Wilpon, Chief Operating Officer for the team and son of owner Fred Wilpon, tried rallying his players with a little gift placed in their lockers on Monday...
Can even Underdog save the Mets? David Wright seems to have his doubts. COO Jeff Wilpon on Monday presented each member of the team with an orange T-shirt depicting the "U" symbol from the 1960's TV cartoon "Underdog." While most Mets, including manager Terry Collins, appeared to enjoy the stunt, Wright wasn't thrilled.
The way David Wright jokingly tells it, Mets COO Jeff Wilpon coerced him into accepting an unfair bet last month, when his favored Virginia Tech Hokies played Michigan in the Sugar Bowl. As a result, Wright wore a Michigan jersey during workouts Monday.
David Wright was taken aback when told that the proposed changes to Major League Baseball's playoff system would not have helped the Mets in 2007.
Third baseman David Wright spotted teammate Johan Santana on Field 7 at the New York Mets' spring training complex, as the left-hander was readying to face batters for the first time since the fall.
General Manager Sandy Alderson brought up the names of Jason Giambi and Joey Votto while mentioning players he believes are comparable to right fielder Lucas Duda. "I think they will end up having a similar profile: Power guys with an excellent eye at the plate. If you have that combination, you can be a superstar. Especially for a left-handed hitter, if you've got power...
And why was New York Mets third baseman David Wright wearing a Michigan football jersey for workouts at Port St. Lucie, Fla.?
PORT ST. LUCIE — Here is the first thing that Fred Wilpon should have done before sending his troops south for the winter: He should have designated one man as the company quipster. Sandy Alderson volunteered for that duty the moment he signed up for a Twitter account and began merrily...
MLB News

Delivered to your inbox

You'll also receive Yardbarker's daily Top 10, featuring the best sports stories from around the web. Customize your newsletter to get articles on your favorite sports and teams. And the best part? It's free!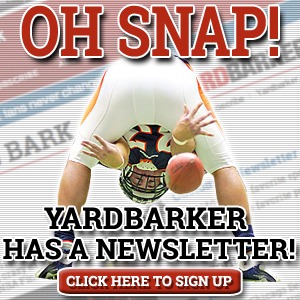 Latest Rumors
Best of Yardbarker

Today's Best Stuff

For Bloggers

Join the Yardbarker Network for more promotion, traffic, and money.

Company Info

Help

What is Yardbarker?

Yardbarker is the largest network of sports blogs and pro athlete blogs on the web. This site is the hub of the Yardbarker Network, where our editors and algorithms curate the best sports content from our network and beyond.