Found June 28, 2012 on Waiting For Next Year:
PLAYERS:
Robinson Cano
,
Rafael Soriano
,
Lonnie Chisenhall
,
Carlos Santana
,
Shin-Soo Choo
,
Johnny Damon
,
Michael Brantley
,
Asdrubal Cabrera
,
Andy Pettitte
,
Ubaldo Jimenez
,
Shelley Duncan
,
Aaron Cunningham
,
Raul Ibanez
,
Eric Chavez
,
Casey Kotchman
,
Jason Kipnis
,
Vinnie Pestano
,
Zach McAllister
,
Wei-Yin Chen
,
Travis Hafner
TEAMS:
New York Yankees
,
Chicago White Sox
,
Cleveland Indians
,
Baltimore Orioles
That was an unbelievable home run by Robinson Cano. Down a run in the sixth, 1-2 count against one of the hotter starters in the AL Central 1 , and he blasts one off the end of his bat for a two-run homer to the opposite field.
Can we just focus on that part of the game, please? Because with that one swing the Yankees deserved to win this contest.
But, of course, all anyone is talking about is how the Indians stranded the bases loaded in the ninth inning to end the game. So while this wasn't as ugly a game as the last four losses, this one sure was more heartbreaking.
With the loss, Cleveland fell back to .500 on the season at 37-37, and now sits 2.5 games behind the White Sox following their victory last night.
In the ninth, the Indians hammered NY closer Rafael Soriano quickly. Lonnie Chisenhall, pinch-hitting for Carlos Santana 2 , reached base on a single and Shin-Soo Choo walked. After one out, Lou Marson also singled, bringing up pinch-hitter Johnny Damon to the plate with the bases loaded.
The much-maligned veteran Damon battled briefly, but swung pathetically at strike three for the second out of the inning. In another long at-bat, Michael Brantley managed a walk, plating a run and moving the tying score 90 feet from home.
Right on cue, however, Asdrubal Cabrera flied the second offering he saw from Soriano to left for an easy third out. Just like that, a rally over, a sweep completed, and an ice-cold team back to .500 for the first time since mid-April.
Going back to the start of the game, Yankees veteran Andy Pettitte was dealing. He was absolutely hammering the strike zone, recording strikeouts as his first four outs of the game. Everyone knew from the first inning on that the Tribe would have trouble scoring many runs against the veteran lefty.
On the other side, I wonder if anyone reads Jon's recaps. As a perfect response to his rant last night about walks, what did Ubaldo Jimenez do TWICE in the first inning? He walked a pair of guys, of course, and got into pitch count trouble early with what proved to be a relatively uneventful 27-pitch opening frame.
Then, in the top of the second, the Indians somehow managed to get on the board against Pettitte. Carlos Santana reached first to start the inning on a bad throwing error by A-Rod. A clean-shaven Shelley Duncan later plated him with a double to right-center. But, as usual, Cleveland eventually stranded a pair of runners in the inning as Aaron Cunningham was picked off first – Pettitte's trademark.
Jimenez cruised through the second and the third frames, but ran into trouble in the fourth. Cano – ye' of later heroics – began the rally with a one-out single for NY's first hit of the game. Ubaldo gave up a two-out walk to Raul Ibanez, and a clutch two-out, two-run double by Eric Chavez to left-center gave the Yanks their first lead.
The game then turned upside down in the top of the fifth. This was the break the Tribe had been looking for in any game for nearly a week: Casey Kotchman's leadoff single up the middle ricocheted violently off Pettitte's ankle, knocking the lefty out of the game 3 .
You never wish injuries upon any athlete, but this was certainly a game-changer for Cleveland. Pettitte had been cruising since the rocky second inning, and was still mowing down Indians with no problem at all. When he exited the game, he had allowed just three hits, one run and one walk, while striking out seven of the 16 batters he faced.
Everyone also knows the Indians' awful struggles against lefties. You could easily point to the 5-15 record against southpaw starters and .215/.298/.325 splits against lefties entering the game. So when the Yanks were forced to go to the pen instead of the red-hot Pettitte, you had to be excited.
Three Yankee relievers then were needed to finish up the inning. Back-to-back two-out singles by Cabrera and Jason Kipnis were the clutch plays, as the Indians took back the 3-2 lead.
But you can't play with fire for too long though, right? Jimenez entered the bottom of the sixth inning with 89 pitches, pitching pretty well despite his one big mistake to Chavez in the fourth.
To start off the frame, A-Rod doubled, and then Cano provided the incredible, momentum-changing two-run blast to left field. It was a signature, All-Star-like home run, and it was all the STO broadcasters talked about while Jimenez found a way to eventually retire the side in the inning.
Cano has been red hot of late, and absolutely torched the Indians during this series. He went 6-for-12 in the three games, with three runs scored, two homers and five RBI. He has seven dingers in his last 10 games and now has 18 on the year. For comparison's sake, Cabrera is your team leader with nine home runs and no one else has more than six 4 .
Technically in the end, the one run that set-up man Vinnie Pestano allowed in the bottom of the eighth inning was the difference as it was the deciding fifth run. It was an uncharacteristic performance for Pestano, who allowed a pair of singles before Chavez's second clutch two-out RBI hit of the day.
But the game already seemed inevitable at that point. No one expected the Tribe offense to put up much of a fight in the ninth, and when the team fell short with the bases loaded, it ultimately wasn't that surprising.
That's just about how things have been going lately for the Indians, who haven't been playing well in nearly all facets of the game. Against the Yanks this series, the road team was out-pitched and out-hit, and although the last two scores looked close, the games were never really that much in doubt.
Coming up next, Cleveland begins a four-game series against the surprising Baltimore Orioles (41-33) at 7:05 p.m. Thursday at Camden Yards. Zach McAllister (1-1, 3.96 ERA) is expected to return from AAA Columbus for the start, likely against Baltimore's Wei-Yin Chen (7-3, 3.38 ERA). In case the rookie's name isn't familiar to you, he's a lefty.
Oh, and in case you were just wondering about this guy, Travis Hafner made his first rehab appearance last night for the Clippers. He played seven innings, going 1-for-3 with a strikeout in the team's 3-1 loss to Norfolk. Sounds like a kind of familiar result, eh?
–
(AP Photo/Frank Franklin II)
___________________________________
Yes, Ubaldo Jimenez was pitching that well recently before Wednesday's game. Entering play, he was 2-1 with a 2.05 ERA in four June starts since being skipped once in the rotation. Most importantly, however, he had 25 strikeouts against only seven walks in 26.1 innings pitched. Sounds like ace material to me, although in a small sample size.
How sad is it that Santana is being pinch-hit for in the ninth inning of a close game? It's unbelievable we've gotten to this point. But, might I remind folks that now in his 263 career MLB games, his line is a fairly mediocre .239/.357/.431. Now, that's still very solid for a catcher, but nothing quite like the high hopes we once had for him. I'm starting to think it might not just be the concussion, but that we might have just gotten too optimistic about his future potential.
Welp, as much as we all hate the Yankees, you've got to feel for Pettitte's injury. That really was just a freak play. At 40 years old, who knows how the guy will return from a fractured fibula that will keep him out of the game for 6-8 weeks. He was having a really solid season too (3-3, 3.29 ERA in eight starts) and is a fringe Hall of Fame candidate.
Yes, you read that correctly. Robinson Cano, a second baseman, has more home runs in his last 10 games than all but one player on the entire Indians roster has on the entire season. We need power. Desperately.
Original Story:
http://www.waitingfornextyear.com/201...
THE BACKYARD
BEST OF MAXIM
RELATED ARTICLES
In the first six games of the current 10-game road trip, the Indians struggled to score runs and, not surprisingly, lost most of the games. They lost five of the first six games on the trip, which concludes with a four-game series in Baltimore that began Thursday night with a 7-2 Indians victory.Going into the game, only one American League team had hit fewer home runs than the 61...
English: CC Sabathia (Photo credit: Wikipedia) At the start of the 2012 season, I asked my father, 'what could be the worst thing to happen to the New York Yankees this season?' He responded without even taking a breath, "CC Sabathia getting injured." So when the news broke, prior to today's third and final afternoon romp with the Cleveland Indians, that CC Sabathia was...
Before the Yankees completed a 3-game sweep of the Cleveland Indians yesterday the news broke that ace CC Sabathia was headed for the 15-DL. And if that wasn't enough to swallow during the 5th inning, veteran southpaw Andy Pettitte took a line drive off his left lower leg; and everyone in Yankee Stadium froze. Pettitte threw just one more pitch; a perfect strike but the 40-year...
The Yankees were dealt a tough injury blow on Wednesday after Andy Pettitte suffered a broken left ankle. The veteran lefty was hit on a liner up the middle by Casey Kotchman, and was unable to put weight on the leg while pitching to the next batter. This news game on the heels of the announcement that CC Sabathia was placed on the 15 day DL with a strained groin. The Bombers will...
Someone please wake up Bud Selig or pull him away from his early bird special. I am sitting with my Grandpa in Mantua, Ohio, watching the Yankees beat up the Indians, and I just saw one of the worst calls I have seen in a long time. Tonight was yet another example of why Bud Selig and MLB need to stop crossing their arms and actually do something about instant replay. Cleveland...
That was the month that was. It's over, let it go. Oh what month it was...Possible nominees:Robinson Cano, prometheusAndy Pettitte, safety not guaranteedDerek Jeter, rock of agesDewayne Wise, think like a manPhil Hughes, that's my boyJoe Giardi, dark shadowsBrian Cashman, seeking a friend for the end of the world*Note: Not to be confused, or in any way affiliated, with fine...
Last season was a banner year for second basemen in terms of fantasy baseball. The usual suspects (Cano, Pedroia, Kinsler, Phillips) all had excellent years, while guys like Ben Zobrist, Howie Kendrick, and Ryan Roberts also put up big years. Coming into 2012, second base was a position fantasy owners felt like they could count on for big production in the middle infield. Unfortunately...
New York Yankees great Don Larsen knows that college isn't cheap. He has two grandchildren set to earn their degrees in the coming years. Larsen wants to pay for their education by auctioning off a prized possession - the uniform he wore when he pitched the only perfect game in World Series history. Steiner Sports Memorabilia is conducting the auction this fall. People from...
Cleveland Indians 4 — New York Yankees 6   Phil Hughes threw 8 scoreless en route to a 6-4 win over the Cleveland Indians.   Phil Hughes spread 6 hits over 8 scoreless innings for another start without a home run. Through his 8 scoreless innings, he hardly faced any difficult spots. The most difficult [...]
So Chris Perez is confused about Cleveland fans again. We've already been over the Indians closer's incredibly myopic complaints about attendance at Progressive Field that he renewed in a recent interview with Tyler Kepner of the New York Times, but now Perez is complaining about the attendance at Cleveland Browns Stadium as well. "I don't understand," Perez told Kepner...
New York Yankees right-hander Phil Hughes struggled through a 4 1/3-inning, six-run loss against the Atlanta Braves last week, so he took the mound Tuesday looking for improvement against the Cleveland Indians. "Larry and I always talk about bounce-back outings," said Hughes, referring to pitching coach Larry Rothschild. "You try to put together as many good ones...
MLB News

Delivered to your inbox

You'll also receive Yardbarker's daily Top 10, featuring the best sports stories from around the web. Customize your newsletter to get articles on your favorite sports and teams. And the best part? It's free!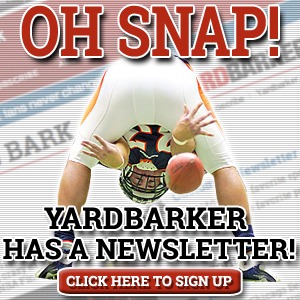 Latest Rumors
Best of Yardbarker

Today's Best Stuff

For Bloggers

Join the Yardbarker Network for more promotion, traffic, and money.

Company Info

Help

What is Yardbarker?

Yardbarker is the largest network of sports blogs and pro athlete blogs on the web. This site is the hub of the Yardbarker Network, where our editors and algorithms curate the best sports content from our network and beyond.